Daily Fantasy Baseball Advice for April 19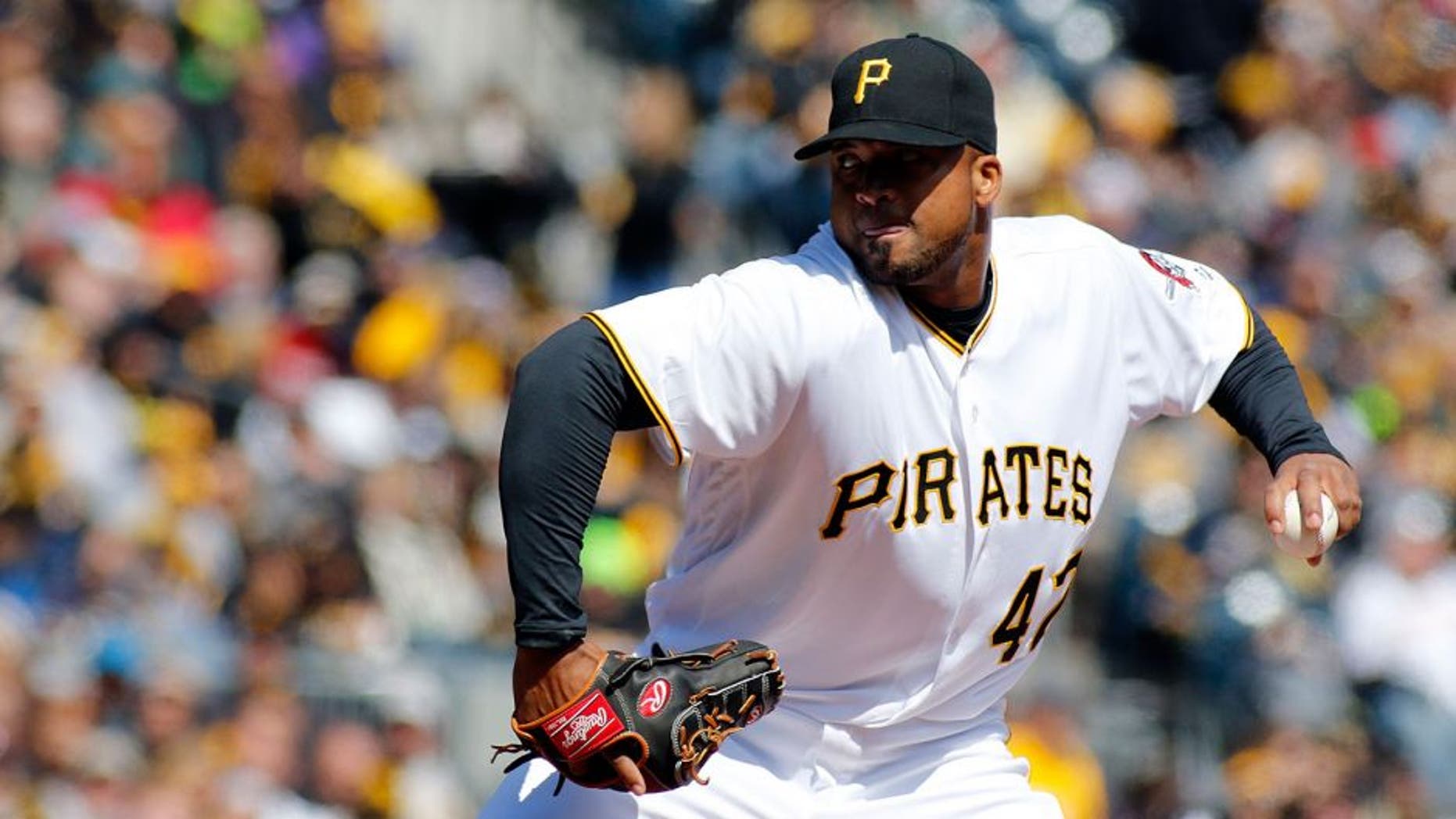 Welcome to today's daily fantasy post! Remember that you can find our posts on the brand-spanking new DFS home page, as well as the fantasy page. Bookmark those sites now!
Let's get to today's interesting facts, using DraftKings prices. We'll cover the night slate of games, leaving out only Brewers-Twins (1:10 p.m. ET) and Mariners-Indians (6:10 p.m.) from today's schedule.
Five Things to Watch:
1. Stephen Strasburg ($11,000) is the best SP on the board, but he's expensive, not a huge favorite (-143) and draws a halfway decent opponent in the Marlins. Francisco Liriano ($9,800) is a -139 favorite over the Padres in the lowest projected scoring game on the schedule, and strikeout phenom Vince Velasquez ($9,600) has been priced in a way commensurate with his recent performance. Due to opponent, Liriano is the pick here if you pay up for a starter.
2. Beyond the aces, Detroit's Shane Greene ($4,900) pitched well enough in his last outing to merit consideration if you'd like to load up on hitters – he's a candidate for a mini-breakout. Further up the ladder, so did Drew Smyly ($8,000), who whiffed 11 Indians last Wednesday. Dating back to last season, Smyly has struck out 93 batters in 80 1/3 innings in 14 starts.
3. Yo, BvPers: Giancarlo Stanton ($4,200) is 13-for-32 with three homers versus Strasburg ... Padres SS Alexei Ramirez ($2,800) is 13-for-31 against Liriano ... Tigers 1B Victor Martinez ($3,300) has a couple of homers in 13 at bats off Yordano Ventura.
4. The game with the most offensive firepower figures to be Astros-Rangers, which carries a projected run total of 9.5. Nobody would argue with targeting either Scott Feldman or Derek Holland, but since the Astros hit lefties well (.326 wOBA since the beginning of last season), they're the preferred stacking option. Jose Altuve ($5,200), Carlos Correa ($4,600) and George Springer ($4,600) are strong plays if you can afford them, and let's see where 3B/SS Marwin Gonzalez ($2,800, .363 wOBA vs. LHP last season) bats in the order.
5. Bargain hunters should think about Braves 2B/OF Kelly Johnson ($2,800), who has traditionally hit lefties (.336 wOBA, .767 OPS) a bit better than righties, and gets Dodger southpaw Alex Wood tonight. Johnson has been batting sixth in the Braves' order since Hector Olivera's absence began.
Below are Adam Meyer's daily fantasy baseball picks for Tuesday...
Yesterday's recap:
The highlighted stack (Reds), must-start (Todd Frazier), and deal (Chris Carter) were all busts. Not gonna like, it was a rough day. However, there were still some gems in yesterday's post. Ben Paulsen and Miguel Sano went yard. Plus, our pitchers were the right calls, too (Noah Syndergaard and Jerad Eickhoff).
Must-Start of the day: Alex Rodriguez, NYY
Last year, A-Rod had a .269 ISO against lefties. In fact, with his price and proficiency against LHP, I wouldn't recommend another third baseman tonight.
Deal of the day: Nomar Mazara, TEX
He should be batting second in a game with the highest over/under. This season, Mazara has 20 at-bats against right-handed pitching and has a .200 ISO with a remarkable .513 wOBA.
Avoid of the day: Christian Yelich, MIA
He is 4-22 (.182 AVG) with 10 strikeouts against Stephen Strasburg.
Stack of the day: Houston Astros
Derek Holland doesn't have recent success when the Astros are in the opposing dugout. Last year, he was 0-1 with a whopping 7.71 ERA in three outings. Houston should lay the lumber tonight with Altuve, Correa, Springer, and Rasmus.
Starting pitchers:
Francisco Liriano, PIT - He is my top pitching option of the day (other than Carlos Carrasco, if you do an "all day" contest). Liriano is significantly cheaper on DFS sites and he's facing a team that is more prone to strikeouts. The Padres are third in baseball with 128 whiffs.
Vincent Velasquez, PHI - He's had a phenomenal start to 2016. In his first outing, Velasquez struck out nine Mets in six innings. Velasquez followed that performance with a 16-K, complete game shutout of the Padres. Unfortunately, DFS sites are raising his salary.
Logan Verrett, NYM - While the price has been adjusted for Velasquez, you can still get his opponent at a low price. When Verrett filled in for Jacob deGrom in his last start, Verrett struck out six and allowed only three hits in six innings. Philadelphia has struck out 124 times this season (fourth-most).
Catchers:
Evan Gattis, HOU - He has a low price tag in a high-scoring offense. Use him if you want an Astros stack tonight.
Yasmani Grandal, LAD - His cost is still low and he has a career .178 ISO against righties.
First basemen:
Joey Votto, CIN - Last year, he had a .239 ISO against southpaws.
Hanley Ramirez, BOS - In 2015, HanRam had a .204 ISO against lefties.
Mitch Moreland, TEX - He had a .234 ISO against righties in 2015.
Second basemen:
Rougned Odor, TEX - He had a .210 ISO against righties last year.
Kelly Johnson, ATL - (See "5 Things")
Jose Altuve, HOU - He's on fire this season. Plus, Altuve loves facing lefties. He already has a .333 ISO against them this year.
Third basemen:
Alex Rodriguez, NYY - "Must-start of the day."
Shortstops:
Carlos Correa, HOU - Last year, he had a .282 ISO against lefties.
Corey Seager, LAD - In his 66 plate appearances in 2015, Seager had a .259 ISO against righties.
Outfielders:
George Springer, HOU - In 2015, he had a .237 ISO against southpaws.
Giancarlo Stanton, MIA - He's the BvP specialist for today. In Stanton's career, he is 13-32 (.406 AVG) with nine extra-base hits and three home runs against Stephen Strasburg.
Colby Rasmus, HOU - Last year, he had a .218 ISO against LHPs.
Mookie Betts, BOS - He has a career .181 ISO against lefties.
Nomar Mazara, TEX - "Deal of the day."