D-backs thriving under Lovullo's 'loving' approach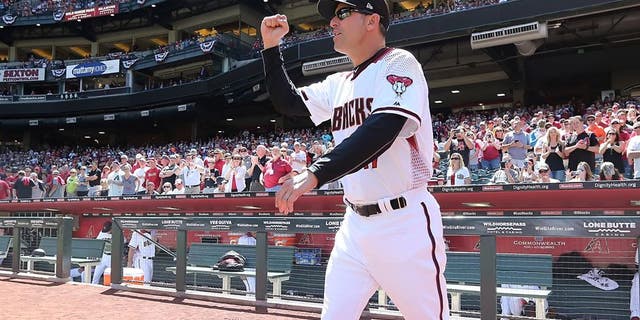 NEWYou can now listen to Fox News articles!
PHOENIX -- Love is not a word you hear often from coaches in any sport.
Torey Lovullo uses it often.
The 51-year-old first-year manager of the surprising Arizona Diamondbacks has developed a symbiotic relationship with his players that's at the core of the team's strong start this season.
"I know that I want to be here for these guys," Lovullo said, "to listen to them, accept them, love them and, if they want it, advise them and do the best thing I possibly can for helping them be successful on the field."
So far, so good.
The Diamondbacks are 39-26, two games behind first-place Colorado in the NL West. They have been especially dominant at home, where they have won 11 of their last 12 games for an overall record of 26-9, best in the majors.
Last year, the Diamondbacks didn't win their 26th home game until Sept. 12.
Four-time All-Star first baseman Paul Goldschmidt said Lovullo deserves a big share of the credit.
"You hear everyone say communication, and I think he's a great communicator," Goldschmidt said, "but I kind of see it in a different light. He does a great job of putting himself in the shoes of whoever he's talking to. When he talks to me, it's almost like he knows what I'm thinking."
Lovullo traces his communication skills to his father, Sam, who produced the hit television show "Hee Haw" for 25 years.
Described by his son as "a roly-poly Italian," Sam Lovullo died in January.
"I could see him conversing with just about anybody that came around him," Lovullo said. "It was very easy for him. I might have developed that thought process at an early age and felt comfortable talking to anybody."
Players love his approach.
"He comes around and asks you, 'How are your kids doing? How's life going? How are things going?' You get the sense that he genuinely cares," catcher Chris Iannetta said. "People can check boxes and be like, 'Hey, how are you?' and move on, and that's it. But you get a sense of the people in your lives -- friends, family, whoever it may be -- that genuinely care how the person is doing regardless of the baseball player."
Reliever Archie Bradley used Lovullo's own words to describe why the players trust him so much.
"He said this to me so this is a direct quote from him," Bradley said. '"I'll never forget how hard the game is.'"
Bradley pointed to the way his transfer from starter to the bullpen was handled.
"It was huge, just the communication, explaining the role I was in, how it was going to play out, how it shifted and just everything," Bradley said. "He's been up front. I've been in the loop from the get-go."
The hard-throwing Bradley has been electric as a late-inning reliever with a 1.26 ERA, 35 strikeouts and six walks in 28 2/3 innings.
Pitching has been the most unexpected part of Arizona's success. The Diamondbacks' 3.58 ERA is second best in the majors, behind only the 3.21 of the Los Angeles Dodgers.
Zack Greinke (8-3, 3.20 ERA) is pitching like his old self and left-hander Robbie Ray (7-3, 2.62) might be the best pitcher in baseball right now. In his last five games, Ray is 5-0 with an 0.24 ERA, allowing one run and striking out 48 in 37 innings.
"We're all Robbie-watching in the dugout," Lovullo said. "… I've become a fan, too. I'm just watching in amazement as to what he can do."
Lovullo was a two-time Pac-12 player of the year at UCLA, but that never translated into a successful major league career.
He said he "limped along," spending parts of nine seasons in the majors.
"I started to sit on the bench a lot and I started to pay attention a lot," Lovullo said. "I started to realize there was something inside of me that felt like I could manage. … I thought about being the leader of a team that could win a World Series. That became a goal of mine."
It wasn't a meteoric rise through the ranks, though.
He managed in the minors for nine years, followed by two seasons as first base coach in Toronto. When Blue Jays manager John Farrell moved to Boston in 2013, he took Lovullo with him as bench coach.
Lovullo was interim manager for the final 48 games of Boston's 2015 season while Farrell left for cancer treatment. With Farrell's health still a question, Lovullo signed a contract that prohibited him from taking another job for a year.
Finally, when Red Sox general manager Mike Hazen became GM in Arizona, he hired Lovullo to lead a Diamondbacks team that had sputtered through a 69-93 2016 season.
Lovullo studied the roster and found a young, aggressive group that was much better than that record indicated.
"I had to wait a little while," Lovullo said, "but I couldn't have been in a better situation."