D-backs miscues pile up in loss to Cardinals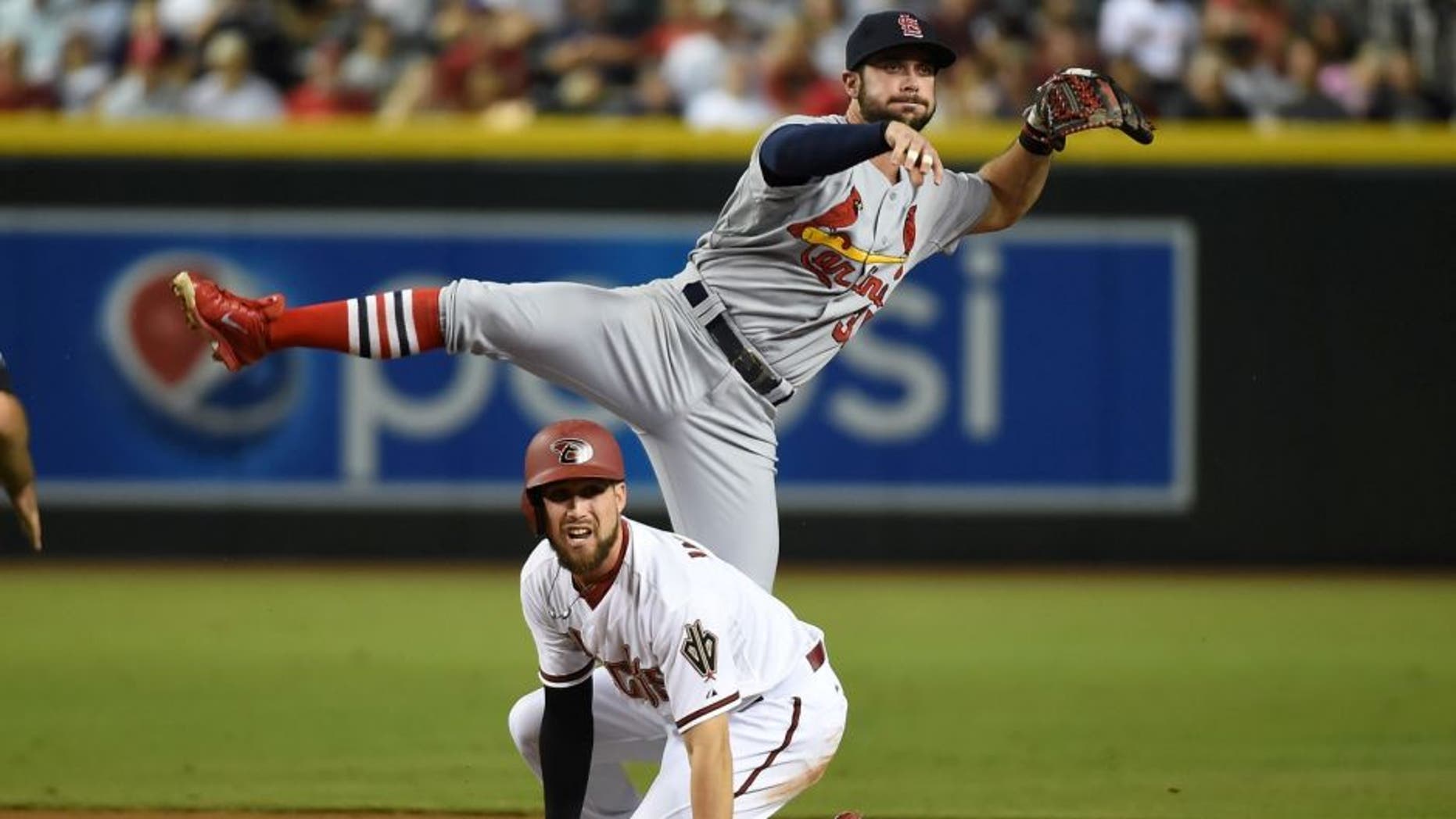 PHOENIX -- Diamondbacks manager Chip Hale said Jhoulys Chacin deserved Monday's start and Chacin backed up his manager. Chacin, in fact, deserved better.
Chacin, called up from Triple-A Reno earlier in the day, limited the major league-leading Cardinals to six hits and three runs in 6 1/3 innings but was let down both by his defense and the D-backs situational hitting in a 5-3 loss at Chase Field.
The D-backs committed two errors -- one leading to an unearned run -- and did not make multiple other plays that both the players and Hale said should have been made.
The shortcomings came after the D-backs made it a point pregame to say they had to play well in all facets to beat the Cardinals, who snapped the D-backs four-game win streak and have won all four games in the head-to-head series this year.
"We made some mistakes and didn't come through and it cost us," Paul Goldschmidt said. "We hold ourselves to a high standard, defensively, offensively, everything. It starts with myself tonight."
Chacin worked around a Goldschmidt throwing error in the fifth to strand two runners. He wasn't as fortunate in the sixth, when David Peralta committed an error and the D-backs twice couldn't complete a double play that allowed the Cardinals to take a brief lead.
"We didn't play very good defense behind him," Hale said. "Not very characteristic of how we play. We made some mental mistakes, too, and they cost us.
"As you learn to win and be a winning team and a winning organization, you can't have games like that."
In the seventh, the catcher Welington Castillo did not immediately cover third on a sacrifice bunt that allowed Greg Garcia to go first to third and end Chacin's night. The Cardinals took the lead two batters later and Yadier Molina made it a three-run inning with a two-out, two-run single off Daniel Hudson.
"It was all my fault," said Castillo, who still nearly made the out as he and Garcia met diving at the bag.
Despite the defensive miscues, the D-backs had chances to build on their NL-leading run total. They outhit St. Louis 14-9 but squandered prime scoring opportunities early in the game against Cardinals starter Lance Lynn.
The D-backs grounded into inning-ending double plays in the third, fourth and fifth. The latter two, by Aaron Hill and Goldschmidt, came with the bases loaded. Lynn also induced a double play in the sixth as Arizona stranded 11 runners.
"We did a great job of getting guys in scoring position with some of our good RBI guys in Goldy and Aaron Hill coming up," Hale said. "We just hit into some double plays. But you have to give the pitcher some credit. He made good pitches and (Yadier) Molina called good pitches to take advantage of us maybe being a little too aggressive."
Castillo hit his 17th home run in the second, Hill drove in a run with a sixth-inning double and the D-backs got the tying run to the plate against Cardinals closer Trevor Rosenthal after Peralta drove in A.J. Pollock in the ninth.
"I would have liked to get (Chacin) the win, get the team the win," Goldschmidt said. "He did a good job and unfortunately we weren't able to score many runs."
DID YOU NOTICE?
Andrew Chafin walked the only batter he faced, Carpenter, and he came around to score after Chafin left the game, ending the lefty's run of scoreless appearances at 19, which tied a franchise record for rookies.
KEY STAT
6-- The D-backs are 0-4 against the Cardinals this season but were outscored by a mere six runs combined in those games.
LAST CALL
The D-backs in the coming days will decide whether to keep Chacin in the rotation. A possible move could be to return Randall Delgado to the bullpen after his spot start Saturday at Cincinnati. The D-backs will need a sixth starter for their Sept. 1 doubleheader at Colorado.