Cy Young voter who snubbed Justin Verlander says he 'agonized' over his picks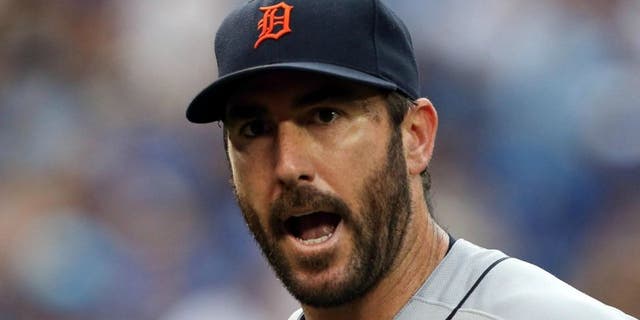 Justin Verlander is disappointed, Kate Upton is furious and Rick Porcello is ecstatic. Three very different emotions after the announcement of one major MLB award.
Porcello narrowly won the AL Cy Young Award on Wednesday night, despite receiving fewer first place votes (eight) than Verlander (14). Porcello earned 137 total points to Verlander's 132, though Verlander might have won the award if he had been named on all 30 ballots from the Baseball Writers Association of America. Instead, he was left off of two ballots altogether -- voters rank their top five choices -- and both ballots came from Tampa Bay voters.
Bill Chastain, one of the voters who excluded Verlander, spoke with the New York Daily News' Mark Feinsand about his much-criticized decision:
"I feel bad that people are upset about this; I did the best I could," Chastain told the Daily News. "I went around the clubhouse, I asked guys. I agonized over this. The biggest thing for me was between (Baltimore closer Zach) Britton and Porcello."
Chastain admitted that he sent in his ballot with about a week remaining in the regular season -- before Verlander pitched 14.2 innings of one-run ball with 20 strikeouts in his final two starts.
"At the time, I thought I picked the best five guys," said Chastain, who voted for Porcello, Britton, Kluber, Chris Sale and Masahiro Tanaka in that order. "Maybe I should have waited until the end. When I voted, it looked pretty clear to me."
Chastain will now have to endure Upton's wrath, though the heat could ease a bit on him by Thursday night when the AL and NL MVP Award winners are announced. After all, we could have another controversy on our hands.