CUP: What's Next For Roush Fenway?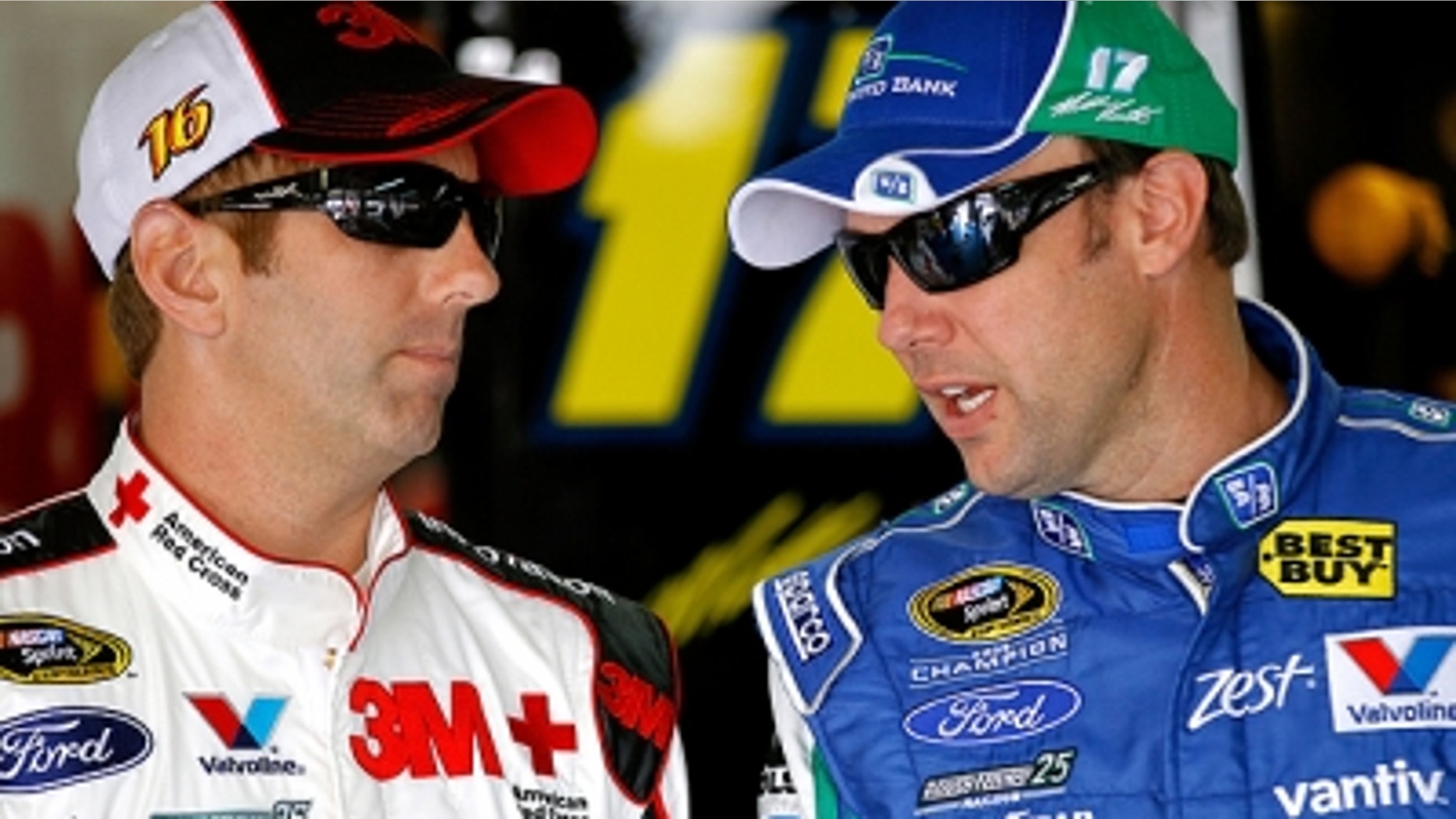 In many respects, 2012 has been a curious year for Roush Fenway Racing, the flagship Ford team in NASCAR.
On the plus side of the ledger, team drivers Greg Biffle and Matt Kenseth have combined to win three races and led the NASCAR Sprint Cup points for 21 of the first 25 weeks.
Kenseth opened the season with a win at the Daytona 500 and team's restrictor-plate program has never been better. As always, Roush Fenway has been especially good on the myriad 1.5-mile tracks that make up nearly half the schedule.
The downside? Carl Edwards, who Ford enticed to stay with the team by ponying up lucrative stock options when he was a free agent last year, has struggled mightily. Edwards is winless in his last 59 Sprint Cup races and never got within hailing distance of qualifying for the Chase for the Sprint Cup.
And while Kenseth and Biffle both easily made the Chase, neither man has been especially hot lately. After posting one victory and five top-five finishes in his first eight races this season, Kenseth has just one top-five in his last 11 starts.
Worse yet, Kenseth is on his way out the door, heading to Joe Gibbs Racing, the same team that tried so hard to recruit Edwards last year.
Biffle won at Michigan last month, but hasn't finished better than ninth since. He's not running badly, but he's not running great, either.
In the Chase era, Roush Fenway has captured just one championship, the first one in 2004, with Kurt Busch prevailing in a thriller over Jimmie Johnson and Jeff Gordon. But they've come tantalizingly close on several other occasions.
In 2005, the team put all five of its cars in the Chase, with Biffle, Edwards and Mark Martin ending the season second through fourth in points.
Kenseth put up a whale of fight in 2006 before finishing second in Johnson's first championship season and two years later, Edwards and Biffle finished second and third.
Last year, Edwards ended up second to Tony Stewart, losing the title on a tiebreaker, with Kenseth finishing fourth.
No one knows whether this year is the year that Roush Fenway wrests the NASCAR championship back from Johnson and Stewart, who between them have won the last seven. But Kenseth and Biffle say they remain optimistic, even with Kenseth a lame duck.
One reason is the remaining tracks.
In the Chase, there are five 1.5-mile tracks: Chicagoland Speedway, Kansas Speedway, Charlotte Motor Speedway, Texas Motor Speedway and Homestead Miami-Speedway.
Earlier this year, Biffle won at Texas, was fifth at Kansas and fourth at Charlotte. Kenseth had top fives at Texas and Kansas and a top 10 at Charlotte. And Homestead is one of the team's best tracks.
"I feel very, very good about our 1.5-mile program," said Biffle. "It is a solid program. … The five (tracks) in the Chase we run very good at and are really excited about. We feel like we could win any or all of those five."
"I can't wait to go to Chicago and race there," added Kenseth. "We definitely know we need to win some races to have a shot at this thing so hopefully we can have a shot next week."
Tom Jensen is the Editor in Chief of SPEED.com, Senior NASCAR Editor at RACER and a contributing Editor for TruckSeries.com. You can follow him online at twitter.com/tomjensen100.