CUP: Top 10 Races – No. 4, Daytona Firefight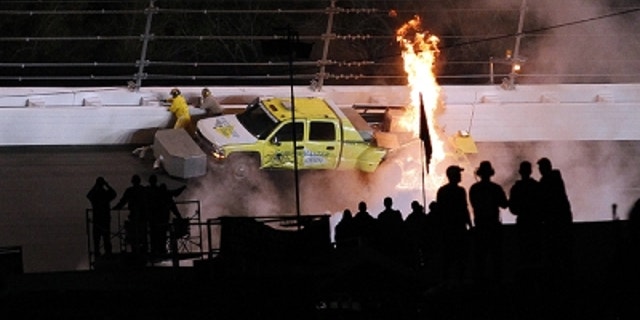 NEWYou can now listen to Fox News articles!
Matt Kenseth, a guy who isn't a big fan of restrictor-plate racing, won the Daytona 500.
That's about the only simple statement that can be made about the race.
This Daytona 500 was so different that they ran it – for the first time – at night, in primetime television land. That was a result of wicked weekend weather that prevented the race from being run on Sunday, its originally scheduled day, and then again forced postponement Monday morning.
The race lit up the Daytona night sky – literally.
This came courtesy of one of the strangest circumstances in NASCAR history. During a caution period, while returning to the track and gaining speed, Juan Pablo Montoya lost control of his car and hit a track jet dryer, causing a spectacular explosion and fire near the third turn.
Neither Montoya nor the jet dryer driver was injured, but the track surface was soaked in fuel and other fluids, and workers needed two hours – and a load of Tide detergent – to clean the asphalt.
The race was redflagged at lap 160 with Dave Blaney leading. For a while, because of the possibility of track damage caused by the fire, there were questions about whether the event would be continued. If it had ended at that point, Blaney would have been the upset winner.
During the red flag, as cars were parked on the backstretch, Brad Keselowski created a sensation of sorts by tweeting photos from the scene on his cell phone. Thirty-five races later, he would win the Sprint Cup championship, his reputation as NASCAR's top tweeter confirmed.
As might be expected on such a wacky night, the race went overtime.
There were several accidents over the closing laps, and the final one sent the race beyond regulation. Kenseth held off Dale Earnhardt Jr. to take the win, his second in the 500.
Top 10 Races:
4. Daytona 500, Daytona International Speedway, Feb. 27
5. Irwin Tools Night Race, Bristol Motor Speedway, Aug. 25
6. Good Sam Roadside Assistance 500, Talladega Superspeedway, Oct. 7
7. Bojangles Southern 500, Darlington Raceway, May 12
8. Quicken Loans 400, Michigan International Speedway, June 17
9. GEICO 400, Chicagoland Speedway, Sept. 16
10. AAA Texas 500, Texas Motor Speedway, Nov. 4
Mike Hembree is NASCAR Editor for SPEED.com and has been covering motorsports for 30 years. He is a six-time winner of the National Motorsports Press Association Writer of the Year Award.