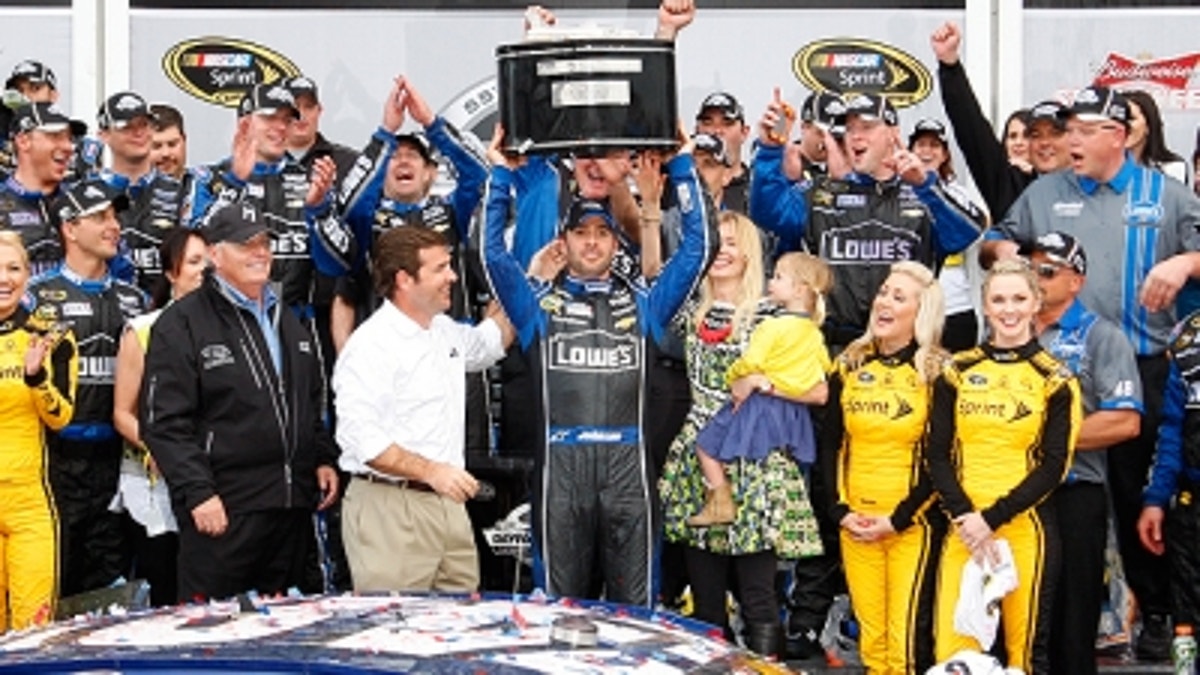 JOHNSON EYES TALLADEGA – Restrictor-plate tracks were not fun places last year for five-time Sprint Cup champion Jimmie Johnson.
Johnson did not finish any of the four plate point races – two at Daytona, two at Talladega – last season.
On the flip side of the coin, Johnson owns two wins at Talladega (2006 and 2011), and he ended his run of plate misery in February by winning the Daytona 500. Next up in restrictor-plate land – Sunday's Aaron's 499 at Talladega.
"Well, it's nice that we finished a plate race earlier this year," Johnson said. "Our record last year wasn't great. We didn't finish one race, so our luck had to change at some point.
"Wouldn't it be great if we did the opposite this year and won every plate race? Don't think that's going to happen but Chad (Knaus, crew chief) always gives me a great car here, so I'm looking forward to seeing what we can do in the Lowe's Chevy this weekend."
GIBBS APPEAL NEXT WEEK Next up on the NASCAR court docket – Joe Gibbs Racing.
Penske Racing's appeal of its recent penalties was denied by a NASCAR committee Wednesday. Penske has announced that it will appeal to the next – and final – level, chief appellate officer John Middlebrook. That hearing is scheduled for noon Tuesday at the NASCAR Research and Development Center in Concord, NC.
The Gibbs team's appeal of its penalties stemming from Matt Kenseth's illegal engine at Kansas Speedway is scheduled to begin Wednesday morning at the R&D Center.
Although there have been exceptions, NASCAR appeals committees typically do not modify the sanctioning body's original penalties.
WHETHER THE WEATHER? – The weather forecast for this race weekend in Talladega, AL is not particularly promising.
The forecast calls for a 50 percent chance of showers Friday and a 60 percent chance Saturday. Sunday's forecast is better – a 30 percent chance of rain.
Only two of the 87 Sprint Cup races at Talladega have been shortened because of weather conditions – the spring race in 1987 and the fall race in 1996.
HYDE AUCTION MAY 11 – Numerous racing items are scheduled to be sold May 11 as part of an auction of the estate of the late Harry Lee Hyde, a NASCAR mechanic and son of legendary crew chief Harry Hyde.
The auction is scheduled at 9 a.m. ET at 5790 Highway 200 in Concord, NC.
Included in the hundreds of auction items will be racing memorabilia and other pieces owned by Harry Hyde, who built cars for such drivers as Tim Richmond and Bobby Isaac.
Among the items are checkered flags from victories at several NASCAR tracks, team uniforms, trophies and photographs.
Mike Hembree is NASCAR Editor for SPEED.com and has been covering motorsports for 31 years. He is a six-time winner of the National Motorsports Press Association Writer of the Year Award.