CUP: Texas Is Busch Country, As Kyle Sweeps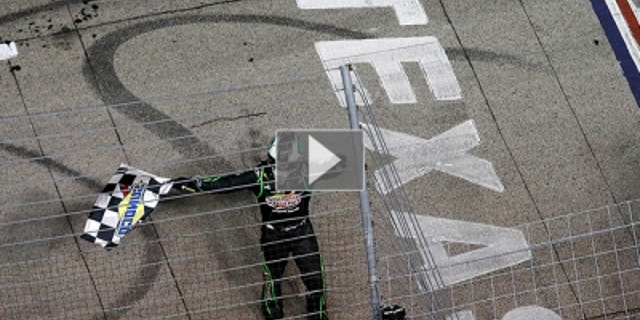 NEWYou can now listen to Fox News articles!
Kyle Busch completed his sweep at Texas Motor Speedway Saturday night, winning the NASCAR Sprint Cup race one day after capturing the NASCAR Nationwide event at the 1.5-mile track.
The younger Busch brother had one of two dominant cars, his No. 18 Joe Gibbs Racing holding off Martin Truex Jr., who was trying to break a 209-race winless streak. But despite leading 142 laps, Truex and his Michael Waltrip Racing Toyota lost the lead to Busch on the last pit stop and couldn't run him down.
The victory was the 26th of Busch's Sprint Cup career, capping a near perfect two days. It was also his fifth consecutive top-five finish.
"What a weekend!" said Busch. "We're so elated. We're so jacked up to be here."
"We're so happy," added team owner Joe Gibbs. "… You win with people and we've got good people."
Roush Fenway Racing drivers Carl Edwards and Greg Biffle were third and fourth, respectively, with Joey Logano completing the top five in a Penske Ford.
Kyle and Kurt Busch started from the front row, but the big story in pre-race was that the Penske Fords of Brad Keselowski and Logano didn't pass inspection initially and both had to change their rear-end housings. Logano's car didn't reach the grid until after the engines had fired.
The younger Busch broke away at the drop of the green flag, but Kurt fell back in the opening laps and later had to go the garage for fuel system issues. Kyle led 41 of the first 42 laps before being passed by Truex after the first caution ended.
At the Lap 100 mark, Kyle still held the lead over Truex, who had led 33 laps to this point. Jeff Gordon was third, followed by Matt Kenseth and Kurt Busch.
Then, on Lap 188, there was big drama. Gordon passed Kyle to take his first lead of the night, while at the same time, the battery went in Dale Earnhardt Jr.'s car, dropping him from third to 30th.
After a round of green-flag pit stops, Truex went back out front over Busch and Gordon.
While Busch dominated the first half of the race, it was Truex who asserted himself in the second half of the event.
Truex had to give up a 4-second lead when Marcos Ambrose and Jeff Burton crashed on the backstretch late in the race.
When the track went green on Lap 290, Truex was ahead of Busch and Gordon and again Truex was able to pull out a lead on his competitors.
Gordon's hopes of victory were dashed with 28 laps to go, when a suspected flat tire on his Hendrick Motorsports Chevrolet turned out to be a failed left-front hub.
With 21 laps to go a caution came out for debris. Busch won the race off pit road over Truex and the Roush Fenway Racing Fords of Carl Edwards and Greg Biffle.
"There at the end, my boys ripped off one hell of a stop and that's what won the race for us," said Busch.
And once out front, Busch held on to join Jimmie Johnson as the second two-time Sprint Cup winner this year.
RESULTS