CUP: T Is For Texas – And Trouble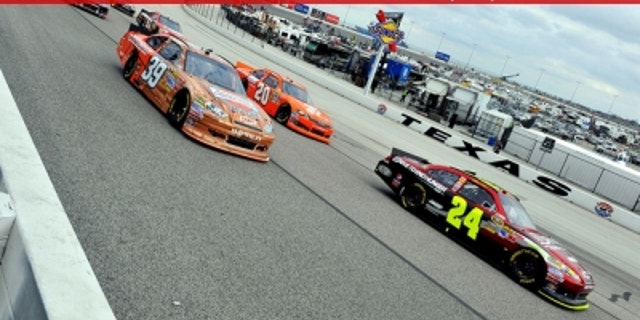 If Pocono Raceway is the Tricky Triangle, as its slogan claims, Texas Motor Speedway might be the Tricky Quad.
Plagued in its early years by poor design, TMS now ranks as one of the fastest and most challenging tracks on the Sprint Cup circuit, in large part because it has evolved into a bipolar sort of facility. The way drivers and teams approach the first and second turns differs from the approach in three and four. And, with age, the surface has become "wider."
"Texas is actually one of the fastest tracks we go to all year, so you have to be on top of your game because things can happen pretty quickly," said Ryan Newman. "It's a track I've always liked, although it doesn't necessarily show in my finishes. It's a smooth, fast race track, and there are multiple grooves, so it's fun to race there.
"The asphalt has aged the track to the point it has gotten better and better each time we come back. What I mean is that the track has basically gotten wider. It's gotten a bit more character. A little more bumpy, which is fine. I like it. I think that, in general, the track has gotten wider and racier each time we've come back. It's got less grip, but that's fine. I'd rather slide around a little bit and be in charge of my race car than be stuck to the race track."
Brad Keselowski said Texas, scheduled to host the Samsung Mobile 500 Saturday night, appears to be similar to other 1.5-mile tracks on the tour but that that idea is far off the mark.
"Texas really is a unique race track and a unique layout," he said. "From above, it looks like any normal 1.5-mile track, but the transitions into and off of the corners are quite a bit different than Charlotte, Las Vegas or any of the other mile-and-a-halfs. There is a lot of banking into the corners, which means you can carry a lot of speed in and to the center of the turns, but you lose that speed on exit as the track flattens out.
"It's difficult because normally you can carry the same amount of grip and speed on both corner entry and corner exit. You have to adjust accordingly, and sometimes that's hard to do at 180 miles per hour. It's easy to find yourself in trouble, especially off of turn two."
Greg Biffle, who carries the point lead into Texas, calls the track challenging.
"Coming off of turn two the track really flattens out, but getting into three and four it's different on both ends, making for a kind of a long, sweeping corner," he said. "Typically, we run the bottom in three and four, and maybe run up the race track a little bit in one and two. Kind of a double dogleg down the frontstretch, and it can be a little bit challenging getting to pit road for green-flag pit stops.
"We've run really, really well there. I've had a lot of success at Texas, and I feel like it could be our first win of the season coming up."
Mike Hembree is NASCAR Editor for SPEED.com and has been covering motorsports for 30 years. He is a six-time winner of the National Motorsports Press Association Writer of the Year Award.