CUP: Stewart Leaning On Addington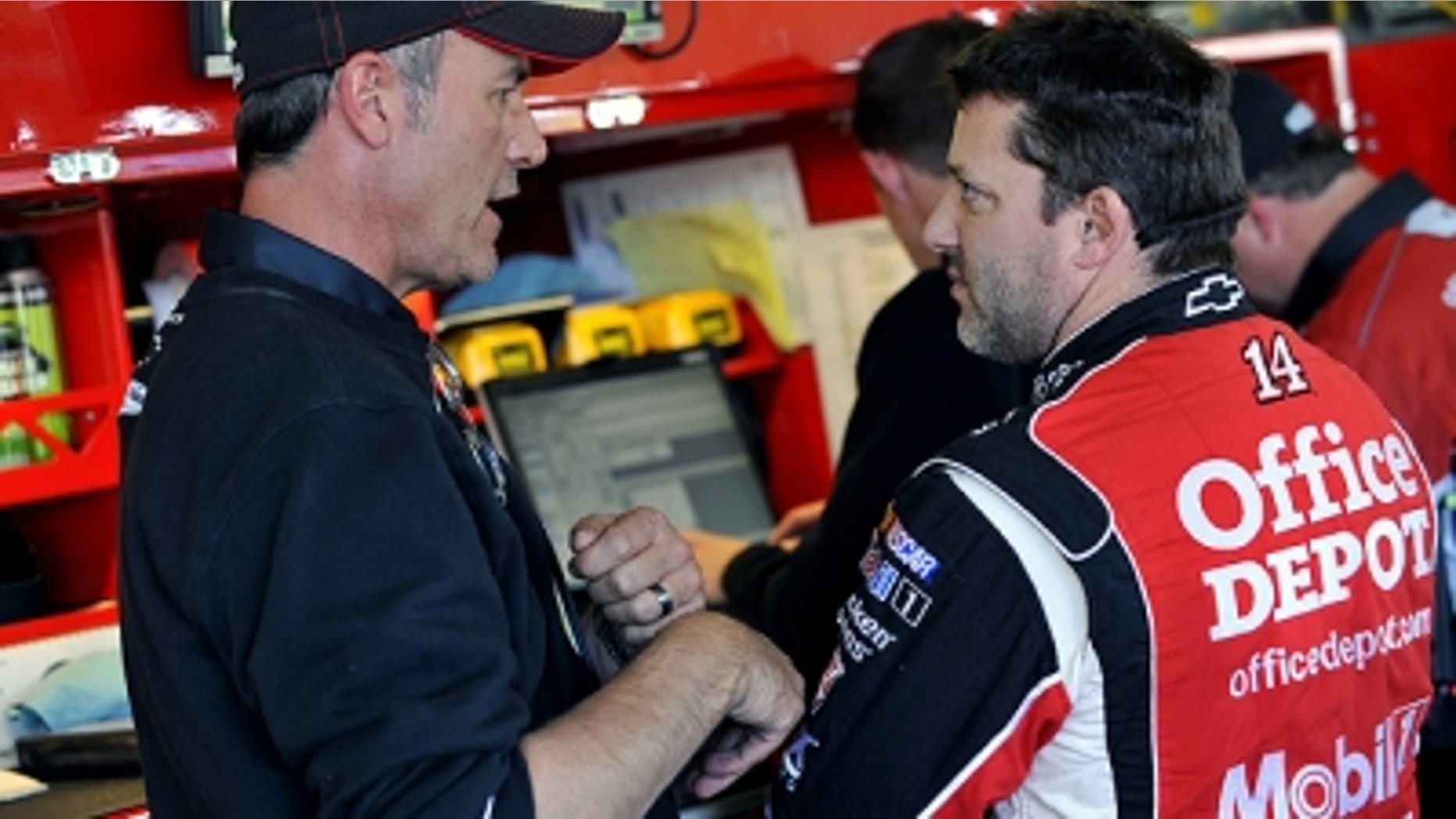 Tony Stewart hired Steve Addington as his new crew chief for a lot of reasons. One of them may become obvious this weekend.
Stewart, the reigning and three-time NASCAR Sprint Cup champion, has struggled mightily on the concrete racing surfaces of both Bristol Motor Speedway and Dover International Speedway in recent years.
In 16 races on concrete since the start of the 2008 season, Stewart has just two second-place and five top-10 finishes, with a total 275 laps led.
During the same period, Addington's drivers — first Kyle, then Kurt Busch — scored four victories at Bristol and Dover, as well as earning six top threes, seven top fives and nine top 10s, along with a whopping 1,398 laps led.
Parse the numbers as you wish, but the bottom line is about as basic as basic gets: Stewart has struggled on concrete tracks over the last four seasons, while Addington's drivers have posted great numbers.
And Stewart's not too proud to admit it.
"Whatever we've had in the past, we're not bringing back," Stewart said of this weekend's Food City 500 at Bristol. "I told Steve at our competition meeting on Tuesday, I don't care what package you put in the car, just make sure it isn't what we ran the last two races there."
Coming off a victory last Sunday at Las Vegas, Stewart is eager to get back to Bristol and perhaps find a reversal of fortune after his recent run of poor finishes there.
"We've run terrible there the last two or three races, so we're looking forward to a new package, and coming off the win at Vegas is definitely the momentum we need to get started off on the right foot on Friday," Stewart said. "I'm definitely looking forward to getting there on Friday."
As for Addington, his plan is to take what worked with the Busch brothers and use it with Stewart.
"We worked mechanical grip into the car and that seemed to pay off for us," Addington said. "Plus, we learned some stuff. We had an accident with Kyle there at Bristol – the first time we were ever there together in '08. We were leading the race and had a steering box issue, so we learned a lot with the steering and how he drove the racetrack. Hopefully, some of the stuff that we've learned over the years at those places and implementing them here for Tony will give him the feel he needs to pick the performance up at Bristol and Dover this year."
Like his new boss, Addington is eager to get started with practice on Friday.
"I'm really looking forward to it to see if we can implement the stuff that we've done before here with Tony," he said. "They've done a really good job with the way they've built cars here at Stewart-Haas Racing, so I'm looking forward to going there and seeing if some of the stuff that we've ran there in the past works even better with Tony now. He and Zippy (Greg Zipadelli, competition director at Stewart-Haas Racing and former crew chief for Stewart at Joe Gibbs Racing) were pretty successful there."
As for Stewart, he'd love to follow up his win at Las Vegas with a second in a row.
"Everybody gets excited just because it's Bristol," said Stewart. "It's hard to win there. One of my favorite trophies is my Bristol trophy from the win in 2000. I keep asking myself why I only have one of them. It's just a hard race to win. When guys win there, they don't just stand on the car and go, 'Whoo.' They usually scream when they get out of the car because it's such a hard place to win."
Tom Jensen is the Editor in Chief of SPEED.com, Senior NASCAR Editor at RACER and a contributing Editor for TruckSeries.com. You can follow him online at twitter.com/tomjensen100.