CUP: Stakes Really High For Some In Duel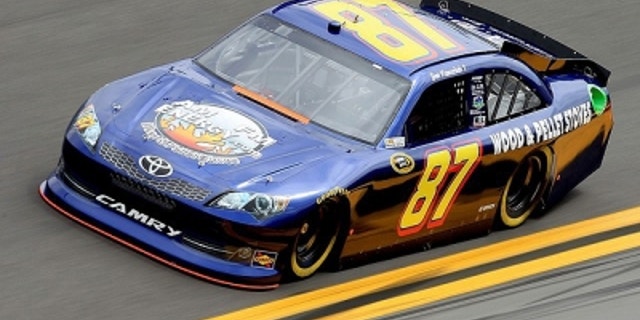 Article by Holly Cain, FOXSports.com
Mike Wallace can't remember a year he didn't have to race his way into the Daytona 500 with a good showing in the Gatorade Duel 150-mile qualifying races.
Michael McDowell is a respectable 1-for-2 in successfully earning a 500 spot via the qualifier and likes his chances in Thursday's race.
And Robby Gordon bristles when even asked it.
"Why do you have to bring up a sore subject,'' Gordon said — only half-jokingly — while peering out of the cockpit of his No. 7 Mapei Dodge during Duels practice Wednesday at Daytona International Speedway.
"I finished seventh in a Duel in '05 and didn't make the race. Can you believe that?"
On Thursday, those three drivers will be among the 10 — including two-time Daytona 500 winner Michael Waltrip and 1988 Cup series champ Bill Elliott — vying for four starting positions in the Daytona 500. Two spots are up for grabs in each of the two Duel qualifiers.
"I swear I can't think of a time when I didn't have to race my way in, and it's been a small percentage of missing the race," said a smiling Wallace, who will start the No. 37 Poynt.com Ford 24th out of 25 cars in the first Duel.
Teammates Joe Nemechek and Elliott are hoping to land a sweep in the second Duel — besting four others, including fan favorite Kenny Wallace, Dave Blaney, Robert Richardson Jr. and J.J. Yeley — for the two available Daytona 500 starting spots.
"I'm used to this," Nemechek said, adding quickly, "And I've made it in more than I haven't."
While confident in their Toyotas, neither Nemechek nor Elliott is sure what to expect from Thursday's races, especially after watching a wild and unpredictable Budweiser Shootout on Sunday.
Large-pack-style racing has replaced the two-car tandem drafts that characterized Daytona last year. And not only is that what veterans such as Nemechek, Elliott, Waltrip and the Wallace brothers are more accustomed to, McDowell believes it will be more beneficial for drivers with so much on the line.
"It's good for guys who have to race in because you're not relying on just one guy for help," McDowell said.
Elliott, who is attempting to make his 26th Daytona 500 start, grinned and shook his head when asked about his chances. He finished 12th in the Daytona 500 last year after having to race his way into the field through the Duel qualifier.
"It's so complex now compared to a race one year ago compared to today compared to five years ago," Elliott said.
"The thing about being in the second race is you can watch the first and it will dictate what you can do and cannot do. No one's really gotten out there and done anything dramatic. I think what happened the other night, people are still leery of what's going on."
And all the drivers acknowledge it's a delicate balance between aggression and caution — especially when everything is on the line.
"If you're Bill and I, you gotta go," said Nemechek, who has four top-10 finishes in the qualifying races. "But you have to remember: One bonehead move by someone and that will end the day for a lot of people.
"I think you're going to see some 'racey' guys, but also a lot of those locked in will be minding their own business and not putting themselves in a bad situation. Backup cars are getting hard to come by."