CUP: Points Take Another Twist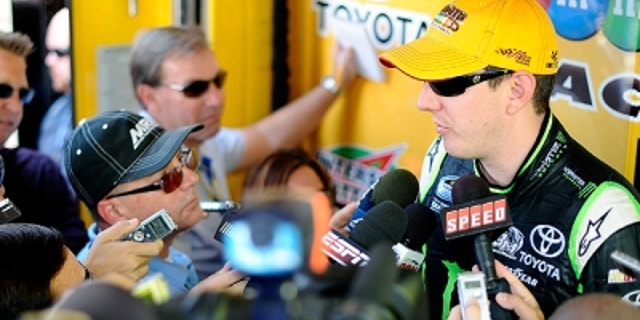 Denny Hamlin won Saturday night's Irwin Tools Night Race at Bristol Motor Speedway, a wild and crazy affair that had huge implications on the NASCAR Sprint Cup championship.
Hamlin became the 11th different winner in the last 11 races in one of the year's most compelling events.
For Hamlin, it was his third race victory of 2012, creating a four-way tie with Tony Stewart, Brad Keselowski and Jimmie Johnson for most race victories on the season.
When the Chase for the Sprint Cup starts in three weeks at Chicagoland Speedway, every driver in the top 10 in points will have three extra bonus points for each race victory in NASCAR's 26-race regular season.
Two wild cards will also make the Chase — the two drivers in positions 11-20 who have the most race victories.
Kasey Kahne, the only driver in the 11-20 slots with two victories, is now the first wild card. The second wild card after Bristol is Kyle Busch, who finished sixth on Saturday night.
Busch has one race victory and 707 points, which puts him 16 points ahead of Jeff Gordon, 19 up on Ryan Newman and well ahead of Marcos Ambrose (-28) and Joey Logano (-69).
Of course, all of that change next week at Atlanta or the week after at Richmond, the final two stops in NASCAR's regular season. If Gordon, Newman, Ambrose or Logano wins one of the next two races and Busch goes winless, he would fall out. Likewise, if Carl Edwards, who is winless now but ahead of Busch in points, wins, he could knock Busch out.
Newman was the big loser at Bristol, getting crashed out by Juan Pablo Montoya after completing just 189 laps. He finished 36th.
"It (the crash) drove the frame into the motor and it's just too far gone," said Newman's crew chief, Tony Gibson, after the crash. "We couldn't fix it; not safe enough to go back out."
Gibson said Newman had a tire going down before Montoya hit him.
"Well he (Newman) just said somebody got into the left-rear of him and cut the left-rear tire," said Gibson. "The lap before that he started getting really loose and then the very next lap, it just turned around on him. So, he didn't say anything about the No. 42 car. I think we were going to spinout no matter what with that left-rear tire. By the time we saw it he has already spun. It's a shame. The Outback Steakhouse is a great sponsor. We had finally gotten some track position to do something with it and we were a little bit tight, but we thought we'd be okay. It's just misfortune."
Tom Jensen is the Editor in Chief of SPEED.com, Senior NASCAR Editor at RACER and a contributing Editor for TruckSeries.com. You can follow him online at twitter.com/tomjensen100.