CUP: Pocono Offers Fresh Challenges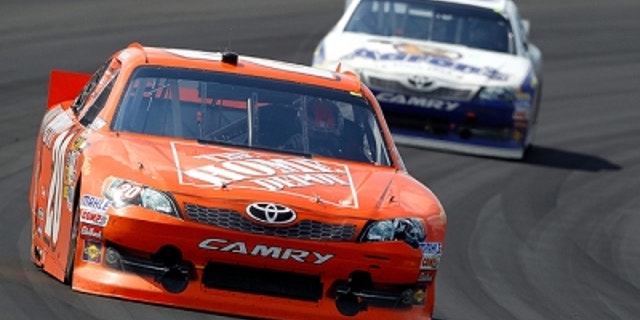 NEWYou can now listen to Fox News articles!
Although newly repaved race tracks are almost universally challenging (and often criticized by drivers), Pocono Raceway's new surface was generally praised in June even as the speedway produced remarkably fast record speeds.
Thirty-six drivers, led by pole winner Joey Logano, broke the track qualifying record in time trials, and Logano went on to dominate in the race, scoring a win that now places him in the Chase wild-card conversation.
The series returns to the 2.5-mile track this weekend for the Pennsylvania 400 and the second round on the fresh surface.
The track's long frontstraight produces some of the fastest spot speeds in NASCAR before drivers slow dramatically for the first of three turns.
"You still have the sensation of really pushing down into (turn) one, but before it was real bumpy, and the car was flying around a lot more," Logano said.
"So, turn one at Pocono, the old track, you're super busy because you're trying to grab the downshift in there, you're trying to slow down, you're trying to hit your line, it's very line sensitive. It's tight and it's bumpy, and there's a lot of things going on.
"Now, at least it's a little more simple. You're still slowing down quite a bit, but it's not as much."
Drivers often say that success at Indianapolis Motor Speedway, a track similar to Pocono with its relatively flat surface and tight turns, translates to Pocono. If that's the case, Jimmie Johnson, an easy winner at Indy, should roll into the Pocono Mountains as Sunday's favorite.
Oddly, Johnson has not won at Pocono since 2004 and scored no victories there during his five championship seasons. He was a strong fourth there in June.
"I am excited to go back because we had a really strong car there in the last race," Johnson said. "I think we had a few track-position issues to overcome and two speeding issues, but we still managed a top-five finish. Chad (Knaus, crew chief) called a great race. He got me some track position on two tires. The pit stops were flawless and we had a fast car. After last week's win at the Brickyard, the entire team is excited to get to Pocono and keep the momentum going."
Kyle Busch said passing at Pocono remains a difficult process.
"It was a little bit harder to pass because it seems like when you're out front in clean air you have so much more of an advantage than being back in traffic than what it used to be," he said. "To me, it was always a hard, tricky place, but it's actually finally started becoming a two-lane race track in turn three. You could run the bottom and you could run the top with what we call 'the grip strip.' Now it's all grip, so it's all back to the bottom again, and you can't really make much time up on the outside anymore."
Tony Stewart said the track's grip makes aggression on restarts mandatory.
"The restarts were insane (in June), but you had to take full advantage of them," Stewart said. "That was the biggest opportunity to make gains and, definitely, big gains. You could get three or four at a time if somebody got bottled up a little bit. Had to be on your toes for the restarts, for sure."
Mike Hembree is NASCAR Editor for SPEED.com and has been covering motorsports for 30 years. He is a six-time winner of the National Motorsports Press Association Writer of the Year Award.