CUP: Phoenix Race A Question Mark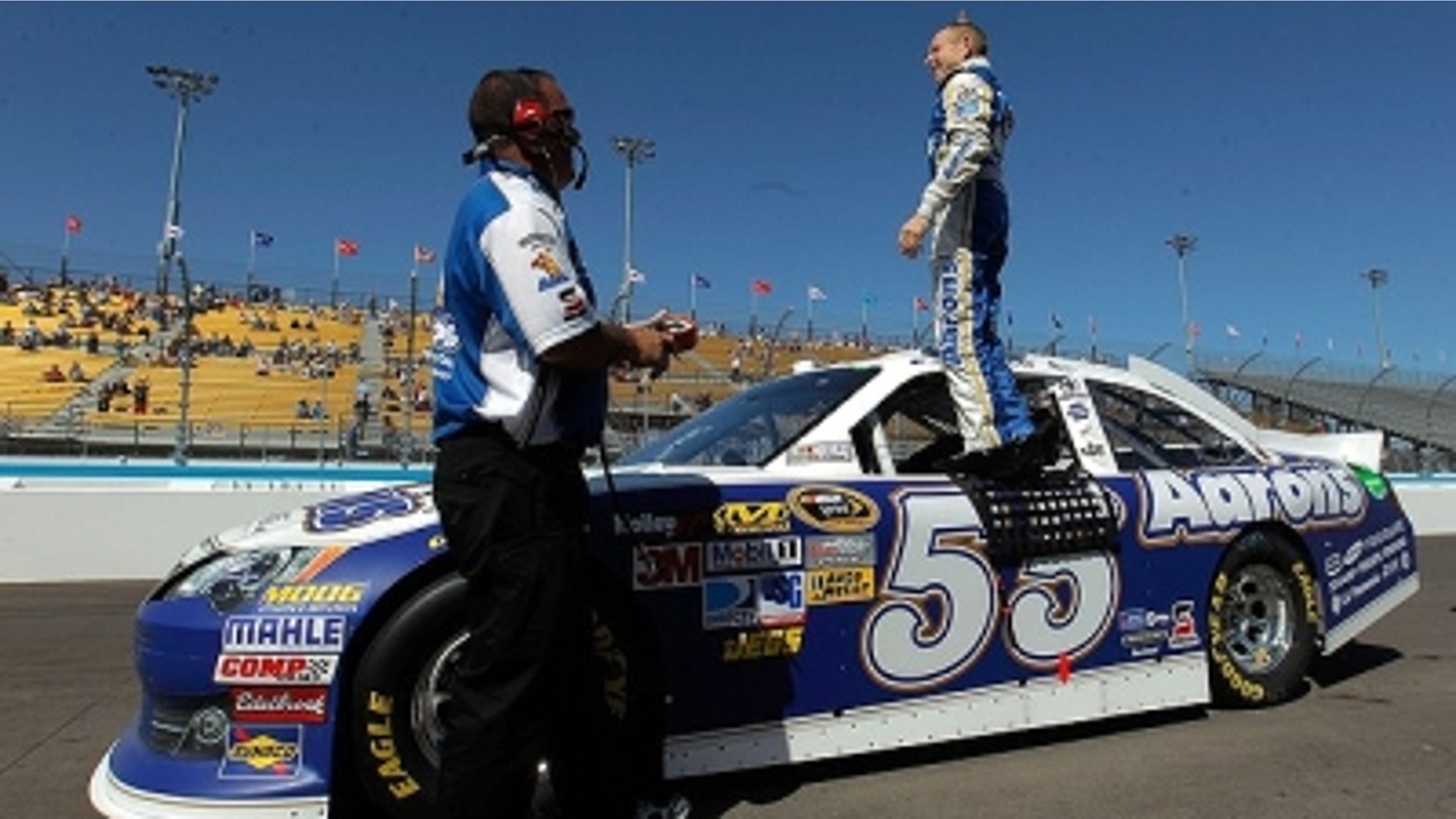 There's a fine line that exists between running a fast lap at Phoenix International Racing and ending up in the wall.
How fine?
According to Regan Smith, who qualified third Saturday, it's just six inches. And if a driver misses that line, he's "going to slip." Smith expects the line to widen during Sunday's race when drivers are forced into the higher groove and the addition of double-file restarts.
"The track is extremely slick," Smith said. "We saw it the last race also. It did the same thing where we practiced when it was cooling down and we opted not to do a mock-qualifying run at the end of the second practice yesterday, because I felt like last time here it messed me up a little bit. The track was over a second slower on Saturday from where it was on Friday at the end of practice. And I just didn't want to have that in my head. I wanted my last qualifying run in my head to be one that was during the daytime when it was maybe a little bit warmer. But even yet today, it's got to be 10 or 15 degrees warmer out right now than what it was.
"Because of that, there's a very narrow line; and if you don't have every car going out there and running the topside in, it's not going to come in."
Mark Martin found the fastest line on Saturday with a lap of 136.815 mph on his first and only lap. It was his second pole at PIR and his 52nd career pole in Sprint Cup. The 53-year-old acknowledged he was apprehensive particularly through turns one and two, but gave the lap everything for his new teammates at Michael Waltrip Racing.
"I was so, so nervous about making the qualifying thing because I wanted to be able to go out there and throw it all out and go all out," Martin said. "I knew I had a good race car, but I knew I couldn't. Now it's going to be so easy for me to either underdrive it or overdrive it. I overdrove it the second lap and almost wrecked it down there in turns one and two. I didn't even run my second lap.
"I felt a lot of pressure because I wanted it for them. I want the success for them. I see how hard they're trying and how hard they're putting into it and I want to see them succeed. I was relieved to get back around here and have it end up being first was even better."
Tony Stewart posted the second-fastest time, followed by Smith, Jimmie Johnson and Juan Pablo Montoya.
Four cars found the danger zone during practice on Friday, including Daytona 500 winner Matt Kenseth and Ryan Newman. Both drivers along with Brendan Gaughan and Michael McDowell went to backup cars prior to qualifying. Newman salvaged the best qualifying effort of the group, posting the sixth-fastest lap. Kenseth failed to find his groove — or the one on the track — in qualifying.
"It was just awful," said Kenseth, who qualified 26th. "We have been way too free since we have been here and the track seems a lot more free than last time. We didn't get much practice in the backup car with me wrecking the other one and having to put the motor in and all that stuff. That got us behind and we just missed it by a lot there in qualifying."
THAT NEW-CAR SMELL
NASCAR met with all four manufacturers to get a taste of the new 2013 prototypes at the Aerodyne Wind Tunnel in Mooresville, N.C. on Friday.
According to one NASCAR official who attended the exercise, "it was another attempt to aero-match" the cars. NASCAR is hoping to put as much identity in the new 2013 models as possible. Friday was the second gathering of all four makes at the wind tunnel as NASCAR searches for common aero numbers.
Although NASCAR's rule book has a submission date of July 1 for new cars, the pressure is on manufacturers to have designs completed in order to distribute new parts and pieces to the teams.
The next step? Dodge track boss Howard Comstock says the Cup cars are so stout that "Once the 2013 cars are done, we'll need to spruce up the Nationwide cars a little bit."
HARNESS THOSE HORSES
Triad Racing Technologies has expanded its business to provide engines for BK Racing and JTG/Daugherty Racing along with Joe Nemechek and David Stremme.
With Penske Racing defecting to Ford, it seems at this juncture that any potential Dodge team will need to find an engine supplier. Robby Gordon currently uses Arrington engines, but certainly the market is begging for another independent supplier.
So could a growing engine company consider adding Dodge engines to its inventory along with the Toyota power plants?
"We're a Toyota program," says owner Mike Held. "Our bread and butter is in the Toyota camp. We're not bound to do that but we're here because we have a relationship with Toyota."
SAY WHAT?
From Brad Keselowski on why he cuts down on the apron in Turn 2 during his laps at Phoenix International Raceway:
"To pass cars; you know it's quicker. It's definitely shorter. It's hairy and not a lot of fun to do. But as race car drivers, if there is any advantage to be had it's our responsibility to find it and use it. It is kind of rough on the car and it hurts inside the car (laughs).
"That is a good question, why on some laps and not others. You know you have to keep in mind that a car is like a fruit in the sense that it's a perishable item. It's only made to run a certain amount of laps, cycles, etc. (As Ricky Stenhouse smirks during his answer) Man, I'm just saying it has a shelf life. It expires and when you use it in a manner like that, you're going to make it expire quicker.
"It's a question of when it is helpful and when is it not? You don't want to take a bite out of the apple when it's rotten. You take care of it."