CUP: Patrick Surprises With 12th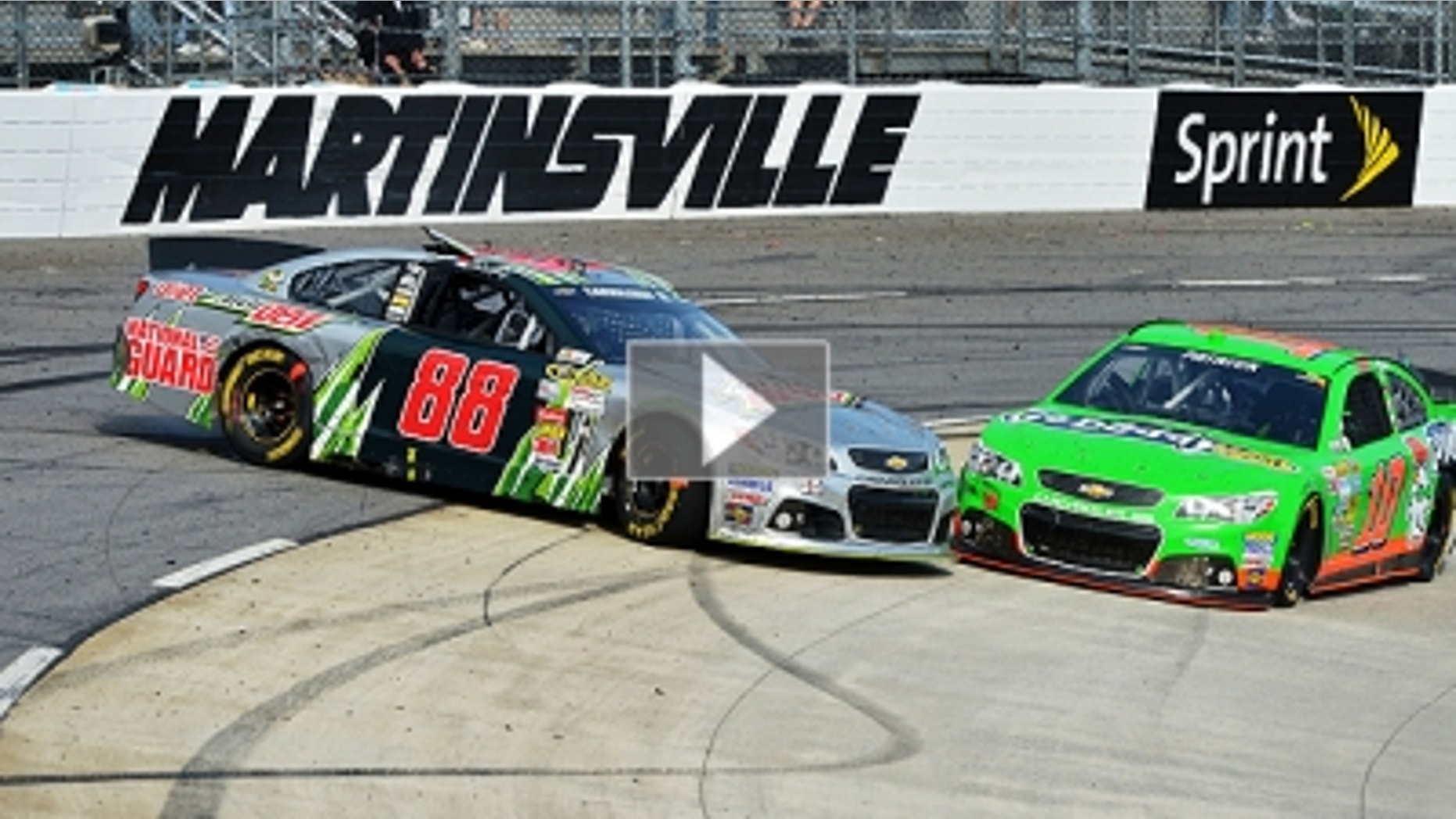 Chances are it would have been possible to win a chunk of money in Las Vegas Sunday betting on Danica Patrick finishing in the top 15 in Sunday's STP Gas Booster 500 at Martinsville Speedway.
Many observers had predicted that Patrick would finish the race many laps down – if, in fact, she finished. Those doubts increased when she spun out on the 17th lap after contact with Ken Schrader.
But Patrick, racing for the first time at Martinsville, rallied from a lap down and survived some tough racing over the final 50 laps to finish 12th. For a rookie driver on a tight track that promotes aggressive, hard-knock racing, the finish was a good one.
RESULTS: STP Gas Booster 500
Her Stewart-Haas Racing teammates finished 17th (Tony Stewart) and 31st (Ryan Newman). Patrick passed Stewart, her "boss," with 19 laps to go for position. She also outran the other rookie in the race, Ricky Stenhouse Jr. (her "boyfriend," as she has described him), who finished 25th.
The day represented a rescue of sorts for Patrick, who has had a difficult season since finishing eighth in the season-opener at Daytona International Speedway. In the four races between Daytona and Martinsville, she finished 39th, 33rd, 28th and 26th. With Sunday's finish, she moved from 29th to 26th in points, only four spots behind Stewart and three behind Newman after six races.
"I felt a little funny racing for position with Tony near the end," Patrick said. "It was kind of a little victory for me because he's so good.
"You know, it was just nice to have a good weekend after having so many that weren't good since Daytona. Yeah, it was a fun little track. I was told that if it goes well, you'll be like, 'I don't mind this place at all, let's come back,' and if it doesn't you don't ever want to see it again.
"Today was one of those days I had a good car, and (crew chief Tony) Gibson has got a good track record here. Obviously, Newman won this race last year, and he's always run really well."
Patrick, who became the first woman to compete in a Cup event at Martinsville, said she learned the key points of racing at the track relatively quickly because "there's less risk in finding your limit on a track where you're not going so fast. The consequences seem a little bit bigger when you're trying to find your limit at a place like Fontana (Auto Club Speedway).
PHOTOS:
RACE GALLERY
VICTORY LANE
"Honestly, I felt pretty comfortable from the get‑go. When you have a decent car, things just are a lot easier. I've had a lot of other worse weekends, like Fontana. I've been there a bunch of times, but it was misery until the race.
"It was just a good car, so we were steady all weekend, and we just kind of kept improving. We also improved in the race, which is always really important. We ended up getting really good power down by about halfway through the race, and no matter what I did I could really get on it well coming off the corner.
"I would say that I learned pretty early. I was backing up my corner and kind of going it easy and trying to kind of save everything. I was getting really loose doing it, so once I finally got back to going in hard again and loading the front up like I was before, it seemed like the car got really balanced again.
"I learned that kind of easy, and that's kind of what helped me get more comfortable in race runs."
STANDINGS: After STP Gas Booster 500
Mike Hembree is NASCAR Editor for SPEED.com and has been covering motorsports for 31 years. He is a six-time winner of the National Motorsports Press Association Writer of the Year Award.