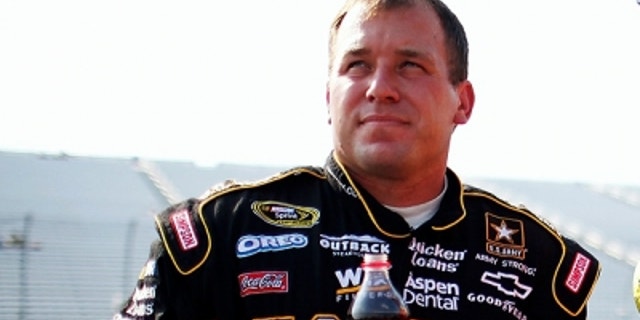 Two weeks ago Ryan Newman held a wild-card spot in the Chase for the Sprint Cup championship.
Two races and two wrecks later, he's on the outside looking in as NASCAR's top series heads to Richmond for the final race of the regular season.
The task at hand is simple.
"We have to win. That's the bottom line. We have to get in Victory Lane to have a shot at the championship," said Newman, who the Charlotte Observer reported has signed a one-year contract extension to remain at Stewart-Haas Racing next year. "It's been an up-and-down season for us, but at the same time we've had our ups, and some other teams out there haven't had their ups."
Only the top 10 drivers in points are locked in for the 12-driver Chase. Positions 11 and 12 are wild cards awarded to the two drivers between 11th and 20th in points with the most wins. In the event multiple drivers have the same number of wins, a driver's point standing serves as the first tiebreaker.
Nine drivers are locked in so far for the 10-race Chase: Denny Hamlin, Greg Biffle, Dale Earnhardt Jr., Matt Kenseth, Jimmie Johnson, Martin Truex Jr., Brad Keselowski, Clint Bowyer and Kevin Harvick.
Newman's boss, defending Cup champion Tony Stewart, sits 10th in points and his three wins assure him of at least a wild card if he loses the spot to Kasey Kahne of Hendrick Motorsports. Kahne is well positioned to take one wild card because he has two wins this season and stands 11th points, 18 behind Stewart.
That leaves Newman, Kyle Busch, Jeff Gordon, Marcos Ambrose, and Joey Logano — each with one win —'essentially fighting for that final spot. Busch is in right now because he's 12th in points, but just 12 ahead of Gordon.
After finishing eighth at Michigan and moving past Gordon into one of the wild cards, Newman was caught up in a wreck at Bristol and finished 36th, dropping him back out as his drive for a third Chase berth in the past four years took a big hit.
On Sunday night at Atlanta Motor Speedway, Newman was caught up in another crash when he and Sam Hornish Jr. were pinched by Johnson on the backstretch after a restart. Johnson's No. 48 Chevrolet turned sharply into the outside wall, leaving Newman with nowhere to go. Both cars were both damaged beyond repair, with Newman finishing 35th. That left him 17th in points.
"It's just unfortunate," Newman said. "We had a car that was capable of running easily in the top 10 and ended up on the wrecker on the way home. It's a part of racing, but we still have an opportunity."
Since the Chase began in 2004, only four drivers have made the field for the Chase in the in the final race before the cutoff. Newman did it in 2005 when his 12th-place finish at Richmond made up a one-point deficit.
"We've done it before, we'll try to do it again," Newman said. "It's no easy task. In my eyes, we have to prove that we can win. If we can't win now, then we're not going to be the champions."
Newman, who won at Martinsville earlier in the season, has one win (2003) and one pole at Richmond. In seven starts for SHR at the 0.75-mile oval, Newman has four top-10 finishes and in his Cup career has qualified in the top five eight times at the track.
"Qualifying is a big part of it, but just having a good race car and keeping your nose clean (is important)," Newman said. "We've qualified well at Richmond and we've won at Richmond. It's just a matter of going out there and getting it done. This is our opportunity. This is our time."
As for being on the outside of the Chase looking in when two drivers who have not won a race are locked in (Truex and Harvick), Newman wasn't complaining.
"The points system rewards a lot of consistency and over 36 races for a series championship is important," Newman said. "You just don't want to go out there and have three good races and say you're a championship contender or a championship winner. The guy that wins the most races doesn't mean he's the champion.
"I think it builds excitement. It's just a part of our sport. You never know when you can get that hot streak. We need to start one this weekend."