CUP: Martin Still Showing Speed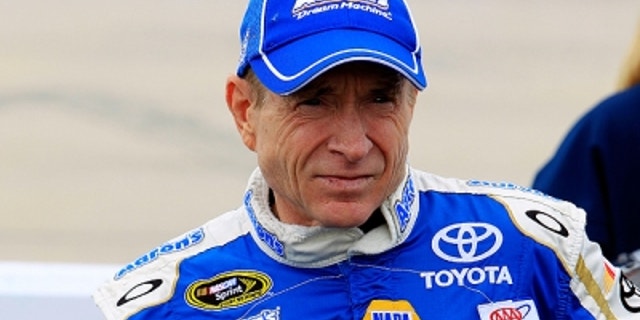 In the midst of the Chase and a championship hunt that now appears to be between three or four drivers, it's worth taking a look at a driver who is far removed from that activity but one who nevertheless is having an eventful season.
That would be Mark Martin.
The ageless Arkansan (documents say he's 53, but that's clearly questionable) is spinning quite the year in a part-time role at Michael Waltrip Racing. And, as he said Sunday after coming back to score a third-place finish at Dover, "We are just having a blast."
Martin hasn't won this year, but his steady performance in MWR's No. 55 Toyotas has been one of several highlights for the operation. Waltrip put Clint Bowyer and Martin Truex Jr. in the Chase, and the team's third car – driven by Martin, Brian Vickers and Waltrip – is 14th in owner points.
Although Martin has driven in only 19 of the 29 races, he is 25th in driver points, ahead of four drivers who have started every race, two who have started 28, and one who has started 27.
Proving that he retains the ability to carry a car around virtually any track as fast as anyone for a single lap, Martin has four poles – at tracks as different as Phoenix, Richmond, Dover and Michigan. No other driver has more than three this season.
Martin has been on the edge of victory several times, finishing third at Texas, Richmond and Dover (Sunday) and second at Pocono. He has four other top 10s.
He was almost an afterthought Sunday in the tempest of the fuel-mileage finish at Dover as Brad Keselowski won and challengers Denny Hamlin, Kyle Busch and Jimmie Johnson faltered. But there, suddenly, was Martin sprinting into third place.
"With all the show that was going on, if everybody really noticed or not, but we had a rocket ship, super fast car," Martin said. "Start of the race, green flag, we were passing cars left and right. It was awesome. It was great on restarts.
"We were making our way up from deep in the pack with our qualifying spot. Came back out, as soon as we got on the track, a caution came out. It had us trapped two laps down. So, we had to continue to fight from being buried and had a fast race car, passed a lot of cars, eventually got ourselves into the hunt. But, the race was just about over."
Martin called his crew chief, Rodney Childers "underrated" and "a brilliant crew chief. I have a fantastic race team, and I love being part of MWR."
Martin plans to drive in five – Charlotte, Kansas, Texas, Phoenix, Homestead – of the season's remaining seven races.
Mike Hembree is NASCAR Editor for SPEED.com and has been covering motorsports for 30 years. He is a six-time winner of the National Motorsports Press Association Writer of the Year Award.