CUP: Looking For Sonoma One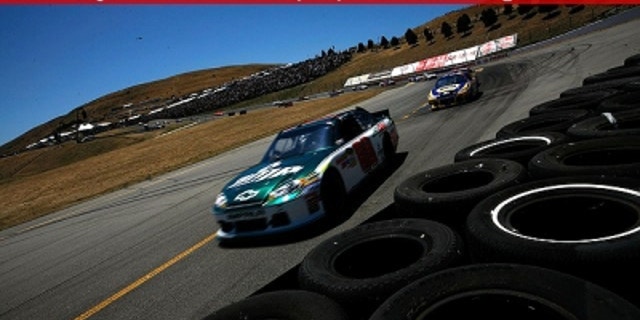 How tough can road racing be?
Consider: Matt Kenseth, Dale Earnhardt Jr. and Greg Biffle, the top three drivers in the Sprint Cup point standings 15 races into the season, have never won a Cup road race.
There's a general agreement in the Sprint Cup garage that road-course success has been significantly more difficult to attain in recent seasons with the arrivals of a race car that has leveled the field and a double-restart rule that has turned green-flag first laps into barely controlled chaos at most tracks.
The double-line restarts have made recent road-course races particularly entertaining, turning the tour's two on-the-road events into anticipated weekends.
The first of two road-course races this season – the Toyota/Save Mart 350 – is scheduled Sunday at Sonoma (formerly Infineon Raceway) near San Francisco.
Earnhardt Jr., who ended a 143-race winless streak Sunday at Michigan International Speedway, owns no top-10 finishes at Sonoma.
"We have to go to Sonoma and figure out how to get around there and how to get my first top 10 at that place," Earnhardt Jr. said. "We have a lot to accomplish this year."
Junior finished 41st at Sonoma last year after being involved in an accident.
Earnhardt Jr. and Kenseth, who leads the point standings by four, are zero-for-12 at Sonoma. Biffle is winless there in nine races but has three top 10s.
The career top gun at Sonoma among active Cup drivers is Jeff Gordon, who has five wins. But Gordon has not won at the track since 2006.
A victory would be particularly appealing this week for Gordon, who has returned to the Sprint Cup top 20 and thus is eligible for a Chase for the Sprint Cup wild-card spot – if he can reach victory lane.
Road-course ace Juan Pablo Montoya also could push himself into Chase contention with a victory. He finished eighth at Michigan Sunday and jumped into the points top 20 (a requirement for wild-card eligibility).
No one has been able to score a repeat win at Sonoma over the past seven seasons, and the past four winners at the track – Kurt Busch, Jimmie Johnson, Kasey Kahne and Kyle Busch – scored their first road-course victories with those wins.
The Toyota/Save Mart 350 is scheduled at the 1.99-mile road course Sunday. Qualifying is scheduled at 6:30 p.m. (ET) Friday.
Mike Hembree is NASCAR Editor for SPEED.com and has been covering motorsports for 30 years. He is a six-time winner of the National Motorsports Press Association Writer of the Year Award.