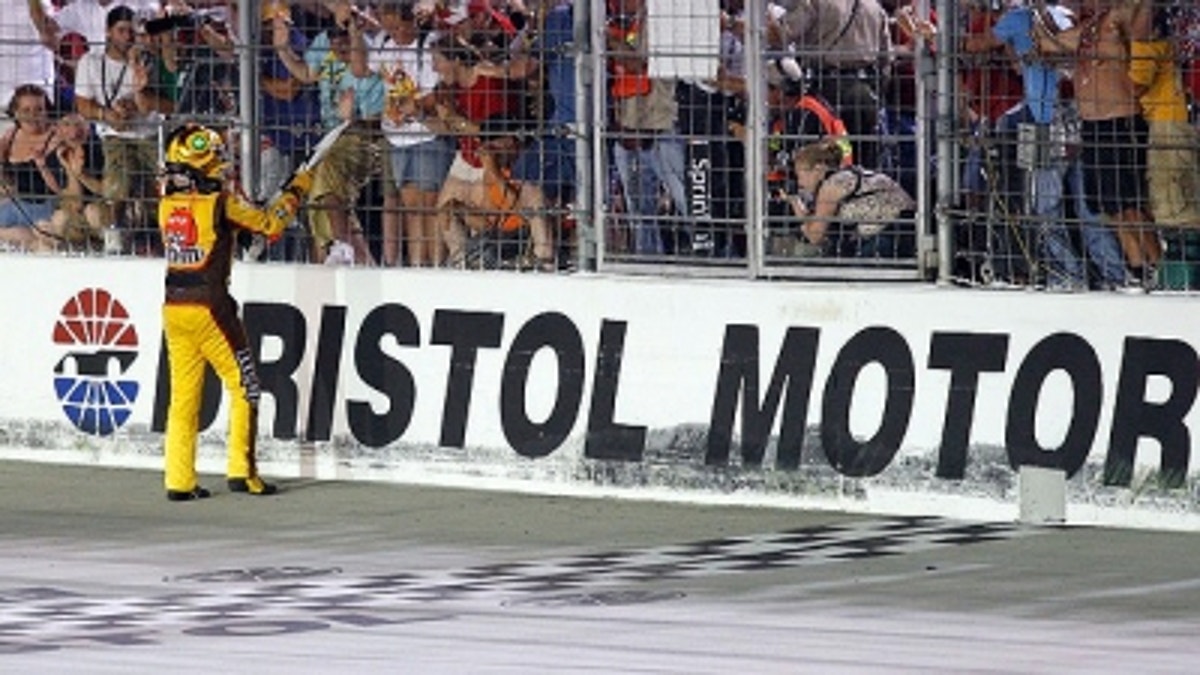 Although the 2012 NASCAR Sprint Cup season is still in its infancy, it hasn't been a particularly good start for Kyle Busch and the No. 18 Joe Gibbs Racing Toyota team. But a visit to the high banks of Bristol Motor Speedway this weekend could be just what the doctor ordered to get his year back on track.
In three races so far this season, Busch has just a single top-10 finish, a sixth at Phoenix, and is a so-so 12th in points, not the way he hoped to start the season.
On the other hand, he's sensational at Bristol, where he has five Sprint Cup race victories, including wins in four of the last six races. And in August 2010, Busch did something no one else had ever done: Sweep the NASCAR Sprint Cup, Nationwide and Camping World Truck Series events. Clearly, Busch, like older brother Kurt, is very much at home at the 0.533-mile oval.
"I like going to Bristol," said Busch. "It's always fun. What set in there to allow me to run as well as I do? I've got no idea. It just kind of clicked."
Indeed it did, as Busch has been the man to beat here for the last five years. That said, at the most recent Bristol race last August, Busch fought handling issues en route to a 14th-place finish, the first time in seven races he didn't finish in the top 10.
"We kind of upset the apple cart last fall – we just didn't have a very good weekend there," said Busch. "With the Truck race, we kind of got crashed out. The Nationwide race – I barely beat Joey (Logano), which was good – we won. Then the Cup race, we just made so many changes to the car based on how the Nationwide car ran that it threw us for a loop. ... I think I missed a little bit of some of that stuff last fall, just not having the car set up right and trying too many different things that we're not quite used to.
"We ventured from the path a little bit and it seems like, when you can get a good setup somewhere, you ought to stick with it and try to just fine-tune on it a little bit instead of saying, 'This isn't working this time or it's not working on this tire.' The track, most of the time, will influence how your setup should be, not the tire."
Regardless, Busch will be very happy to get back to one of his favorite tracks.
"Bristol Motor Speedway is one of the best racetracks on the circuit," said Busch. "All the fans love it because of the excitement, the run-ins, and the close-quarter action with all the cars being packed on top of one another at a half-mile racetrack with us 43 lunatics running around in a tight circle. With the fans, the atmosphere there always makes for a good time."
Tom Jensen is the Editor in Chief of SPEED.com, Senior NASCAR Editor at RACER and a contributing Editor for TruckSeries.com. You can follow him online at twitter.com/tomjensen100.