CUP: Keselowski, Johnson Roar Into Loudon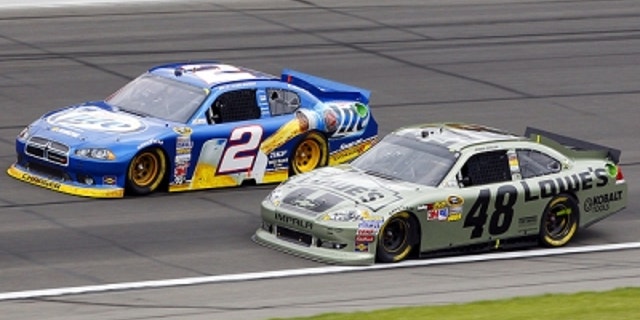 NEWYou can now listen to Fox News articles!
The Chase for the Sprint Cup is only one week old – with Race Two scheduled Sunday at New Hampshire Motor Speedway, and already divisions are forming.
The first division boasts Brad Keselowski and Jimmie Johnson. Keselowski won at Chicagoland last week with a brisk late-race run, and Johnson – well, Johnson was Johnson, leading 64 percent of the laps and looking like the Chase superstar he has been for five of the past six seasons.
Division 1A holds the third- through seventh-place drivers: Tony Stewart, Denny Hamlin, Kasey Kahne, Clint Bowyer and Dale Earnhardt Jr.
Stewart's current pose is as a lurker. He didn't have a particularly impressive day at Chicagoland, but he still came home sixth, and that's the Stewart way – turn a mediocre day into a good one, collect a bunch of points and get out of town.
Hamlin, Kahne and Bowyer are tied for fourth, 15 points behind Keselowski and within striking distance of the lead if the right things happen over the next couple of weeks. Kahne was Mr. Consistent at Chicagoland, polishing his chances for Chase success with a great start. Hamlin would have had a much brighter day if not for a fueling mistake.
Earnhardt Jr.? He was a not-very-splashy eighth in the Chicago race, but he sits only 17 points out of the lead with some positive tracks ahead.
Division B hosts the two Ford drivers in the bunch – Greg Biffle and Matt Kenseth, along with Martin Truex Jr. and Kevin Harvick.
The Ford hopefuls need a good race this weekend at what traditionally is a bad track for them. Otherwise, they risk becoming mostly forgotten pretty quickly.
Division C is represented by Jeff Gordon, who had a strong car last week but wound up in the wall and 35th. He is a nasty 12th in the Chase standings, a full race behind with a 47-point deficit. It is time to circle the wagons in that camp, with a top-five run Sunday virtually a necessity.
Gordon can produce that here. He has more top fives (15) and top 10s (20) than any other driver at NHMS, and he has led a track-record 1,309 laps.
The favorites Sunday, though, are likely to be Johnson, who's golden in most Chase events, and Stewart, who could be on the verge of a breakthrough similar to that of last season. Johnson and Stewart each own three wins at Loudon.
Mike Hembree is NASCAR Editor for SPEED.com and has been covering motorsports for 30 years. He is a six-time winner of the National Motorsports Press Association Writer of the Year Award.