CUP: Kahne Soars Late To Win At Bristol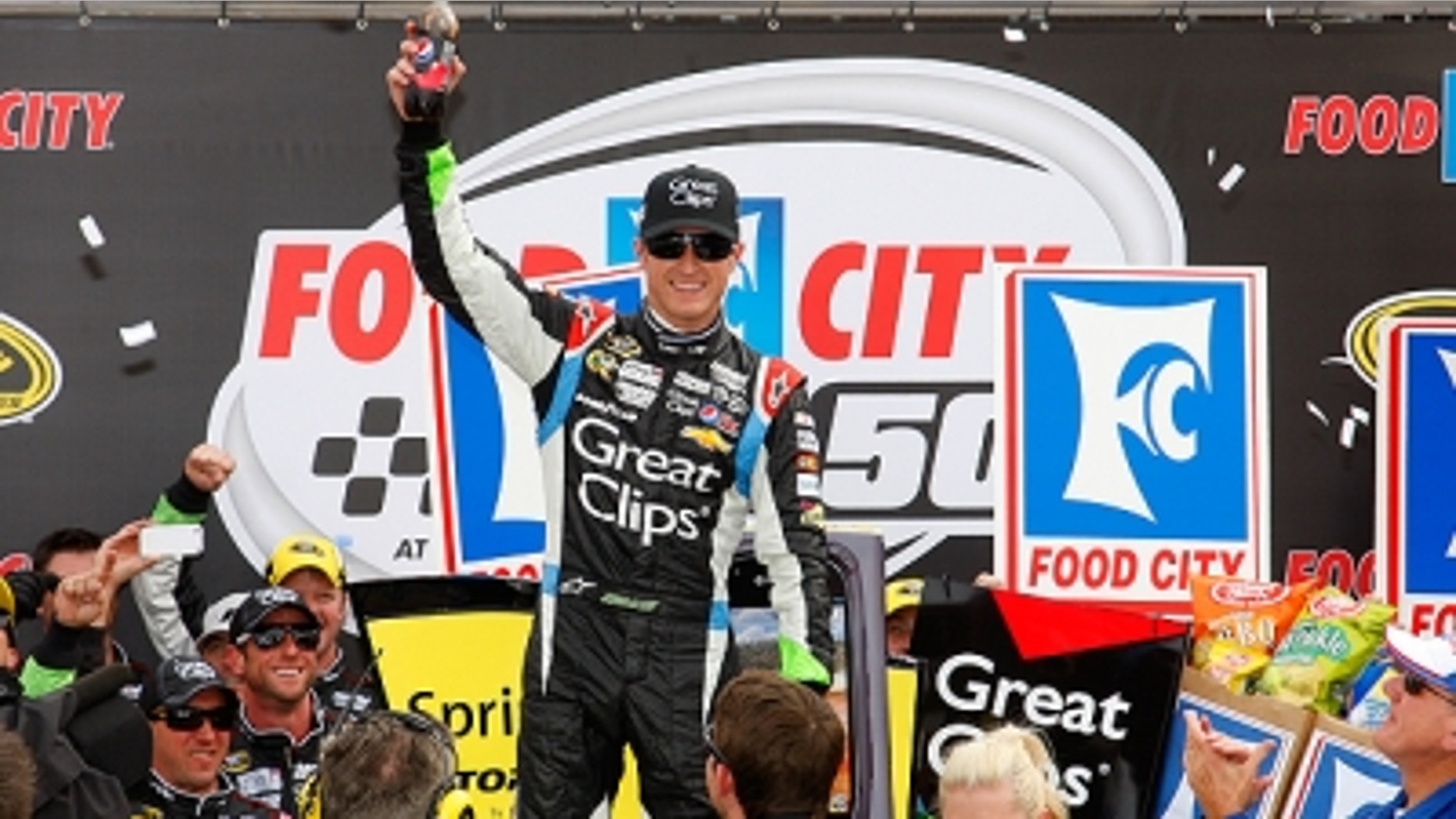 RESULTS: Food City 500
Kasey Kahne pulled away from a trio of contenders over the final 40 laps and won Sunday's Food City 500 Sprint Cup race at Bristol Motor Speedway.
Kahne jumped past leader Brad Keselowski on a restart at lap 461 and steadily built an impressive lead as Keselowski, Kyle Busch and Clint Bowyer grappled for position behind him. The win is Kahne's first in Sprint Cup competition at the fast half-mile.
Following Kahne to the finish were Kyle Busch, Keselowski, Kurt Busch and Bowyer.
The day was a tough one on equipment and tires. Ten cautions, several for popped tires, slowed the pace of the race, and several contenders were nowhere near the front when the final laps were recorded.
Business picked up significantly in the race's final 160 laps.
Joey Logano raced Jeff Gordon hard in a battle for the lead but was clipped by another challenger, Denny Hamlin, and hit the second-turn wall. The rear of Logano's car was damaged, but his crew made repairs and kept him on the lead lap.
On lap 388, two of the best cars in the race suddenly went south. Gordon, leading, blew a right front tire, sending his car up the track and into the path of second-place Matt Kenseth, who seemed to be only moments away from passing Gordon for the lead. Instead, Kenseth slammed hard into the rear of Gordon's car, lifting it off the track and crumpling the front end of Kenseth's Toyota.
The first 100 laps of the race cut into the quality of the competition considerably.
Tony Stewart, whose recent history at Bristol has been difficult, ran into early trouble, cutting down a left rear tire on lap six and slamming into the outside wall before he could work his way through traffic and drop onto pit road. After repairs, he returned to the track many laps down.
Forty laps later, a chain-reaction wreck damaged the cars of Jeff Burton, Marcos Ambrose and Carl Edwards. The accident began when Casey Mears slowed in front of that pack, causing other drivers to slow down and resulting in Edwards bumping into the rear of Burton's car, resulting in a spin.
During the subsequent caution period, Kyle Busch, who led the race's first 55 laps, including leading into the caution, was nailed for speeding on pit road in three sections of the pit zone, pushing him to the rear of the field for the restart on lap 63.
Mike Hembree is NASCAR Editor for SPEED.com and has been covering motorsports for 31 years. He is a six-time winner of the National Motorsports Press Association Writer of the Year Award.