CUP: Kahne Arrives At The Top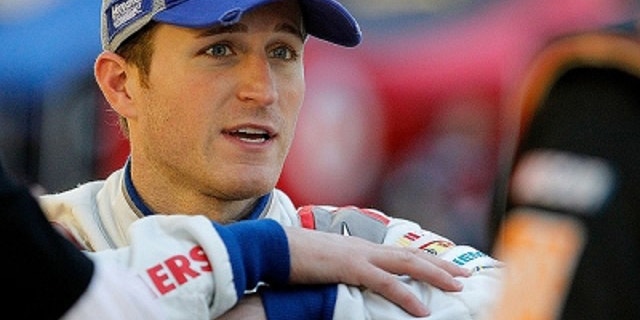 Although Sprint Cup racing almost always experiences a spate of driver and crew chief movement between teams during the off-season, there typically is one new pairing that rolls into a new year under the most scrutiny.
This season, that team is likely to be the No. 5 of driver Kasey Kahne and team owner Rick Hendrick, if for no other reason than the wait has been so long. Hendrick signed Kahne as a replacement for Mark Martin in 2010, knowing the vacancy in the No. 5 Chevrolets wouldn't appear until Martin stepped aside at the end of the 2011 schedule.
Kahne spent the interim year driving for Red Bull Racing, knowing he had a confirmed spot waiting with one of the sport's best teams.
Now the NASCAR world will see what Hendrick's newest acquisition can do in the bright spotlight of the Very Big Time.
Although Kahne has 12 Sprint Cup wins, including one last season, his partnership with Hendrick gives him his first consistently solid, long-term shot at making noise at the top level of the sport.
At 31 years old, the Enumclaw, Wash., native is approaching what should be the peak years of his career.
What does he expect?
"I would say successful would be consistency and to win races," Kahne said. "We have been close for a little while now. I just feel like we have a really good team. We have the best engines we have ever had. There are a lot of parts and pieces that are going to be there for us, and we have a lot of great guys to lean on as well.
"It's going to be an awesome year, but I think consistency, winning races would be great for us right now.
"You know what your owner expects, and he can expect it because he gives his employees and all the guys that opportunity to build and prepare cars capable of doing what he expects out of it. When you are in that situation as a driver, you just can't not be happy about it. It is really exciting to hear Mr. Hendrick talk about what he expects for the season. We are a part of that now, so we need to step up and show him that we want to make him happy."
Among the goals Hendrick mentioned in the preseason was putting all four of his Cup drivers – Dale Earnhardt Jr., Jeff Gordon, Jimmie Johnson and Kahne – in the Chase. It's an ambitious undertaking but one that's certainly doable with the people and resources on hand at Hendrick Motorsports.
With his long-time crew chief, Kenny Francis, on board with him at Hendrick, Kahne says all the pieces are together for success.
"I always come into each year and have my own idea of what I want to do, work hard and get that done," Kahne said. "It doesn't always happen that way, but we try to do the best we can, and when you go to Hendrick Motorsports you know you have the car and the engines and all the opportunity to succeed.
"We just have to be sure that we communicate really well throughout the season and stay on top of it. We will have a great year."
Mike Hembree is NASCAR Editor for SPEED.com and has been covering motorsports for 30 years. He is a six-time winner of the National Motorsports Press Association Writer of the Year Award.