CUP: Junior, Danica Among Those Needing Vegas Luck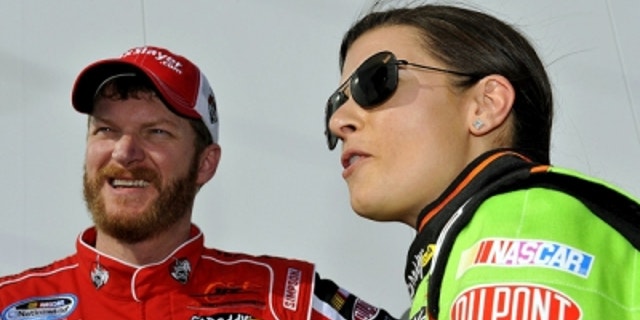 Maybe it's no surprise that heading into the third week of the season, Danica Patrick could use a strong run to overcome a slow start and two weeks of struggles.
But who would have thought that Jimmie Johnson (37th in the Sprint Cup standings) and Kasey Kahne (32nd) could be lumped into the same category?
That's crazy talk, there.
But all three of those drivers share a common bond – they need a good run this week at Las Vegas Motor Speedway.
Here's a look at seven drivers who could use some luck – along with a strong car – in a city where luck is a cherished commodity.
1. Kasey Kahne
Kahne has to look at this as a turnaround weekend for his Hendrick Motorsports team. He has crashed in his first two races and sits 32nd in the standings.
This was supposed to be Kahne's breakout year and instead he hasn't been able to bring the car home without body damage. His finishes of 29th and 34th rank nowhere near what he expected when he joined Hendrick.
Kahne needs to run with the leaders and make some noise beyond hitting the wall or another car. If he can't get that, a quiet 10th-place finish would do.
2. Danica Patrick
She's not running in Cup again until Darlington May 12, and that gives her time to focus on her Nationwide Series team.
Patrick wrecked after a tap from teammate Cole Whitt at Daytona and she looked lost at Phoenix, where she finished three laps down in 21st.
Crew chief Tony Eury Jr. set a goal of finishing the first 10 races while maintaining a spot in the top 10 of the standings. After two races, she's 21st.
She needs a strong run at Las Vegas because Bristol is up next week, and that presents another tough challenge.
Las Vegas, of course, is the track where she recorded her best NASCAR finish – a fourth last year that set a new standard for a female driver in a NASCAR national touring series.
3. Jimmie Johnson
You could say that if Johnson didn't have that 25-point penalty, "Five-Time" would be just fine. And you could argue that he still has an appeal hearing pending, but seriously, anyone counting on winning a NASCAR appeal probably shouldn't be walking around Las Vegas with money in their pocket.
Johnson needs to build on his fourth-place run last week at Phoenix that erased his –23 point total and moved him to 37th in the standings.
He heads to a Vegas track where he has won four times but also had a miserable 29th-place finish in 2008 that forced him and crew chief Chad Knaus to re-evaluate their entire program.
If Hendrick loses its appeal and Knaus ends up suspended for six weeks, the team will turn to another competent Hendrick crewmen or engineer. But a driver never knows how such a change atop the pit box can impact his team, so the more points Johnson and Knaus can earn this week, the better chance they have of surviving Knaus' extended vacation.
Reutimann doesn't just need a good day for himself. He needs a good day for Tommy Baldwin Racing and the car number Reutimann shares with Danica Patrick.
The No. 10 team, which Stewart-Haas Racing is sharing with Baldwin to get Patrick a guaranteed starting spot for her Cup races, is 42nd in owner points after two races. Reutimann needs to get the team into the top 35 after five events in order to guarantee himself a spot for the April 1 race at Martinsville. Patrick's next race is at Darlington on May 12.
Once a team falls out of the top 35, it can struggle to get back in as it must qualify on speed each week. Miss a race and the gap becomes tougher to close.
Reutimann has time – some teams ahead of him in points either won't show up at some races or start and park.
A good day for Reutimann would be a top-25 finish. A few of those and he'll likely crack the top 35, taking the pressure off of him to qualify and off Patrick when she steps back into the car in May.
5. Dale Earnhardt Jr.
Earnhardt Jr. is fifth in the standings and already has earned $1.2 million in purse money this year.
So why does he need a good run?
Because he's Dale Earnhardt Jr.
He struggled at Phoenix but managed to salvage a decent 14th-place finish. That was acceptable at Phoenix but it won't remain acceptable if he doesn't have fast cars every week.
Crew chief Steve Letarte needs a happy Earnhardt Jr. heading to Bristol, a track where he can win next week.
And, oh by the way, Earnhardt Jr.'s winless streak has grown to 131 races. Not that anyone's counting.
6. Kurt Busch
Busch, who was released by Penske Racing after last season, spent the offseason talking about having fun again with Phoenix Racing.
A crash in the Daytona 500 relegated him to 39th. He then finished a respectable 15th at Phoenix.
He's 26th in the standings, and although he might not need to win in order to smile, he likely will have a hard time stomaching being outside the top 25 in the standings for long.
Busch and his team also are trying to find sponsors and Tag Heuer Eyewear will sponsor the car this weekend. He needs to show sponsors he can get the job done on and off the track.
7. Carl Edwards
Edwards needs to win. Plain and simple.
Edwards, who led the standings most of last season only to lose the championship on a tiebreaker to Tony Stewart, can talk all he wants about just needing to run well and the points and wins will come.
That happy face might work in a Subway commercial but going winless for a year has to gnaw at Edwards, not to mention the psyche of his team. He won just one race last season and lost the title when Stewart won five of the 10 Chase races.
His last win came a year ago at Las Vegas. He needs to snap his 35-race winless streak, and Vegas provides a prime opportunity as Edwards runs strong on 1.5-mile tracks.
He won at Vegas last year a few days after bungee jumping off the top of the Stratosphere Hotel. No word on if he plans to do that again, but after a year without a victory, he probably would do anything to get back to victory lane.
SceneDaily.com • Carl Edwards hopes to recapture winning ways with return to Las Vegas