CUP: Johnson Pointing The Way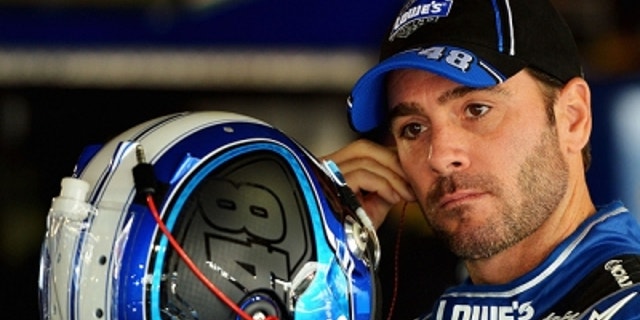 Jimmie Johnson is in an unusual position on this Monday.
It's not unusual that Johnson sits in first place in the Sprint Cup point standings. He's been there many times, of course, including at the end of five seasons.
But Johnson currently rides atop the standings not only as the leader but also as the dominator. And that's a bit odd at this relatively early juncture of the season.
After a third-place run Sunday at Kansas Speedway in a race in which he was very good but never great, Johnson has a 37-point lead over second-place Kasey Kahne, who shot up the standings from seventh to second but still is looking at a significant gap to Johnson. In third place, in part thanks to a point penalty levied by NASCAR last week, is Brad Keselowski, and he's 38 points back.
Barring an early-race accident or a similar issue, Johnson is likely to have a fairly safe hold on first place for a while.
"It's hard to believe we've got a huge gap like that in the points already," Johnson said. "Just very proud of everybody at Hendrick Motorsports. We've been off to a great year and even had some trouble at Bristol and didn't finish as well as we did there, and 37 points up on everybody is pretty awesome.
"Last two days we've had a comfortable race car, but just didn't have the speed in it for qualifying and for the fast lap time that you would see in practice sessions, the first lap out. But our car was comfortable over the long haul, and we just kind of waited and hoped that the comfortable balance that I felt in the race car would be there come race time, and it was."
Johnson has been remarkably consistent this season, and consistency, of course, is what the point standings like.
Johnson wasn't able to challenge winner Matt Kenseth Sunday (and no one else could, either), but his car improved steadily and gave the team another top-five run.
Johnson now has top-10 finishes in six of the first eight races and is one of only three drivers with two seasonal wins.
"A strong performance, solid on pit road," Johnson said of Sunday's race. "I think Chad's (crew chief Chad Knaus) strategy today was flawless. About two stops from the end, we started to get a little tight, and it was the first time I was tight, so we probably didn't react as much as we should have, just trying to be cautious because the car was so loose at other times in the race, and just lacked a little bit there at the end."
So, Johnson is "lacking" but still has a 37-point lead in the standings.
Not a good sign for the opposition.
Mike Hembree is NASCAR Editor for SPEED.com and has been covering motorsports for 31 years. He is a six-time winner of the National Motorsports Press Association Writer of the Year Award.