CUP: Harvick Wins, Keselowski Takes Lead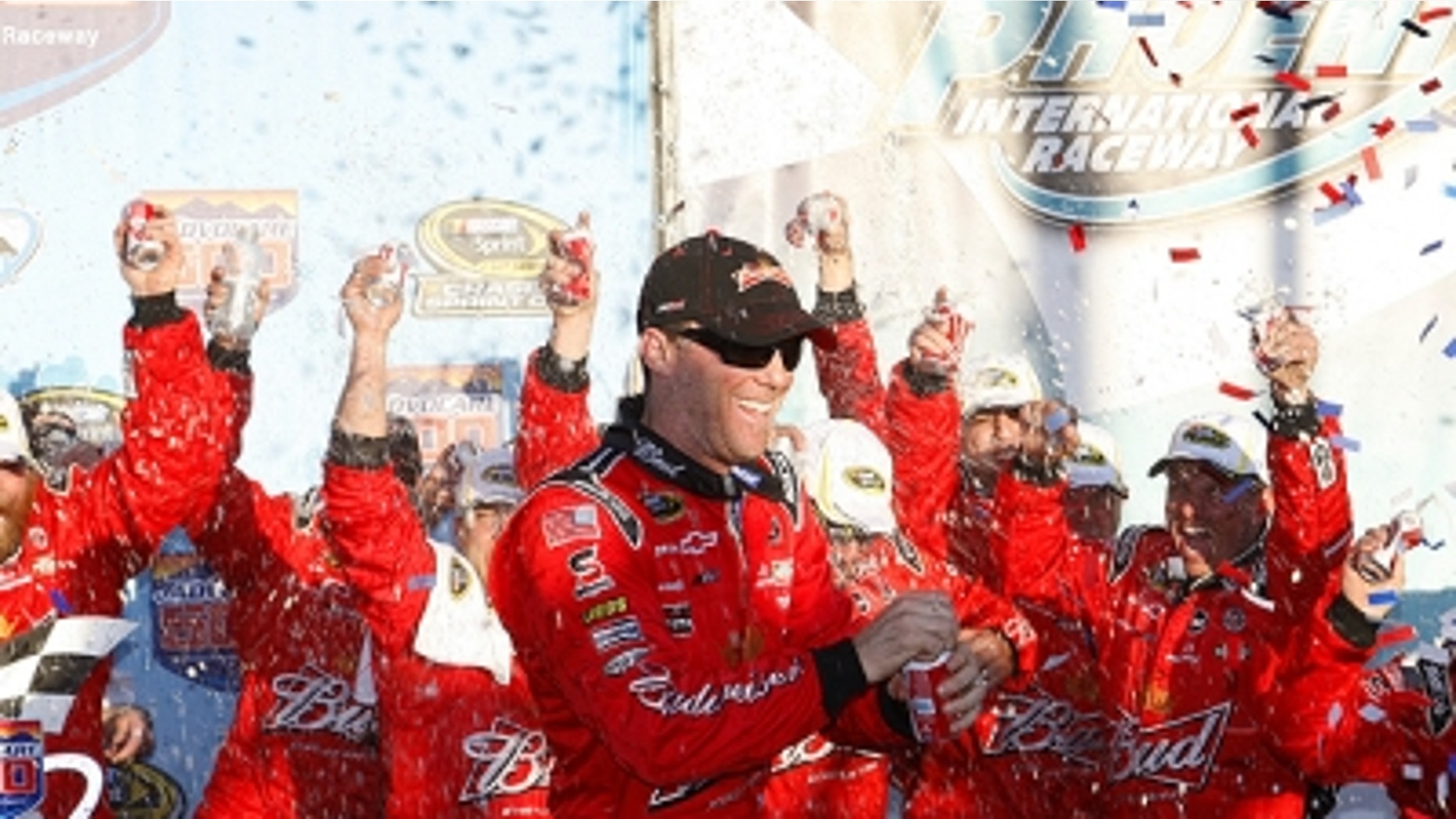 Kevin Harvick passed Kyle Busch late in the race to capture the victory Sunday's AdvoCare 500 at Phoenix International Raceway, but the big winner was Brad Keselowski, who will head to Homestead-Miami Speedway firmly in control of the NASCAR Sprint Cup championship.
Denny Hamlin finished second, followed by Busch, Kasey Kahne, Ryan Newman and Brad Keselowski.
Keselowski is now poised to win the Chase for the Sprint Cup in only his third full season in NASCAR's top division.
Five-time NASCAR Sprint Cup champion Jimmie Johnson saw his hopes of a sixth title end with a hard crash on Lap 235, his 33rd-place finish giving Keselowski a huge leg up in the championship. Unofficially, Keselowski leads the title race by 20 points.
While the title appears settled, the afternoon at Phoenix was all Busch and his No. 18 Joe Gibbs Racing Toyota, at least until Harvick got him.
Busch started from the pole after leading all three practice sessions on Friday and Saturday. The JGR pilot clearly had the dominant car, leading the first 50 laps and never being challenged.
David Gilliland crashed in Turn 4 to bring out a caution on Lap 53. Under caution, Mark Martin took two tires and went out front, but as soon as the green came out, Busch blew past him and into the lead.
At Lap 100, Busch led teammate Hamlin by 1.338 seconds. But Busch began complaining of his car getting a little tight and on Lap 117 Hamlin went to the lead for the first tine.
Busch retook the point following a caution for debris on Lap 168.
With 100 laps to go, Busch led by 2.761 seconds over Keselowski, with Johnson sixth.
Keselowski began to cut into the lead and by Lap 230 was on Busch's tail. Three laps later, Keselowski took the lead.
Then, the moment that changed everything.
Johnson was running seventh when crashed hard into the Turn 4 wall on Lap 235, after melting a brake bead. The crash badly damaged his Hendrick Motorsports Chevrolet. With that impact, Johnson's title hopes all but ended for the season.
Under the ensuing caution, Keselowski fell to fourth on pit road and the Joe Gibbs Racing Toyotas of Busch and Hamlin went back out front.
David Ragan crashed in Turn 4 on Lap 274 to bring out a caution. Busch and Hamlin stayed out, while Keselowski pitted.
Shortly after the restart, Tony Stewart went around to bring out another yellow on Lap 282.
On Lap 302, old rivals Danica Patrick and Sam Hornish Jr. made contact and the track went yellow.
With seven laps to go, Harvick passed Busch for the lead.
Then, utter madness.
As the white flag was about to come out, Jeff Gordon ran Clint Bowyer into the Turn 4 wall after Bowyer cut Gordon's tire earlier, taking out Joey Logano and Aric Almirola. A fist fight between the crews broke out on pit road and Bowyer sprinted to Gordon's hauler to confront Gordon.
The race was red-flagged, even though, the white flag was being waved.
After a 14:58 delay to clean the track, the race went to green-white-checkered.
Harvick prevailed on the white flag to win his first race of the year as there was another big crash on the frontstretch, with Danica Patrick crashing hard and getting drilled, but no caution being called.
@phoenixraceway @nascaronfox @nascaronspeed
Tom Jensen is the Editor in Chief of SPEED.com, Senior NASCAR Editor at RACER and a contributing Editor for TruckSeries.com. You can follow him online at twitter.com/tomjensen100.