CUP: Hard Times Slow Three Chasers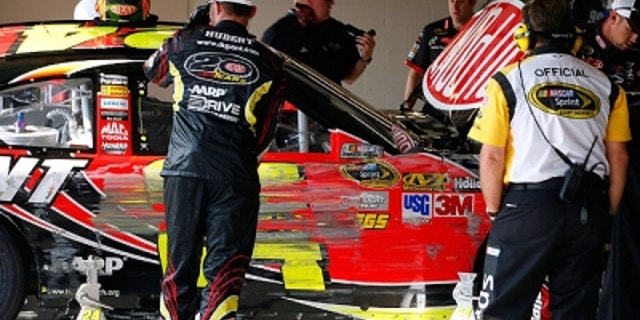 NEWYou can now listen to Fox News articles!
While GEICO 400 winner Brad Keselowski is presumably enjoying Miller Time tonight, three NASCAR Sprint Cup championship contenders are leaving Chicagoland Speedway already wondering about what might have been.
Four-time NASCAR Sprint Cup champion Jeff Gordon, who barely raced his way into the Chase for the Sprint Cup, was running fourth on Lap 188, when the throttle stuck on his No. 24 Hendrick Motorsports Chevrolet, sending him hard into the Turn 1 wall, en route to a 35th-place finish.
"In this deal, you can't afford to have issues like that," said Gordon.
Matt Kenseth had his right-front shock absorber come off his No. 17 Roush Fenway Racing Ford, necessitating some emergency pit-road repairs, which ultimately dropped him to 18th in the final running order.
And it was a bad start to the Chase for Denny Hamlin, considered by many to be this year's favorite. Two years ago, poor fuel mileage at Phoenix cost Hamlin what looked like a sure championship, and Sunday at Chicagoland, he ran out of gas on the final lap, falling from ninth to 16th.
"It was just a bad call on pit road," said Hamlin's crew chief Darian Grubb, after the team failed to get Hamlin's Joe Gibbs Racing Toyota full of fuel on the final pit stop.
"Scott Wood is my gas man," Hamlin posted on Twitter. "Been with me since the beginning. He came up to me after the race and said he just made a bad mistake. … He's one of the best in the garage. Took courage to come up to me after and apologize. #teamwork"
With nine of the 12 Chase drivers finishing 13th or better, Gordon is in a huge hole and Kenseth and Hamlin are both further back than they thought they'd be after one race.
"A shock fell off I guess. I guess it didn't get tight," said Kenseth. "We had a brake line get loose at Bristol and a shock fall off today so obviously we have to get to the bottom of that."
With one race down in the Chase, Keselowski leads Jimmie Johnson by 3 points, with Tony Stewart (-8) third. Hamlin, who came into Chicago with the points lead, is now at (-15) in a three-way tie with Kasey Kahne and Clint Bowyer.
Dale Earnhardt Jr. (-17) is sixth, followed by Greg Biffle (-19), Martin Truex Jr. (-21) and Kevin Harvick (-24). Kenseth is 11th, 26 points in arrears, with Gordon (-47) one full race behind in points already, a margin that will be hard to make up.
Tom Jensen is the Editor in Chief of SPEED.com, Senior NASCAR Editor at RACER and a contributing Editor for TruckSeries.com. You can follow him online at twitter.com/tomjensen100.