CUP: Friday Kansas Notebook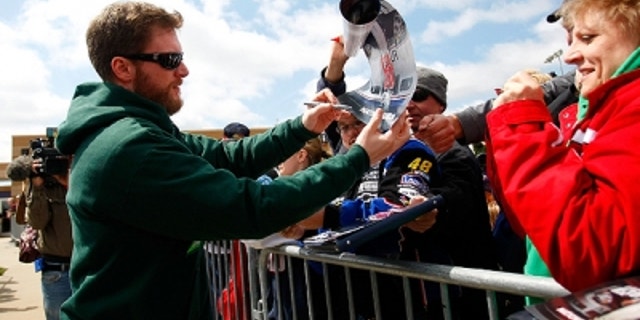 Editor's Note: Today's notebook will be added to periodically, so check back throughout the afternoon for updates.
Dale Earnhardt Jr., currently third in the NASCAR Sprint Cup points standings, is off to one of the fastest starts in his career and as a result has his swagger back. That much was obvious Friday at Kansas Speedway, when Earnhardt was asked if his Hendrick Motorsports teammate Jimmie Johnson was a better driver than he was.
"No, he (Johnson) is a hell of a race car driver, but I feel like I'm the best," Earnhardt said flatly. "I think that's the way you have to feel. I feel that I'm smarter than everybody and I can drive better than everybody and I know a lot of people ain't going to agree with that, but I feel pretty strong about it."
Earnhardt feels he's learned from past mistakes and that's made him a better driver.
"I think that one of my weaknesses in the past has been to not realize what I need to do that exact day," Earnhardt said. "I would be in races and something would happen or I would be faced with some adversity and instead of staying calm and trying to maximize what I can do that very day and get every point I can get that very day, there were times when I would make mistakes and cost myself even more trouble and lose even more points."
That's changed this year, in part because Earnhardt is more cognizant of the tighter points system adopted for last year.
"If you have a bad race, you really lose so many points and those are really hard to get back," he said. "We are just trying not to have bad races. Last week wasn't the greatest week and I think five years ago or four years ago I would have taken that car and probably gotten mad and made a mistake or done something wrong and finished 20th or worse. We ended up staying calm and maximizing the night and finishing 10th."
STRAIGHT TO THE POINT — Greg Biffle isn't leading the NASCAR Sprint Cup points standings by accident. Biffle opened the year with three consecutive third-place finishes and won last Saturday night at Texas Motor Speedway. Today at Kansas Speedway, Biffle said points are always on his mind.
"I start thinking about points when we go to Daytona for the Daytona 500 and thinking about the Chase and how I'm gonna win the championship this year, next year or last year," said Biffle. "It's never too early and what I think about going into each race is exactly that ... How am I gonna perform in this race, but, more importantly, when it comes down to the last 10 of the season how does this compare to one of those 10 race tracks and how are we gonna compete with one of those last 10, and how are we gonna be better now looking forward to the last 10?"
Biffle, who is 42, is looking to both win his first Cup championship and become the first driver to win championships in all three of NASCAR's top series. Biffle said age isn't what motivates him, though.
"I feel an urgency because I'm ready to win it, but that's really, to me, about it," he said. "I feel great. I feel better than I ever have in these past five seasons with the way our team is and how competitive we are, and how I'm driving the car and how I feel personally. Yeah, I think anybody feels the urgency to want to win it and, obviously, some day I'm not gonna be doing this anymore."
5-HOUR ENERGY STEPS UP — Michael Waltrip Racing got some good news from one of its key partners, as 5-Hour Energy will increase its sponsorship of the No. 15 MWR Toyota driven by Clint Bowyer from 25 to 37 races this season. Aaron's will sponsor Bowyer at Talladega Superspeedway next month with a special University of Alabama paint scheme. Every other Cup race this year will see 5-Hour Energy on the side of Bowyer's car.
"We have measured real growth through our retail partnerships, in-market activation, sales growth and brand awareness," said Scott Henderson, president of 5-hour ENERGY. "The numbers show we've exceeded all expectations. This increase allows us to target even more markets. We're business people and the numbers show NASCAR delivers the audience we need to market our product."
CLEVER TREVOR — Trevor Bayne, winner of the 2011 Daytona 500, will star in a new television ad campaign that focuses on the new 2013 Ford Fusion. The campaign for the "Win My Fusion" national consumer sweepstakes will kick off on FOX's broadcast coverage of the STP 400 NASCAR Sprint Cup race from Kansas Speedway on Sunday.
The "Win My Fusion" sweepstakes kicked off in February in conjunction with the 2012 Daytona 500. With it, race fans have a chance to win one of nine 2013 Ford Fusions, each one specially-selected by one of nine Ford Racing NASCAR Sprint Cup Series drivers. Fans can enter to win via the sweepstakes today via the "Win My Fusion" website at www.WinMyFusion.com.
HOMEYS WANT TO WIN — While any NASCAR Sprint Cup Series victory would qualify as "big," a win in Kansas City would hold a special place in the heart of a trio of drivers.
Clint Bowyer, a native of Emporia, Kan., and Carl Edwards and Jamie McMurray — both from neighboring Missouri — hope to enjoy the home-track feel that Kansas Speedway offers in Sunday's STP 400
None of the three have won at Kansas, but Bowyer and Edwards have come the closest. Bowyer was runner-up in 2007, when Greg Biffle nursed his fuel-starved car to victory in a race that ended in near-darkness. Edwards finished second at Kansas the following year, coming up just short to Jimmie Johnson after trying a bold crossover move in the final lap. McMurray has a seventh-place run as the best finish among his two top-10s there.
For Edwards, a Kansas win would be the salve for a 40-race winless streak, but it would also represent a cherished moment in his already memorable career.
"There would be no bigger win on the circuit," Edwards said. "If I had to choose between winning one race throughout the year, that would be the one I would pick. The amount of pride that I would have winning that close to home and in front of so many people that are friends of mine and people that have helped me, that would be huge."
Having friends and family close by is a home-track perk, but does have some hurdles. Bowyer said he planned to arrive Wednesday in his home state for a string of appearances that include throwing out the first pitch at Friday night's Kansas City Royals' home game against Toronto.
"That's the thing," Bowyer said. "It's difficult to go home because of getting pulled in all the different directions — all the while trying to focus on getting a good run, because that's really what's important to you the most there. It's important to me to run well in front of all my fans, friends and family."
The NASCAR Wire Service contributed to this report.
Tom Jensen is the Editor in Chief of SPEED.com, Senior NASCAR Editor at RACER and a contributing Editor for TruckSeries.com. You can follow him online at twitter.com/tomjensen100.