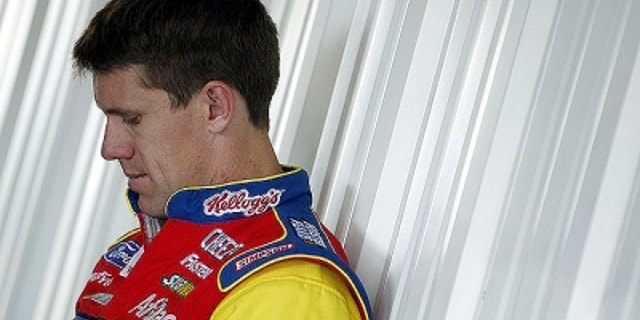 Carl Edwards isn't having as much fun as he'd like to right now, which is understandable.
Edwards, driver of the No. 99 Roush Fenway Racing Ford, put together a brilliant 2011 season, only to see Tony Stewart get white hot at exactly the wrong time, winning three of the final four races to edge Edwards out for the 2011 NASCAR Sprint Cup championship.
Instead of spending the winter enjoying the spoils of his first title in NASCAR's top division, Edwards spent it explaining what it felt like to end the year with the same number of points as Stewart, but lose the title on a tiebreaker.
Without question, it was a miserable place to be in, but Edwards was the consummate professional, putting on his trademark grin through all of the difficult questions, many of which seemed to get asked over and over again.
The only problem?
This year is worse.
While Roush Fenway drivers Greg Biffle and Matt Kenseth are 1-2 in points, right now, Edwards is 12th, riding a 46-race winless streak. In 13 points races this season, he's failed to lead a lap in 11 of them, and led just a single circuit in another one.
A blown tire last Sunday at Dover left Edwards 26th in the finishing order and outside the top 10 in points halfway through NASCAR's 26-race regular season. If Edwards is to make it into the Chase for the Sprint Cup for a sixth consecutive year, he and his team need to pick it up, starting this weekend in Pocono.
The early results have not been especially encouraging. In the three rounds of practice and testing so far at Pocono, Edwards was 25th Wednesday, 30th Thursday morning and 34th Thursday afternoon. It's definitely trending in the wrong direction for Edwards right now. And the driver admitted that he and crew chief Bob Osborne were at odds over what to do.
"This is only the second day of testing. Bob and I are over there almost coming to blows (in the garage)," Edwards said. "I'm saying, 'We've got to go faster.' And he's like, 'We've got a test plan. We've got to stick to our plan.' I'm like, 'No, we've got to go faster.'
"So he has a way of working through everything and, by the end of tomorrow if we're not good, then maybe it's time to make some big changes to the car," said Edwards. "But right now we're just going through the plan, and I'm trying my hardest when I get out of the car to walk by and kind of put the blinders on and not look at the (time) sheet, because I know we're testing and not going for all-out speed, but Mark Martin is fast. I followed him a little bit and he's very spectacular in that car."
Edwards admitted frustration is setting in.
"It's tough," he said. "There's a lot on the line, and it's so competitive right now. I can't describe how competitive it is. If you look at our 99 team and our situation, our teammates are leading No. 1 and 2. We're outside of the Chase right now, and it's not because we haven't run as well as those guys; we have not been able to put together everything."
While Biffle and Kenseth are locks to make the Chase, Edwards has a razor-slim margin of error now, particularly since the points system punishes bad finishes much more than it rewards good ones. And, oh yeah, four of the remaining 13 regular-season races will be at Pocono and Michigan International Speedway, two tracks with new pavement that hasn't been been raced on before.
No wonder Edwards sounds as if it's time to reach for the Maalox.
"Luck has been a big factor, but we haven't been able to put it together, and if we have a couple of bad races, it could be really, really ugly, so these races are very important," said Edwards. " ... Anything can happen, and we need all the insurance we can get right now. ... A couple wins is what we really need. It almost feels as important and as tough as those last few races of the championship last year because we realize these next 10 races or so are gonna determine whether or not we even have a shot this season. We're serious about it right now, that's why I'm not paying attention to the other stuff. I'm trying to focus on the race car."
Tom Jensen is the Editor in Chief of SPEED.com, Senior NASCAR Editor at RACER and a contributing Editor for TruckSeries.com. You can follow him online at twitter.com/tomjensen100.