CUP: Drivers Talk Tight Racing, Cautions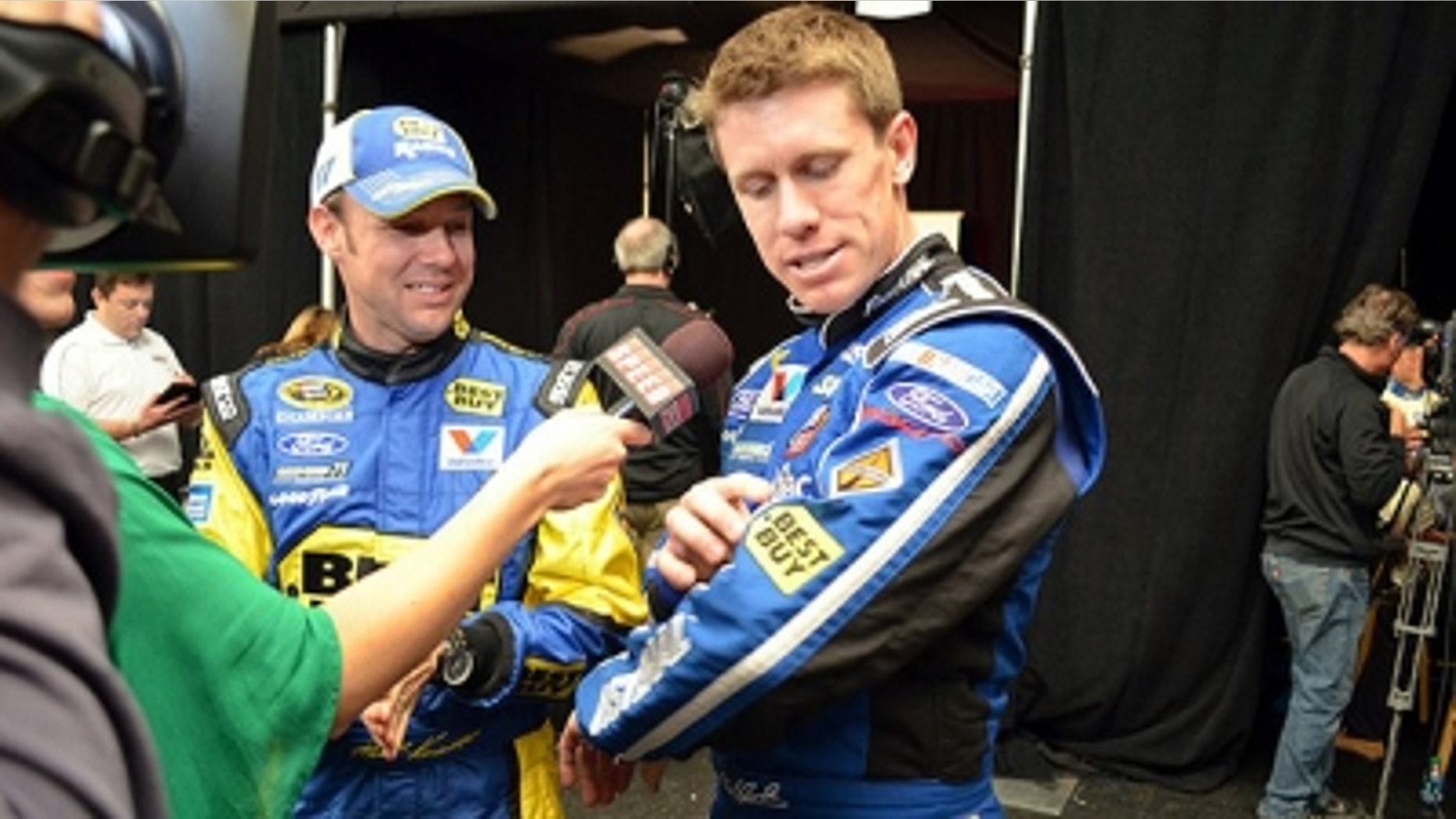 Jeff Gordon broke into a grin and jokingly referred to the idea of NASCAR-mandated caution periods as "TV timeouts.'' Then he only half-jokingly suggested NASCAR ought to have heat races and invert the field for 50-lap shootouts "if you really want it to be entertaining.''
That's the four-time champ's reaction to a suggestion by Speedway Motorsports Inc. chairman Bruton Smith last week that NASCAR needs to throw arbitrary caution flags to break up long green-flag runs and inject more action into the season's racing.
"That creates excitement,'' Smith told reporters last weekend. "You can't just sit there with nothing happening. It ruins the event. It's damaging our sport.
"Someone once said we are in show business. If we're in show business, let's deliver that show. Right now, we're not delivering it.''
On Thursday, NASCAR president Mike Helton sounded like a man who had clearly contemplated Smith's idea of mandatory, preordained cautions — but he wasn't sold on it because it wasn't necessary and could create the perception of an "artificial" product.
"NASCAR fans and racing fans want the event to unfold un-artificially, and I think the racing that goes on the racetrack under green is as exciting as any that goes on,'' Helton said Thursday before the Sprint Cup Series practice at Daytona International Speedway. "I think at the end of the day our product of racing is exciting and our sport is a true reality show as it unfolds — an event. I think you have to be careful when you think about artificially creating the outcome of that.
"We go through cycles of having a lot of caution (flags) and cycles where we've even been accused of creating cautions. It's kind of interesting to be accused of not having enough cautions.''
The reaction was mixed from drivers as they prepared for the Coke Zero 400 on Saturday.
Kevin Harvick summarily dismissed Smith's idea saying, "Same guy who ruined Bristol.''
Matt Kenseth, who won the Daytona 500 this year, said he simply doesn't see a need beyond the occasional competition cautions that NASCAR already allows when track time has been limited by poor weather or there is a new tire compound.
"Other than that . . . I don't think we need them,'' Kenseth said. "I think we have a pretty good mix of long green-flag runs and short green-flag runs. It just depends what you're looking for. Not every race is going to be green-white-checkered with cars all over the place.''
His Roush Fenway Racing teammate Carl Edwards was more adamant.
"When we start using cautions to make the sport more exciting, it's a slippery slope,'' Edwards said.
Since the idea was floated by Smith, there have been many suggested formats, ranging from race "halftimes" to a prerace schedule of mandatory caution laps. None of those seemed especially logical or necessary to Helton because of the fluid and unpredictable nature of auto racing compared to stick-and-ball sports.
"But I'd rather have that than some mysterious debris caution, to be honest,'' Gordon said, considering the idea. "I don't know. The integrity of racing — and to me (that's) what it's all about — is letting the race play out, and sometimes that can be the most exciting finish, you just don't know.
"Trying to get into the middle of that can be challenging. If you're going to do it, it's gotta be something that's planned in advance and you take a break and you know it going into it. I'm not totally against it, but I'm also more leaning toward letting the race play out the way it's supposed to.
"How about heat races and 50-lap shootouts? If we're really going to speculate about what's going to be entertaining, that's what is entertaining to me. We all get set in our ways and say, 'But this is the history of the sport and it's been built on 400 and 500-mile races.' But what's more important? History and tradition or the most entertaining form of racing? I don't know. I'm glad I'm not making those decisions.''
Can she win it?
Dale Earnhardt Jr. said he wouldn't be a bit surprised if his NASCAR Nationwide Series driver Danica Patrick scored her first NASCAR win in the Jalapeno 250 on Friday night.
She won her first NASCAR pole in the season opener at Daytona and led two laps before getting wrecked by JR Motorsports teammate Cole Whitt 50 laps into the race. Danica enters Friday's race fresh off back-to-back 12th-place finishes.
"She's got a good chance,'' Earnhardt said. "That car is really strong and she's got to feel really good about her equipment. I'm looking forward to one of my guys getting a win. . . . It's been a while . . . and Danica's got a good shot.''
Still thrilled
The Nationwide Series' most recent winner, Austin Dillon, showed up in Daytona Beach donning his usual cowboy hat. And the swagger of a first-time series winner.
Not even the penalty issued postrace for a loose bolt could dampen his enthusiasm Thursday. He said his grandfather's Richard Childress Racing team would not appeal the six-point punishment that dropped him from the championship lead to second place, four points behind RCR teammate Elliott Sadler.
"It was just a mistake we made in the rear of car, our guys nutting and bolting the car before the race just didn't put the race clamp on,'' said Dillon, 22. "It was a bummer. You go from such a high, but it's still a high we did win the race and we still celebrated at the lake the next day.
"We all talked as a team. We're all set for (the) second half of (the) season and making sure little mistakes like that don't happen again. That was our one mulligan.''