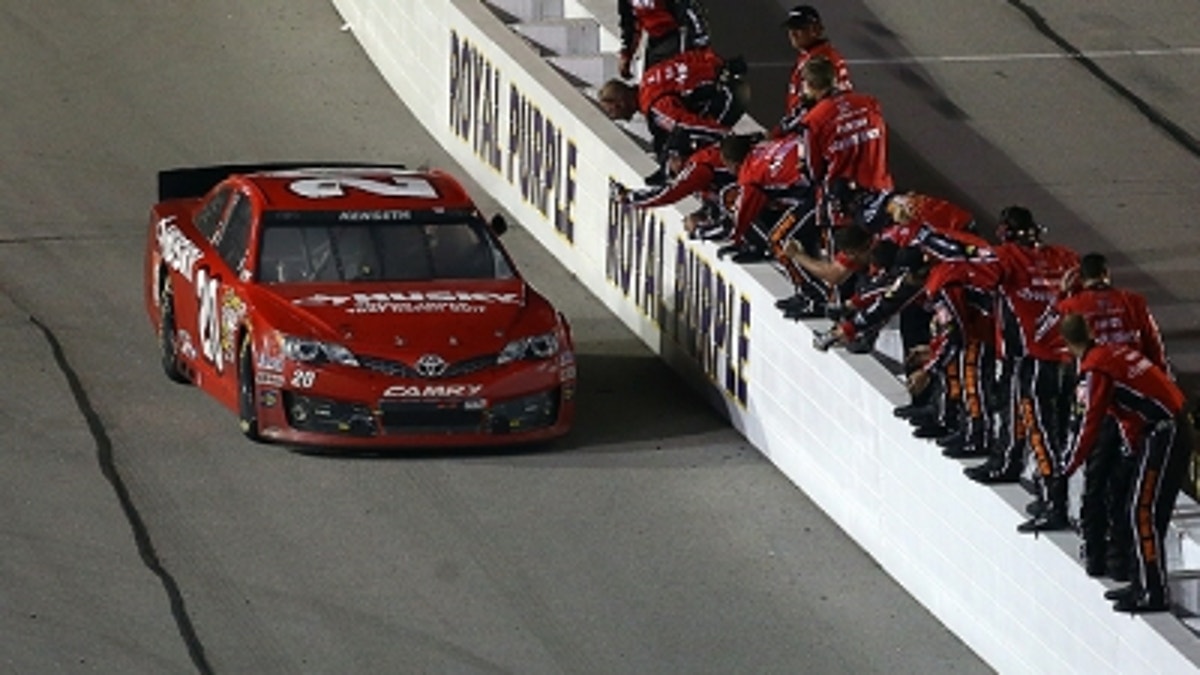 With a victory in the Bojangles' Southern 500 at Darlington Raceway, Matt Kenseth now has three race wins, more than anyone else in the NASCAR Sprint Cup Series this year. And now, Kenseth leads the FOXSports.com/SPEED.com Power Rankings, too.
This week's list:
1. MATT KENSETH — Kyle Busch dominated the race, but his Joe Gibbs Racing teammate Kenseth was there at money time. A precursor of things to come when championship time rolls around? Could be. Last week: 4.
2. JIMMIE JOHNSON — Last year, Johnson won this race, giving Rick Hendrick his 200th victory. This time, he finished fourth and didn't lead a lap. He still has a huge points lead, though. Last week: 1.
3. CARL EDWARDS — Seventh wasn't a great result for Edwards, but it was clear that the Roush Fenway Fords were nowhere near as good as the JGR and Hendrick cars. Last week: 2.
4. KYLE BUSCH — Led the most laps, dominated the race, didn't win, this time due to a cut right-rear tire. Déjà vu all over again for Busch. Last week: 9.
5. DALE EARNHARDT JR. — A solid top-10 finish for Earnhardt, but not much more. Last week: 3.
6. CLINT BOWYER — Never a factor all night, Bowyer overcame a pit-road equipment penalty to finish 11th. Last week: 5.
7. KEVIN HARVICK — Once again, no lame in his game for Harvick, as his top-five finish attests to. Last week: 10.
8. DENNY HAMLIN — A gutsy run to a runner-up finish for Hamlin, who officially began his drive to make the Chase at Darlington. Last week: Unranked.
9. KASEY KAHNE — For the third time this year, an incident with Kyle Busch resulted in a disappointing finish for Kahne. Last week: 7.
10. GREG BIFFLE — It was shocking how bad the Fords were relative to the Toyotas and Chevys, so 13th for Biffle wasn't too much of a letdown. Last week: 11.
11. BRAD KESELOWSKI — A late-race crash left the 2012 series champ in 32nd place, not where he wanted to be, certainly. Last week: 6.
12. JEFF GORDON — After struggling for much of the race, Gordon came on at the end to finish third. Last week: 13.
13. ARIC ALMIROLA — All good things come to an end, and this time it was Almirola's streak of four consecutive top-10 finishes. Last week: 8.
14. PAUL MENARD — A 19th-place finish most definitely wasn't what Menard was hoping for. Last week: 12.
15. KURT BUSCH — He won the Darlington pole and passed his Indy 500 rookie test. Hell of a week for the elder Busch brother. Last week: 18.
16. RYAN NEWMAN. — A top-10 finish for Newman was best in class among the Stewart-Haas Racing trio. Last week: 15.
17. MARTIN TRUEX JR. — After looking strong in the early going, Truex could finish no better than 12th. Last week: 14.
18. JAMIE MCMURRAY — An average night for McMurray, who finished 17th. Last week: 16.
19. RICKY STENHOUSE JR. — Despite a hard wall bounce, Stenhouse finished in the top 20. Last week: 20.
20. JEFF BURTON — The lack of an early caution really hurt Burton, as he could never get track position. Last week: Unranked.
Tom Jensen is the Editor in Chief of SPEED.com, Senior NASCAR Editor at RACER and a contributing Editor for TruckSeries.com. You can follow him online at twitter.com/tomjensen100.