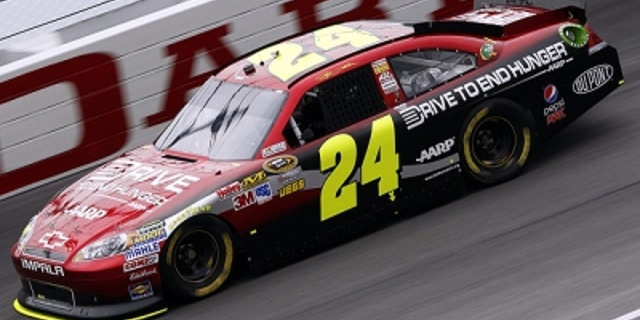 Among the current crop of Sprint Cup drivers, Jeff Gordon stands alone in relation to Darlington Raceway.
In fact, Gordon is so "alone" he should have a category all to himself.
Gordon has beaten the gnarly old track in South Carolina farm country seven times, a number that sparkles when compared to Gordon's contemporaries and their records at Darlington.
No other current full-time driver has won more than twice at the 1.366-mile track, long regarded as one of the toughest to conquer on the NASCAR trail.
Former champion Bill Elliott, who now drives sporadically, has scored five wins at Darlington.
The all-time victory leader at the track is its acknowledged master, David Pearson, who retired in 1986 with 10 Darlington wins. The late Dale Earnhardt Sr., the only other driver with more wins at the track than Gordon, had nine.
And, if there was ever a season when Gordon could use the benefit of his Darlington pedigree, it's this one.
Gordon rolls into Saturday night's Bojangles Southern 500 in dire straits. A 33th-place finish Sunday at Talladega – he was involved in an accident – dropped Gordon six places in the point standings to 23rd, and he now faces a serious uphill climb to reach Chase for the Sprint Cup qualifying ground.
In fact, Gordon's best shot at playoff activity now is putting together two or three race victories in pursuit of a wild-card berth, yet another reason for his team to look forward to Saturday night's race.
Gordon has had fast cars at virtually every venue this season but has been rattled by a caustic mixture of bad luck and wrong place-wrong time consequences.
"Man, that is just the way this season has been going for us," Gordon said after being knocked out of Sunday's race. "I want to laugh at it, but I want to cry, too. It's just ridiculous that we cannot catch a single break. We are bringing just unbelievable race cars to the track. We'll just go after them in Darlington."
Gordon said it's important for his team to realize it's producing good cars week after week and to keep its confidence up.
"If you blame it on luck, then you're kind of putting the blame on something else that you can't control," he said. "I think in this sport you've got to control as much as you possibly can to control your own destiny and get those results. We're running really good. We've got too good of a team and organization. In things like this, you've got to also keep the confidence.
"When you get torn down and torn down, it really puts you to the test as an individual and as a team. And, let me tell you, we've been put to the test this year, but we've not wavered. We stay positive."
Gordon said crew chief Alan Gustafson has played a big role in keeping the team moving forward through tough weeks.
"I think, sure, you question things," he said. "It's frustrating. You wonder 'Gosh, what do we have to do? What do I personally have to do?' You question the entire commitment and direction. But, that's why it tests you as to who you are as an individual, as well as a team.
"The nice thing, and I credit Alan a lot for this, he is a great leader, and he is a positive guy. He's keeping it glued together to keep this team upbeat and positive through what we've been through. You don't always have the answer as to why you struggle and why things don't come together. But, I will say, surviving this is going to make us a lot better and stronger."
Mike Hembree is NASCAR Editor for SPEED.com and has been covering motorsports for 30 years. He is a six-time winner of the National Motorsports Press Association Writer of the Year Award.