CUP: Craven Versus Kurt Busch Remembered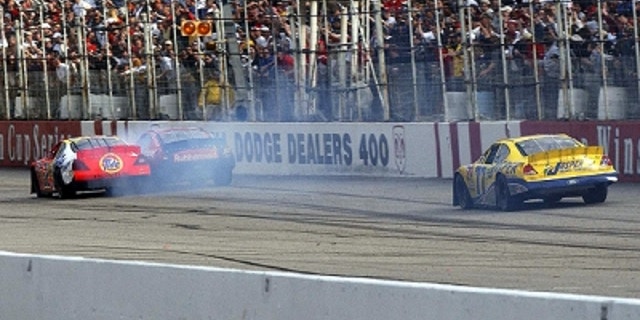 It is remembered as one of the greatest – in the view of some, THE greatest – NASCAR finishes of all time.
It was 10 years ago at Darlington Raceway, the tough old track in the South Carolina Pee Dee region. It's hard enough to win at Darlington under normal circumstances, but, on that race day, Ricky Craven and Kurt Busch took the challenge to the extreme.
Over the closing laps of the Carolina Dodge Dealers 400, Craven and Busch raced as close as two drivers can race, banging their cars into each other and testing the outside wall as they ran toward the checkered flag over the closing laps.
Craven emerged as the winner, edging Busch by .002 of a second as their cars crossed the line virtually joined. At that point – March 16, 2003, it was the closest finish since NASCAR began using electronic timing in 1993. The margin of victory was tied at Talladega Superspeedway in 2011.
At a legendary track, the finish quickly became legendary.
"The way that Ricky and I raced, it's amazing we didn't wreck each other, and just hand the win over to a third-place running guy," Busch said Tuesday. "That day it was Dave Blaney. To take the gloves off, I knew Ricky was going to catch me. I just knew it.
"I had power steering issues, and lap after lap he's ticking away not two‑10ths to three‑10ths, he's ticking away a half a second quicker than us. And it was just, all right, if you can do math, you know he's going to catch you with about two to go, three to go, and I'm like, 'I don't know what I'm going to do when he catches me.' But he doesn't know I'm going through all this hardship, so maybe I can catch him by surprise and at least 'juke' him for a lap and a half."
It got intense.
"If you remember, Kurt actually did get in the wall," Craven said. "I didn't expect him to race me into turn one with a few laps to go, and I expected him to lift and do a cross‑over, and as he said, I didn't know what he was dealing with as far as power steering issues.
"I think, really, and I've seen this a lot, I didn't watch it much during my career because … every seven days you're racing. So, regardless of how exciting the racing is or if you won, it's on to the next event. But the life I'm in now where I do have time to reflect, it's pretty clear that with two or three to go, we both made the decision that we're going to win this race, and we went about it in different ways.
"But, in the end, it just came down to a few inches. You don't script it. It's not something that you plan for. It's not something that, as much as I want to say that all my short-track days back in New England prepared me for it, they didn't. For the last few laps, I can tell you there were two guys that emptied the tank. And it's the only reason, the only reason I can explain Kurt walking across the garage to join me in victory lane and celebrate is because he had emptied the tank, like I had. And, hell, at the end of the day, what is there to complain about? You did everything you could do. I mean, really, I think that's what that race represents."
Craven is retired as a driver and now works as a racing television commentator. Busch, of course, is still on the circuit. Their meeting that day in Darlington continues to link them.
"It's just amazing how you just go into that mode of, 'I've got to win,' and you throw out the whole speech and preaching that everybody has given you about how you've got to race the race track, otherwise the track will jump up and bite you," Busch said. "And it was if the lady let us dance that day with her to get me and Craven beating each other up with the cars, and yet it produces a show that still stands today as one of the best finishes."
Mike Hembree is NASCAR Editor for SPEED.com and has been covering motorsports for 31 years. He is a six-time winner of the National Motorsports Press Association Writer of the Year Award.