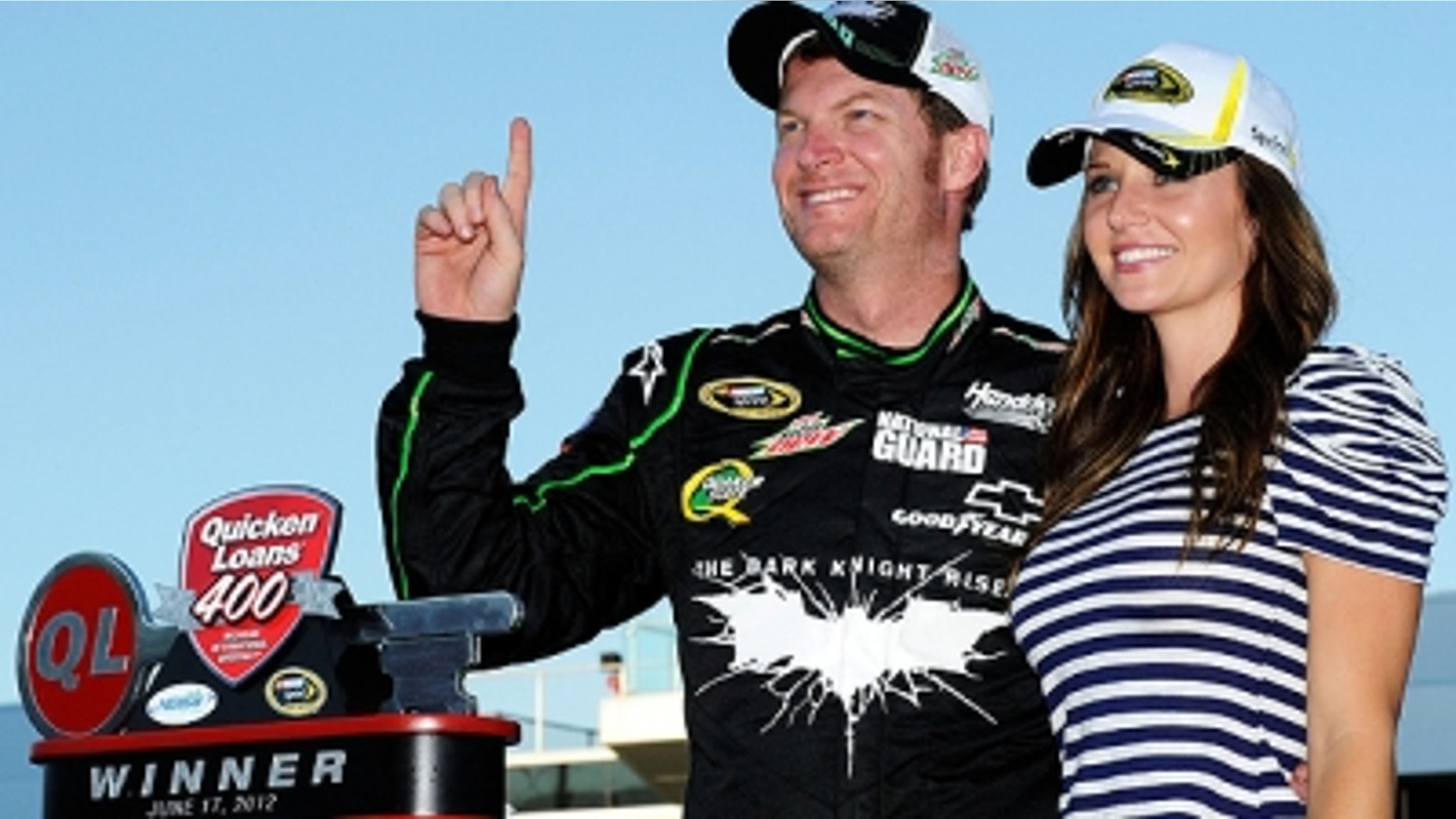 Dale Earnhardt Jr. hasn't prepared wedding invitations or bought a new tuxedo or reserved his Whisky River bar in Charlotte, NC for a bachelor party.
NASCAR's most popular driver – and its most eligible bachelor – isn't on the verge of getting married, his public relations representative said Wednesday.
The National Enquirer, a news media source of questionable reputation, has reported that Earnhardt Jr. is engaged to long-time girlfriend Amy Reimann and that they will marry by the end of the year.
Earnhardt Jr., 37, has been dating Reimann, 30, for at least two years and seems to have a much more serious relationship with her than with other women with whom he has been linked romantically over the years.
According to the Enquirer story, Reimann basically told Earnhardt Jr. the relationship would not continue without marriage.
Bottom line – don't worry too much at the moment about the off-season social calendar.
The Face Of The Sport – As promised, Jeff Gordon showed up in Chicago Wednesday with facial hair.
Gordon promised weeks ago to regrow his mustache if he qualified for the Chase. Gordon had a less-than-impressive mustache 20 years ago as a rookie driver. He told his fans on Twitter that the mustache would return if he earned a spot in the Chase.
At an appearance Wednesday at the House of Blues in downtown Chicago, Gordon had the beginnings of a beard and mustache. He said he doesn't plan to grow a full beard but that the mustache will be "full" by Friday's opening day at Chicagoland Speedway.
Chicago Welcomes Chase Drivers – Several hundred fans turned out at the House of Blues in downtown Chicago Wednesday afternoon to greet the 12 drivers competing in the Chase for the Sprint Cup.
The drivers shared the stage with NASCAR president Mike Helton, who answered numerous fan questions before the competitor session began.
Clint Bowyer was the star of the driver portion of the event as he came up with the best quips, including suggesting that Jeff Gordon is the best driver to go to dinner with because of his available discounts as "Mr. AARP".
Johnson's Chase Totals Dominating – Five-time Sprint Cup champion Jimmie Johnson could go on a long drought and still own impressive Chase numbers.
The big number in Johnson's favor is wins. He has 20 Chase victories since the format began in 2004. A distant second in that category is Tony Stewart with 11 (five of which came last season).
Carl Edwards has won eight Chase races, while Greg Biffle has seven.
Johnson has an average Chase finish of 9.
Mike Hembree is NASCAR Editor for SPEED.com and has been covering motorsports for 30 years. He is a six-time winner of the National Motorsports Press Association Writer of the Year Award.