CUP: Can EGR Get It Back This Week?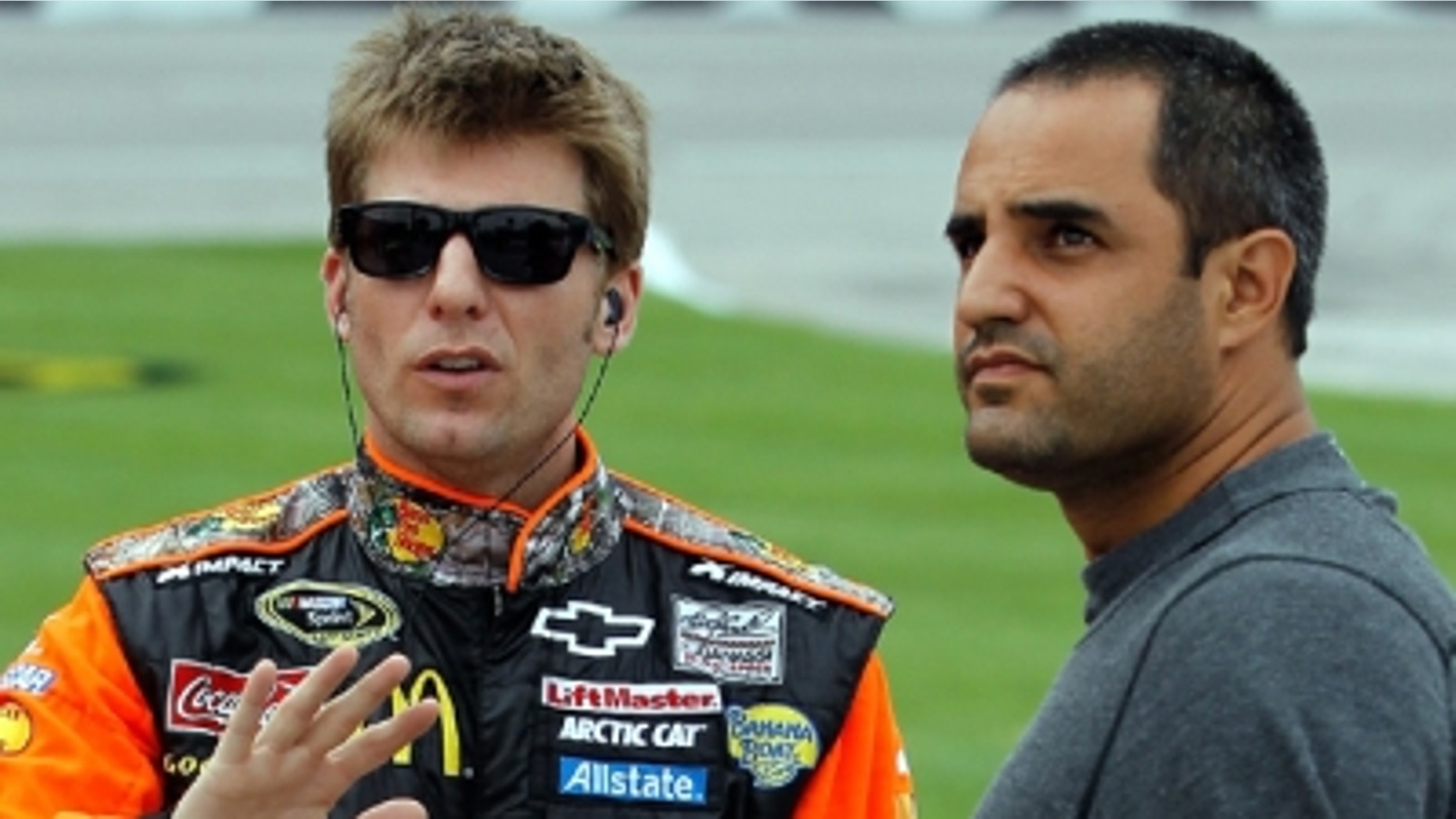 If you haven't heard or seen or read a lot about Earnhardt Ganassi Racing with Felix Sabates lately, there's a reason: Other than driver Juan Pablo Montoya creating an inferno when he rammed the jet dryer in the Daytona 500, the team doesn't have a lot to show for 2012 so far.
With a full one quarter of the NASCAR Sprint Cup season already in the books, Montoya is 16th in points and his teammate Jamie McMurray is 18th, not where either man hoped to be at this point in the season.
Yet, there is cause for some optimism. Last year, Montoya finished 21st and McMurray 27th, so both have improved from their respective dreadful 2011 campaigns.
And each has been running better of late.
McMurray has finished 14th in each of the last three races, a period in which he's moved from 24th to 18th in points. During the same three races, Montoya has finished 16th once and 12th twice.
Again, it's not where either driver hoped to be at this point, but both at least are trending in the right direction.
Which brings us to Talladega Superspeedway, site of Sunday's Aaron's 499, and a track that bodes well for EGR's prospects.
At Talladega, the ability to work in tandem is a key to victory: Make the right hook up in the final two laps and anything is possible. McMurray has shown quite a bit of prowess in superspeedway racing, having won at Talladega in Nov. 2009, and finishing second here in April 2010. He also has won both Daytona races. McMurray knows how to get it done at plate tracks.
In 19 starts at Talladega, McMurray has one victory, five top-five and six top-10 finishes. In the last 14 events at Talladega, McMurray ranks fifth in the number of laps led with 159.
"I look forward to going to Talladega, but this is one of the four races a year that you just hope things don't get out of hand and maybe you can bring the car home in one piece with a good finish," said McMurray. "We always seem to have a good car at the Superspeedway races so if we can manage to stay out of trouble, I think we can have a good run. We have gained a few spots in the points the last couple of weeks and hopefully we can continue that momentum, but Talladega is all about being lucky."
And that pretty much sums up Montoya's record at 'Dega. In April 2008, he was runner up to Kyle Busch here, and in 2010, he finished third in both races. But in his last seven races here, he's finished 19th or worse five times.
"Restrictor plate racing is very unpredictable," said Montoya. "Especially if you're running in a big pack like we are again. You have to have a lot of luck on your side; especially in the closing laps when everyone is charging to the front. We normally run really well at Talladega and it's one of those tracks I look forward to on the schedule. 'Shine' (crew chief Chris Heroy) built us a new car for this race so it should be pretty exciting."
McMurray is eager to get rolling.
"I expect the racing to be like Daytona in February where we are back to more of the larger pack racing," he said. "I actually prefer that style, because it seems I was always better with that style versus the tandem drafting. Our Bass Pro Shops team is working on being more consistent and with three straight top-15 finishes I think we are starting to move in the right direction. We just need to start turning those into top-10's and top-five's."
Tom Jensen is the Editor in Chief of SPEED.com, Senior NASCAR Editor at RACER and a contributing Editor for TruckSeries.com. You can follow him online at twitter.com/tomjensen100.