CUP: Can Crew Chiefs Double Up?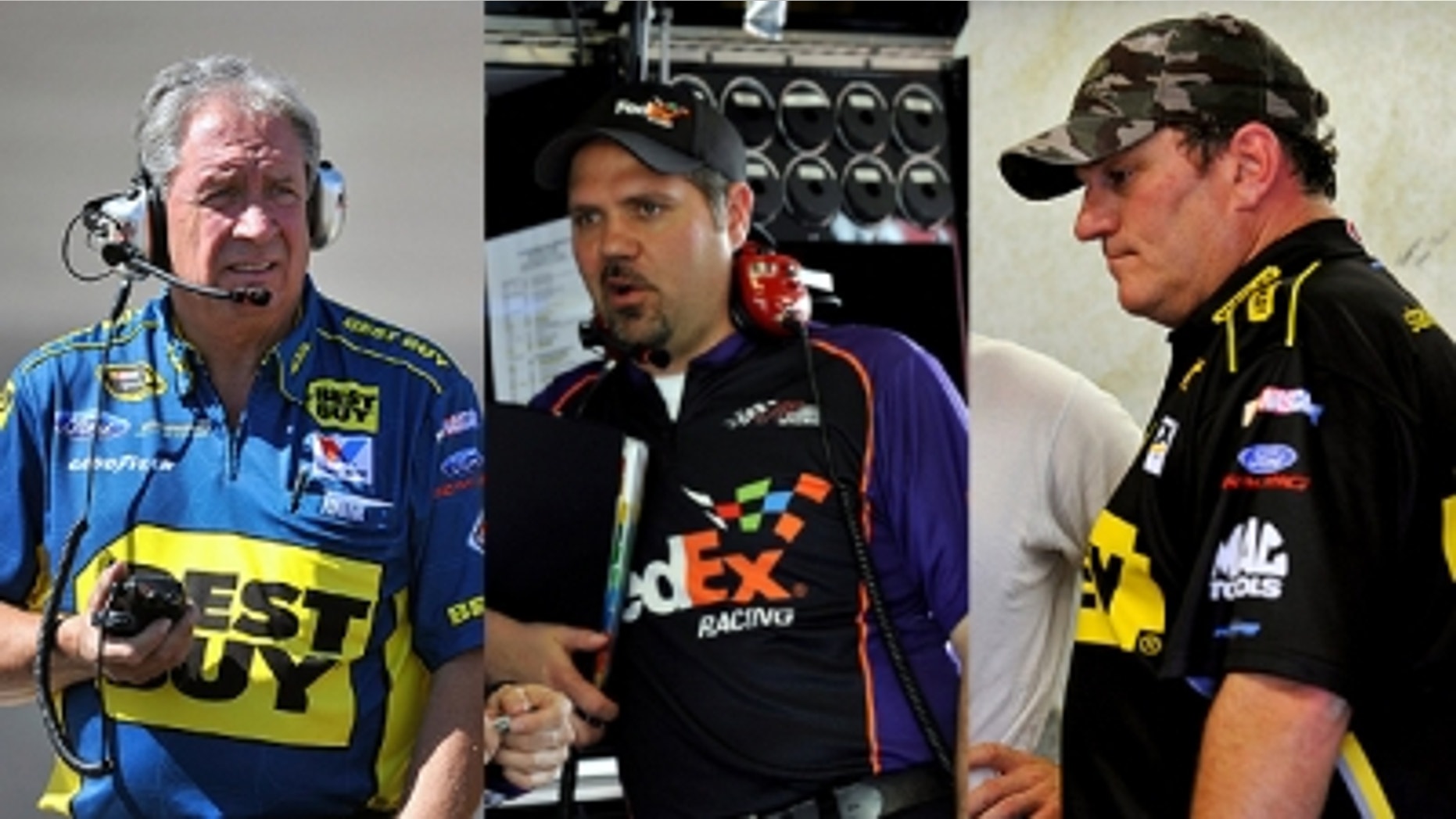 It's a little-known fact, but since the creation of what is now known as the NASCAR Sprint Cup Series in 1949, only four crew chiefs have won series championships with more than one driver. And no one has done it in almost three decades.
The four crew chiefs to win with different drivers are:
• Dale Inman, who won seven with Richard Petty and one with Terry Labonte in 1984.
• Tim Brewer, with Cale Yarborough in 1978 and Darrell Waltrip in 1981.
• Bud Moore took titles with Buck Baker in 1957 and Joe Weatherly in 1962-63.
• Owner-crew chief Carl Kiekhaefer did it in 1955-56 with Tim Flock and Buck Baker.
Moore and Inman already are members of the NASCAR Hall of Fame and certainly Brewer and Kiekhaefer had impressive records as crew chiefs.
This year, there could be a fifth crew chief to add his name to the list of the elite who have won with multiple drivers. In fact, there are three crew chiefs who could do it this year and two who have a very good chance of winning a title.
Darian Grubb, the 2011 championship crew chief for Tony Stewart, is off to a red-hot start at his new home at Joe Gibbs Racing. Grubb's driver, Denny Hamlin, opened the year with a fourth-place finish in the Daytona 500 before winning in Phoenix on Sunday.
By the same token, Jimmy Fennig was the championship crew chief for Kurt Busch at Roush Fenway Racing in 2004 and now leads Matt Kenseth, winner of the Daytona 500 and himself a past series champion.
Hamlin and Kenseth, without question, are two of the favorites to go the distance this year. A long shot third possibility would be Marcos Ambrose and his crew chief, Todd Parrott, the 1999 championship winner with Dale Jarrett.
By helping their respective drivers win right out of the box, Grubb and Fennig already have made statements about the strengths of their programs.
For Grubb, Hamlin's performance is especially impressive, as this is his first year with a new team and his first time with a team that wasn't either Hendrick Motorsports or a team that used Hendrick equipment.
"This is just all-new tools and all-new people, but it's still the same job," said Grubb. "Luckily they (JGR) have a very strong organization already. I don't need to change any of those things. It's coming in and learning the people and learning how to get the best out of all those individuals, and the pieces and parts are there."
Having fast cars helps, too — all three JGR Toyotas finished in the top 10 in Phoenix.
"The cars are Joe Gibbs Racing cars and everybody back at the shop did a really good job over the offseason preparing those things to get ready to go to the racetrack," said Grubb. "If you look, we pretty much ran in the top 10 all day with all three cars once they got there. So it was a pretty strong showing and I'm pretty proud of that."
At age 36, Grubb represents the new era of cutting-edge NASCAR crew chiefs and proudly carries an engineering degree from Virginia Tech.
Fennig, on the other hand, is the opposite, a 58-year-old crew chief who won his first Daytona 500 as Bobby Allison's crew chief in 1988. He has been at Roush Fenway Racing since 1996.
"He has been doing this forever," Kenseth said of Fennig after the Daytona 500. "I am proud to be standing here with him. He has done a great job with this race team and gives us fast race cars."
Kenseth hopes to improve upon last year and is counting on Fennig to continue to give him fast cars.
"I feel we ran good enough in the Chase performance-wise and as far as what the team gave me to use and what Jimmy did and the pit crew did to race for a championship," Kenseth said. "We were able to win a few races along the way and in position to win a few more that we didn't win. Last year was a great year for us. I think it built a lot of confidence and it really made me feel good and be happy."
Tom Jensen is the Editor in Chief of SPEED.com, Senior NASCAR Editor at RACER and a contributing Editor for TruckSeries.com. You can follow him online at twitter.com/tomjensen100.