CUP: Bowyer Fired Up And Ready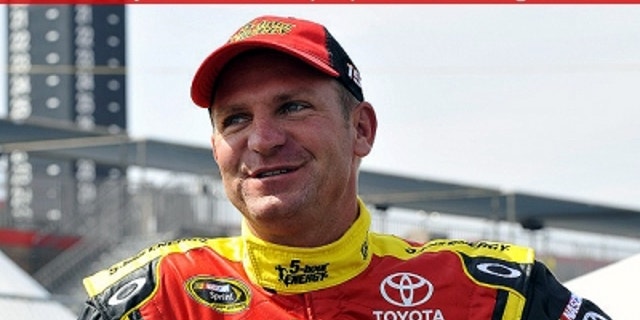 Sure Tony Stewart's won two races already and Greg Biffle leads the NASCAR Sprint Cup points standings. But six races into the 2012 season, you'd be hard pressed to find a driver happier than Clint Bowyer right now.
Now in his seventh full season at the Cup level, Bowyer changed teams last winter, moving from the well-established Richard Childress Racing, a consistent championship contender, to Michael Waltrip Racing. And there's no question, many were skeptical of the wisdom of Bowyer's decision.
After all, Bowyer started full-time in Cup in 2006, a year before MWR, and Bowyer has more Cup race victories (five) as a driver than MWR does as a team (two).
That said, with nearly one-quarter of the NASCAR regular season complete, Bowyer stands ninth in points, having finished outside the top 15 just once in six races. And he's heading to Texas Motor Speedway, a track where he has scored top-10 finishes in five of the last seven races, including the last three.
Yep, life is good right now for Bowyer, who will be a guest on SPEED's NASCAR Race Hub tonight at 6 p.m. ET.
Asked about his fast start, Bowyer positively beamed.
"Surprised? No. Proud? Yes," said Bowyer in an exclusive interview with SPEED.com. "Very, very proud of everybody's hard work. Just … it sure makes you feel so much better about change and the decisions that you've made and all the naysayers and people that looked at you like, 'What the hell are you doing?' It sure makes you feel a lot better about that."
With so little of the season having taken place so far, Bowyer thinks the best is yet to come for he and his No. 15 MWR team.
"I'm telling you, we're just beginning," said Bowyer. "I think us as a race team, that 5-Hour Energy car, I couldn't be happier with the progress that (crew chief) Brian Pattie has made with our race team, a team that he assembled around me. That organization, it's been a breath of fresh air and a lot of fun so far."
Bowyer and Pattie were among several key acquisitions MWR made last year, including bringing over another RCR alumnus, Scott Miller, to serve as competition director and drivers Mark Martin and Brian Vickers to share seat time in the team's third full-time entry.
"Out of all the organizations, all the teams that I went to, talked to, this is the one that all the doors always opened back up to and led to," said Bowyer. "I just saw a lot of upside and potential and saw a lot of moving pieces, and if they came together correctly, they could be really good. And I think that's what's happening."
The biggest difference between MWR then and MWR now? Bowyer thinks he and his fellow team newbies, all of whom came from winning traditions, brought much-needed confidence and leaderships to their new team.
"Those are things I saw that Michael Waltrip Racing didn't have," said Bowyer. "Just confidence in what they're doing, in the decisions that they make and that they're going to be OK. When you don't have that, it's kind of hard to explain, but it seems like you never make the right decisions."
Asked what he's enjoyed most so far, Bowyer doesn't hesitate.
"It's a breath of fresh air," he said. "I'm enjoying going to the races again. Hell, I'm running better than I think I ever have. I'm telling you, we're going to win some races this year. It's been a long time since I've thought that."
Tom Jensen is the Editor in Chief of SPEED.com, Senior NASCAR Editor at RACER and a contributing Editor for TruckSeries.com. You can follow him online at twitter.com/tomjensen100.