CUP: Big Crashes Take Over Daytona Late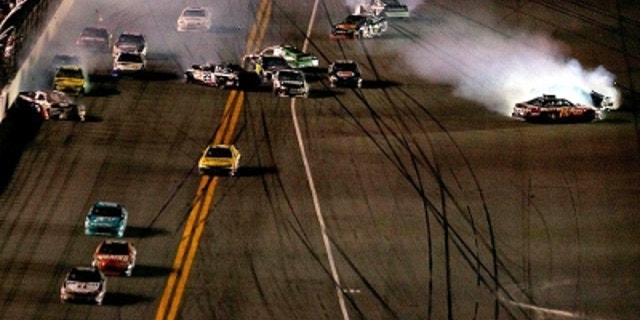 Article by Holly Cain, FOXSports.com
It was easier to count the number of cars not involved in crashes during Saturday night's Coke Zero 400 at Daytona International Speedway — a typical restrictor-plate race that lived up to its hype and culminated with a 15-car crash on the last lap.
Fortunately, none of the 27 drivers who were involved in one of the four multicar crashes was hurt, but there were a lot damaged cars and frustrated drivers using adjectives such as "crazy" and "wild."
What started as an extended two-car breakaway from Roush Fenway Racing teammates Matt Kenseth and Greg Biffle ended with Tony Stewart taking the checkered flag with a wild melee erupting directly behind him.
"I don't even remember what happened on that last lap; it was such a weird day,'' said Stewart, who started 42nd after his car failed post-qualifying inspection.
Fittingly, Stewart was one of the few who finished the race unscathed — saying his biggest drama was losing the lead draft at one point and narrowly avoiding going a lap down.
"The wrecks happened behind us each time, we were just fortunate,'' he said.
Most of the others weren't that lucky, particularly this season's hard-luck kid, Jeff Gordon, who couldn't catch a break Saturday night. He was involved in four incidents, starting with a pit-road collision with Ryan Newman on the first round of pit stops. Then he was collected in a six-car wreck with 46 laps to go that ended the night for his Hendrick Motorsports teammate Jimmie Johnson — Johnson's second straight DNF at Daytona.
Next he was caught in a 15-car wreck with seven laps to go, but was able to return to the track, take only a glancing blow in the last-lap drama and salvage a very respectable 12th place finish out of the night.
"If you put everything into perspective, there were moments tonight when I felt like we had a car that could win and we were close to being in a position for that,'' said Gordon who is winless on the year and 17th in the standings.
"And then when that wreck happened when we were trying to come to pit road, that just changed our night a bit. Not only did it tear up the race car, but it cost us track position, which was very, very difficult to make up.
"So considering that and where we started on those last couple of restarts, 12th wasn't bad. I even got in the wreck on that last lap and still finished 12th. So, we don't have much of a race car, but we got a 12th-place finish."
All four of the Hendrick cars were caught in accidents. Kasey Kahne, who helped push Stewart to the front of the pack, and Dale Earnhardt Jr. both were collected in the last-lap accident.
"Frustrating describes this whole type of event,'' said Ford driver Carl Edwards, who finished sixth even after getting caught up in the last-lap crash.
"We were very, very fortunate to end up where we did,'' Edwards said. "We dodged the wrecks and made it out unharmed. … finishing seventh or better is something I would have taken this morning if somebody would have offered it.''