CUP: Bad Brad On The Road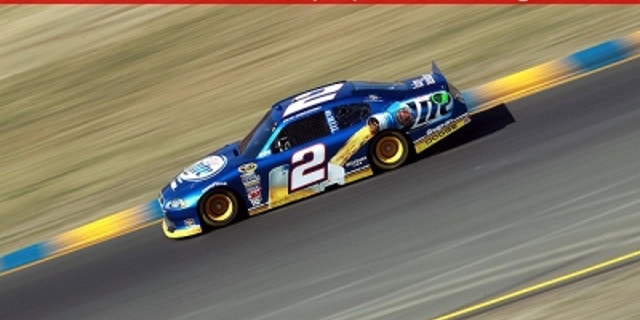 Stock car drivers of the traditional vein sometimes have had trouble adjusting to the intricacies of road racing.
Although some drivers still frown on the Sprint Cup tour's two annual visits to road courses, the concept of turning both left and right hasn't been as much of a hassle over the past decade or so.
As teams have concentrated more on car preparation for Sonoma and Watkins Glen, and the importance of the two races was elevated with the arrival of the Chase for the Sprint Cup, competition "on the road" has been much more substantial.
Drivers like Brad Keselowski, who grew up on the short-track ovals of the Midwest, have learned the twisties quickly.
"It took a while, but I've become a big fan of road-course racing over the last couple of years," Keselowski said. "As a race car driver, it's not easy when you have to step out of your comfort zone, and road course racing was definitely uncomfortable to me. Now it's something I take a lot of pride in.
"Versatility, in this sport or any sport, is a good thing. The two drivers that came before me in the Miller Lite Dodge were good road course racers, and I hope to be able to continue to carry on that tradition. We've been close before, but a road-course win would rank right up there with the best wins of my career."
Keselowski's next shot is Sunday in the Toyota/Save Mart 350 at Sonoma.
Keselowski finished 10th last year at Sonoma and was second in the Watkins Glen race.
"It's a very demanding road course," Keselowski said of Sonoma. "It's just so technical, whereas Watkins Glen is more of a stock car driver's circuit. You have to be mindful of hitting your marks on every lap, and you can't throw your car around very much.
"There's a lot of elevation change that makes it difficult to see around the corners, but that also makes it a fun place to race. You are as worn out mentally as you are physically when you finish a race at Sonoma."
Crew chief Paul Wolfe said he's looking forward to another shot at putting Keselowski in victory lane at a road course.
"I've seen Brad make great strides in his road course racing," Wolfe said. "He's very much a student of the game, and he constantly looks for ways to improve. I feel confident that we've put together a good car for this weekend – one that he can race up front with.
"This usually turns into a fuel-mileage race, but you still have to have a car that can race with people at the end. Brakes play a big part in that. Road-course racing is very hard on brakes, so you have to constantly remind your driver to not abuse them. I love road course racing. The two races that we have each year give you a nice break in the action and it mixes it up a little bit."
Mike Hembree is NASCAR Editor for SPEED.com and has been covering motorsports for 30 years. He is a six-time winner of the National Motorsports Press Association Writer of the Year Award.