CUP: Another Junior-Johnson Combo?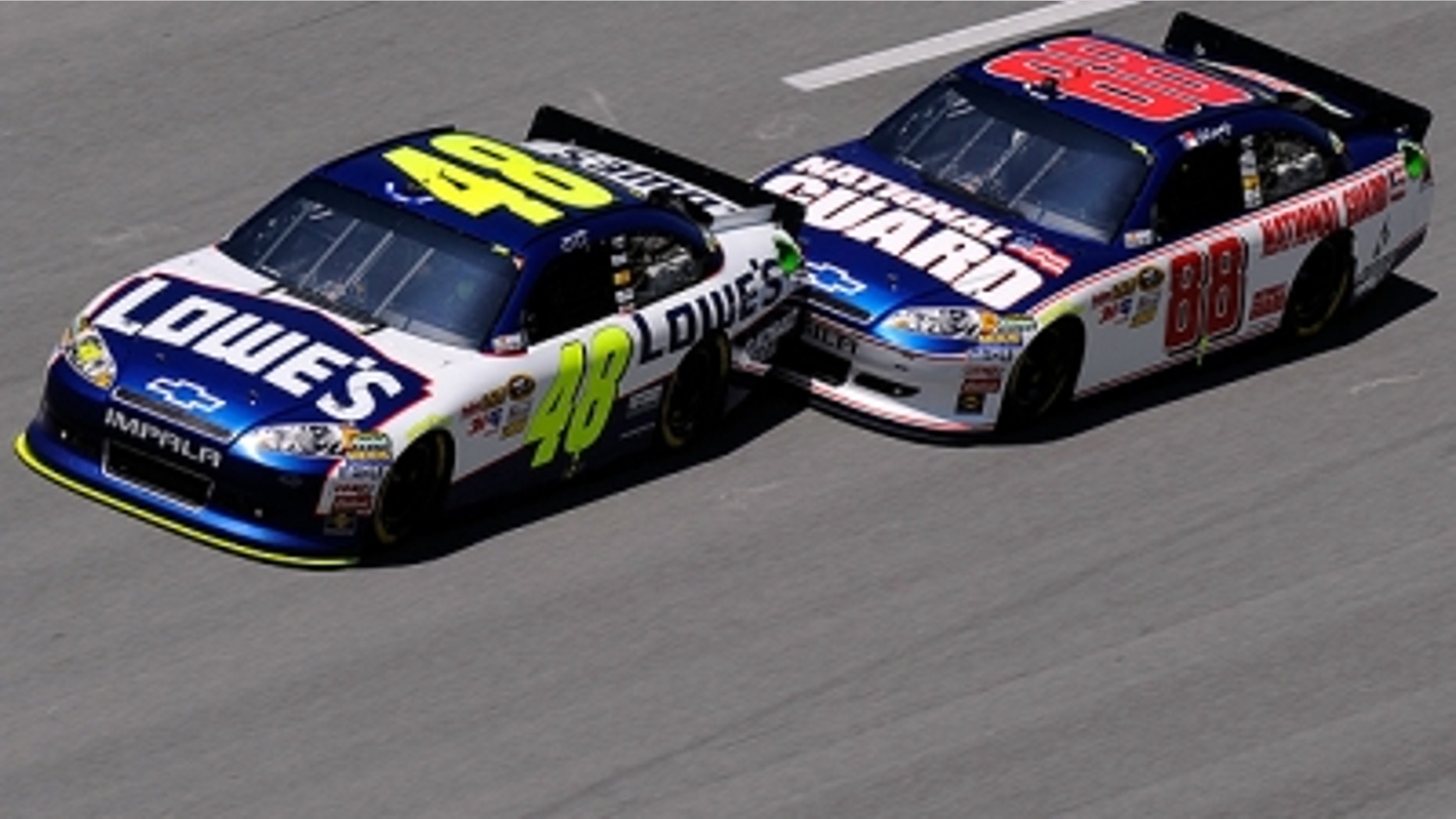 Thousands remember the dynamite finish of last year's Aaron's 499 at Talladega Superspeedway not for the driver who won but for the one who didn't.
Even in a year in which there was major controversy about tandem drafting at the NASCAR circuit's biggest tracks, the final laps of the first race of the season at Talladega were spectacular.
At the front were the double-drafting cars of Jeff Gordon and Mark Martin, along with Clint Bowyer and Kevin Harvick. With a lap to go, Jimmie Johnson and teammate Dale Earnhardt Jr., also locked in a two-car draft, rolled into the picture.
With the finish line only a few seconds away, Johnson dropped to the inside, and Earnhardt Jr. followed. Their momentum carried them past the other four cars, and Johnson won the race by .002 of a second over Bowyer, one of the closest finishes ever at a track known for them.
Tempering the excitement of the finish was the disappointment of the thousands of Earnhardt Jr. fans who travel to Talladega twice a year hoping their man can rekindle the fire from previous seasons here. He was so close to ending a long losing streak only to find himself pushing Johnson to victory. This weekend he returns to Talladega still carrying the albatross of that winless streak, now a year longer.
Johnson, now riding a 15-race winless run of his own, talked after last year's race of "owing" Junior one, but he said Friday that debts of that sort often depend on circumstances.
"I don't feel like I owe him," Johnson said. "If the situation was a little different and he had room to pull out and pass me, he would have. That's just what racers do. We will do anything to help each other out. It's only improving our chances to win. I don't know if I'll be around the 88, but if he's in front of me, absolutely I'm pushing him.
"My car was faster leading than his was. If I'm pushing him and have a chance to pull out, I think he'd give me a really hard time if I didn't try to win the race. I'll do everything I can to help him, but I'm here to win races, too.
"We really showed throughout that race what sticking together could do. Junior and I both worked throughout the race trying to understand the order in which cars needed to be. Me leading and him pushing was the fastest combination. The way things unfolded, it was best to be the leader in that particular instance."
Johnson is one of five drivers in the top nine in Sprint Cup points without a win this season. Has competition changed? Are drivers riding with more care to preserve points? Is the decline in caution flags a product of less vibrant racing?
"I know from afar it may seem like guys are conservative and more concerned about points, but the way I drive my car and compete, I'm on the track every weekend to win," Johnson said. "What I see out of my windshield with how hard guys are driving their cars [and] what I'm living and what I see with my own eyes, guys are driving and really putting the effort in. … There are a lot of guys earning their money out there."
Mike Hembree is NASCAR Editor for SPEED.com and has been covering motorsports for 30 years. He is a six-time winner of the National Motorsports Press Association Writer of the Year Award.