Cubs handle Cardinals, set postseason home run record in Game 3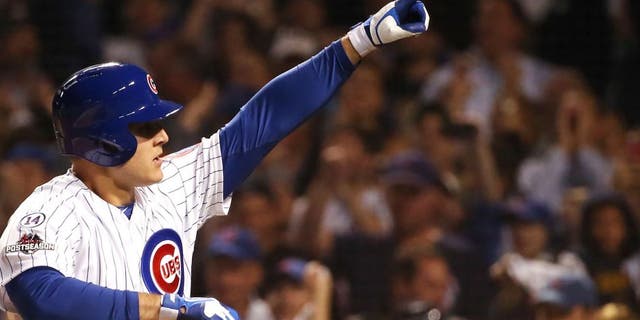 NEWYou can now listen to Fox News articles!
The Cubs hit six home runs to bounce the Cardinals 8-6 in Game 3 of the NLDS Monday night. Chicago takes a 2-1 series lead and will try to eliminate St. Louis on Tuesday night in front of a home crowd at Wrigley Field.
Rookie outfielder Kyle Schwarber got the scoring started in the second with solo shot to center field off Cardinals starter Michael Wacha. Starlin Castro added another in the fourth. Kris Bryant and Anthony Rizzo each took one deep in the fifth. Jorge Soler went yard in the sixth and Dexter Fowler set the major-league record with another in the eighth. It was the most homers by one team in one game in postseason history.
Oh, and Jake Arrieta pitched too. Giving up four runs over 5 2/3, the same amount of runs he's given up in the last several months. But for once, he didn't steal the show. It was all about the long ball in Game 3. Now, the Cubs will look to advance to the NLCS on Tuesday in Game 4.