Cubs fan celebrates World Series win with gigantic 'World Series Champions' head tattoo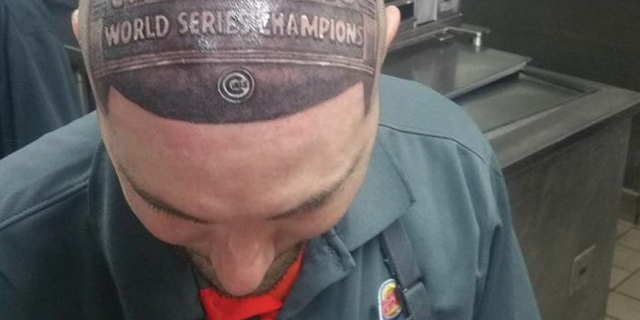 Since their team broke its century-long World Series drought on Wednesday night, Cubs fans have outdone themselves with exhibitions of the joy they're feeling to have finally broken The Curse.
People climbed on street lamps, kissed strangers and celebrated with deceased family members. And on Saturday, things finally seemed to be winding down after Friday's victory parade in Chicago. There will be no more ridiculous Cubs joy stories this weekend, right?
Not so much.
Just when you thought the coast was clear, one man appears to have gone and got the entire Wrigley Field marquee tattooed over half his head.
That's not a tattoo. That's an entire hairline.
This is an interesting approach, because this type of tattoo can either be the most sneaky kind of tattoo -- or the most blatant ink ever laid to skin. If this man can, in fact, grow hair, this thing can be kept covert until playoff time -- a rally beacon broken out via trimmer only in times of dire need.
If that isn't the case, well, the 2016 World Series is this man's hair now. He has a permanent Wrigley Field fade, and he will be the toast of the bleachers until his dying day.
Dan is on Twitter. The Wrigley Field fade is aggressive, but you don't win championships playing it safe.