Cuban baseball star Yasmany Tomás adjusting to life in the major leagues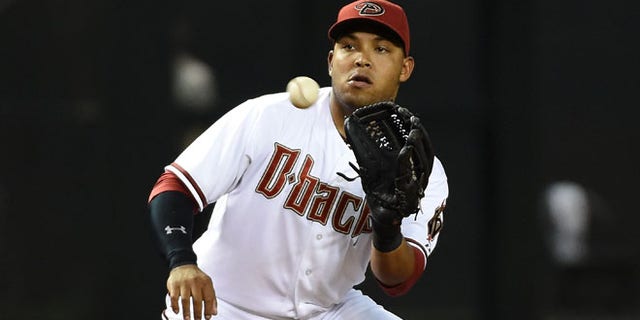 NEWYou can now listen to Fox News articles!
PHOENIX (AP) – Things are lining up nicely in Yasmany Tomás' world.
The native of Cuba and first-year Arizona Diamondback is uplifting his teammates with his hitting. His defensive play at a new position for him, third base, continues to improve. He just got back from a few days in Miami, where his Arizona Diamondbacks swept a four-game series and Tomás was right at home with the city's large Cuban and Cuban-American community.
Every day he gets more comfortable adjusting to living in the U.S. and playing in the major leagues. The adjustment from baseball in Cuba to spring training to the minors to the big leagues is still a work in progress, but Tomás is playing well.
His bat is one of the hottest in the game. He's on a streak of six multi-hit games, in which he's gone 13 for 26. Tomás has a .349 batting average in 28 games since being called up from Triple-A Reno on April 15.
Perhaps Tomás is on his way toward living up to the six-year, $68.5 million contract the Diamondbacks gave him in the offseason, the team's big-splash signing.
"The change from the minors wasn't anything too hard for me," Tomás said in Spanish. "It was something more with attitude. I knew I could play at this level once I got up to the big leagues."
Tomás never doubted himself. He said he knew pressure would come along with the money he's making and he just had to work at it.
"I feel really good in the batter's box and at third base I feel calm and confident," said Tomás, who has three errors but is batting .371 in 70 at-bats against right-handed pitchers this season. "Every day in spring training I worked on offensive drills with the coaches. My swing, I was trying hard to go to right field and center. The pitching in the majors is really good. In spring training there was games where I was doing well and others where I wasn't. Now with more games and at-bats I'm protecting the plate and hitting it hard."
Diamondbacks manager Chip Hale said Tomás worked hard on his third base defense in the spring, but was often tired.
"I saw in spring training he could makes the plays. But. his legs were tired," Hale said. "He's lost some weight, he's worked hard in the weight room. So I think he's moving around better. His reactions are better."
Tomás can tie Luis Gonzalez, another player of Cuban heritage, with a club record string of seven straight multi-hit games if he gets two hits against the Chicago Cubs on Friday night. His streak is the longest by a rookie since Wil Myers from July 13 to 26 of 2013.
The trip to Miami was a happy time for Tomás, on and off the field. At the plate he went 9 for 18 with three doubles and three runs batted in. Away from Marlins Park, Tomás was surrounded by friends, fans and well-wishers.
"Miami was good. A lot of fans, a lot of friends everywhere. It was important to play well in front of them," Tomás said.
"He had a lot of fun in Miami," Hale said. "He was the one guy we kept in the lineup (for all four games) because he just was having such a good time and enjoying playing baseball. The growth is there, the confidence is there and he's having some success, so that all comes together and he feels like he's the ballplayer that he should be."
Hale will have to make a decision when Jake Lamb, who was on the opening day roster, comes off the disabled list as soon as the end of next week. That decision could be to move Tomás to the outfield, which would potentially affect playing time for at least a couple of outfielders.
"It's coming. 'Yaz' just keeps swinging. It's going to be interesting because you want to have both those bats in the lineup," Hale said. "We're going to have to figure that out."
Like us on Facebook
Follow us on Twitter & Instagram