Crosby continuing to skate, recovery from concussion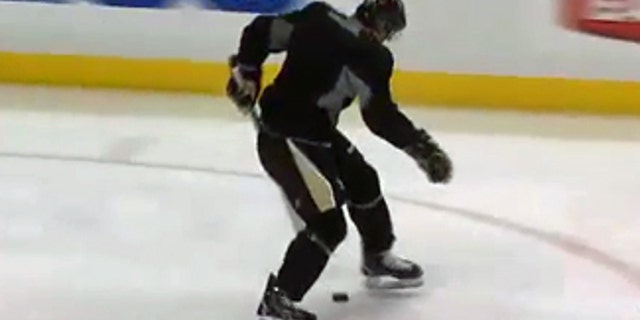 NEWYou can now listen to Fox News articles!
PITTSBURGH -- With slightly more than a week remaining before the start of the Stanley Cup Playoffs, Sidney Crosby's injury status hasn't changed.
Crosby, who last played for the Pittsburgh Penguins on Jan. 5 due to a concussion, took to the ice with strength coach Mike Kadar for a workout Tuesday, then stayed around to take part in the team's optional and relatively short morning skate.
Crosby has participated in the Penguins' last three game-day skates, and he also practiced with the team in a non-contact role Friday. However, the Penguins said his return to full-contact practicing -- which he must do before he can begin preparing to play again -- remains uncertain.
Penguins general manager Ray Shero and coach Dan Bylsma said last week that Crosby's return was not imminent and there was a chance he might not play again until next season.
"Sidney continues his prescribed rehab from his doctor and there's still no timetable for the next step in that progression," Bylsma said Tuesday. "He skated again this morning."
Crosby has impressed his teammates with his speed since rejoining them -- he went on the road trip to Tampa Bay and Florida last weekend -- especially considering he went more than two months without being able to work out or skate due to concussion-related complications.
His stickhandling has been dazzling at times -- no surprise there -- yet there remains no hint if he is any closer to being game-ready.
"You don't really pay attention to it any more. It's a normal practice for him. He's just kind of out there and he looks normal to me," defenseman Brooks Orpik said. "I can't speak for how he feels, but in terms of how he looks, he looks pretty good."
Crosby never has missed a playoff game in his NHL career.
Although he hasn't played in three months, Crosby is tied for 11th in the League with 32 goals and tied for 24th with 66 points.
Penguins forward Chris Kunitz and backup goaltender Brent Johnson were available to play against New Jersey on Tuesday after becoming new fathers since the team last played Saturday. Both have new daughters. Kunitz's daughter arrived Tuesday morning.