Cristiano Ronaldo was the ultimate leader for Portugal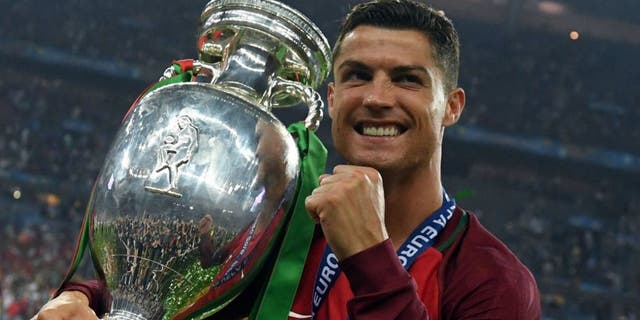 NEWYou can now listen to Fox News articles!
Cristiano Ronaldo is a European champion. His Portugal team finally broke through, winning their first ever major tournament. And they did it with Ronaldo on the bench after the superstar had to come off with a nasty knee injury in the 25th minute.
Despite that, Eder gave Ronaldo credit on his game-winning goal.
"Ronaldo gave me confidence. He told me I was going to score," Eder said after the match.
The convenient narrative on Ronaldo is that he's selfish and out to score his goals and hog the spotlight. But that has never been very fair to him and he's been the opposite at the Euros, instead being every bit the phenomenal leader that one would expect from the team's captain.
After Ronaldo came out of the match, he went straight down the tunnel and had his knee examined. After that, he came back out to the bench and was seen enouraging his teammates, instructing them and bringing players together for talks. When Eder scored, he hobbled his way to the celebration and was visibly crying.
It's not as if Ronaldo simply took on the role of the leader in the final either. When Portugal went to penalty kicks against Poland in the quarterfinals, Ronaldo essentially picked Moutinho to take a spot kick himself and then convinced Moutinho that he would make it, which Moutinho did.
Ronaldo would have obviously preferred to have been on the pitch for the entirety of the final. Injury have prevented that, but Ronaldo still made his presence felt as a leader. He was the team's captain in every way all tournament long and again with the title on the line, doing everything he could to help his country. When he was handed the trophy to lift for the first time in Portugal history, nobody deserved to do it more, with the armband on, a smile on his face and his entire team beside him, as had been the case all Euros long.
MORE FROM FOX SOCCER