Cristiano Ronaldo and Real Madrid will play in MLS All-Star Game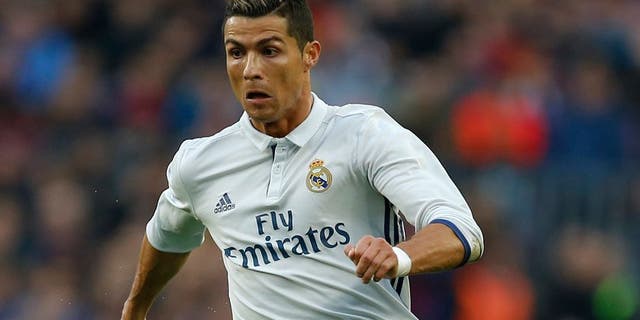 NEWYou can now listen to Fox News articles!
The MLS All-Star Game features the league's best players on one team, taking on a foreign club team. And for the 2017 All-Star Game, the league has reeled in arguably the biggest club in the world to be their opposition: Real Madrid.
MLS's marquee summer event will take place on August 2 at Soldier Field in Chicago, IL. The match, broadcast on FS1, will feature Cristiano Ronaldo and Co. squaring off against the best MLS has to offer.
Whereas in some years, it's tough to count on a European team's best players playing in summer friendlies, Real Madrid should have all theirs on display at Soldier Field. There is no World Cup or Euros this June so all of the Merengues will get a (relatively) lengthy summer break and be in action by the start of August.
That means Ronaldo, Gareth Bale, Karim Benzema, Luka Modric, Sergio Ramos and Toni Kroos all on the field. Plus, who knows which stars the Merengues might sign this summer? And they'll take on an MLS team that should feature the likes of Sebastian Giovinco, David Villa, Giovani dos Santos and, of course, former Real Madrid star Kaka.
The MLS All-Star Game has featured a foreign team since 2005, when they ceased with the traditional East vs. West format. Since then, the MLS team has gone 7-5 against their foreign opponents, with wins over the likes of Bayern Munich, Chelsea and Tottenham. However, they have been beaten twice by Manchester United, and lost to Arsenal a year ago.
This will be the first time Real Madrid plays in the MLS All-Star Game, and also the first time that Soldier Field plays host to the game. With such a big team coming, you can bet that all 61,500 seats will be filled, and MLS's summer classic will get the brightest of spotlights.