Crazy kids: Rangers youngsters have team up 2-0 on mighty Blue Jays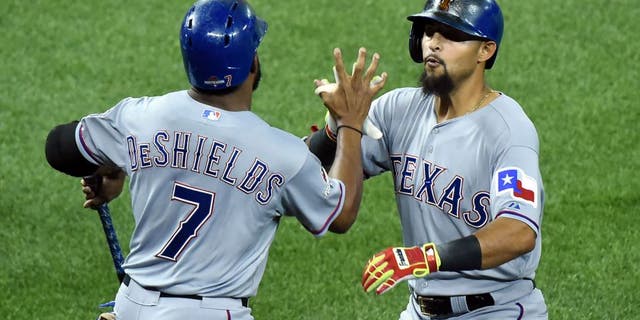 NEWYou can now listen to Fox News articles!
TORONTO -- Before Game 1, Blue Jays fans booed the Rangers during pregame introductions, trying to drown out the public-address announcer with chants of, "Let's Go Blue Jays."
The two anthems followed, the fans singing the Canadian version with gusto and pride. Rangers rookie leadoff man Delino DeShields Jr., standing with his team along the first-base line, turned to manager Jeff Banister and announced just how he felt about his first postseason game.
"This is (bleeping) awesome," DeShields said.
You might say that about DeShields, not to mention Rougned Odor, Hanser Alberto and Keone Kela. All those crazy Rangers kids, DeShields the oldest at 23, backing down from no one, playing with abandon, showing no fear.
The Rangers, after Friday's 6-4 victory in 14 innings, lead the Division Series, two games to none. Adrian Beltre has made all of two plate appearances. Several of the team's other familiar names -- Prince Fielder, Josh Hamilton, Shin-Soo Choo, Elvis Andrus -- are a combined 3-for-37.
Oh, right-hander Yovani Gallardo pitched five strong innings in Game 1, left-hander Cole Hamels was sturdy for seven in Game 2 and the bullpen combined to allow just one run in 11 innings. But it's Texas' young players who have been the biggest revelation -- even to some of the Rangers themselves.
"I haven't really seen that in my 10-year career . . . young guys coming into the mix," said Hamels, whom the Rangers acquired from the Phillies on July 31. "Unfortunately, the Phillies didn't have a lot of top (draft) picks, traded away a lot of (young) players.
"Coming over here, it's been an eye-opening experience to see young guys come to the big-league level, play at a high level, and with the energy level they play at. It helps re-energize the veterans. It makes a good team very strong. You have to have a good mix. It keeps everything balanced."
OK Jays fans, if the safe call on Odor going back to second gets reversed in the 14th, maybe this is a different story. A game that lasts this long, however, can turn on dozens of different events. In the end, Alberto drove in Odor from second with the go-ahead run, and DeShields beat out a grounder to short to drive in an insurance run - his fifth hit of the series.
Odor, meanwhile, has scored five times in two games, proving an equally disruptive pest from the bottom third of the order. In Game 2, he set up one run by making a brilliant dash from first-to-third when the Jays left third uncovered on a chopper to the mound. He also made two instinctive, creative slides to beat throws home.
As Banister put it, "There are times that players just will themselves to score." Of course, there also are times when Odor can go too far, such as when he rounded second in the 14th trying to draw a throw. But Banister, in a pregame talk with the MLB Network announcers, referenced an interesting name when talking about Odor.
Would you believe Larry Bird?
"I'm a huge Larry Bird fan," Banister said. "When Larry Bird was a kid, making passes, making plays, creating all over the place, I would imagine as a young guy growing up, he imagined making all of those plays -- and at some point, some coach probably said, 'You can't do that kid.' Then you box him in and you don't have Larry Bird."
Banister went on to say that he wants his youngsters -- Odor in particular - to enjoy the freedom to play "unbridled." Odor, Banister said, was playing "clean and traditional" when the Rangers demoted him on May 11 -- and batting just .144 with a .485 OPS.
Banister told him to "go find the other guy . . . don't come back without him." That other guy can tick off opponents with his brash style. But Odor indeed found him, returning on June 15 and batting .292 with an .861 OPS and 15 homers in his final 91 games.
"He plays with a swag. It's the way he was brought up," Beltre said of the 5-foot-11, 190-pound Odor, who is from Maracaibo, Venezuela. "Sometimes, people see it the wrong way. But in this clubhouse, we know what he's all about. He's a gamer. He'll do whatever it takes to win games."
Alberto, a native of San Francisco de Macoris, Dominican Republic, isn't as talented or heralded as Odor - he had only 99 at-bats as a rookie this season, and only two after Aug. 30. Heck, Alberto was overshadowed even when the Rangers signed him for $65,000 in the fall of 2009 -- the team already had committed $2.75 million combined to two other middle infielders during that international signing season, Jurickson Profar and Luis Sardinas.
Rangers farm director Mike Daly, then the club's director of international scouting, said that Alberto showed good game awareness from the start. He also is an excellent defender -- he received the Rawlings Minor League Gold Glove Award last season as the top defensive shortstop in the minors. With Beltre out, Alberto is playing out of position at third. And his error in the second inning on Friday led to two runs.
Beltre, whose availability for Game 3 is not yet known, is helping position Alberto from the dugout, giving him pointers on positioning between innings. Kela, a rookie reliever, also needed veteran assistance on Friday -- the Rangers all but staged a group invention for him after he and Jays slugger Josh Donaldson had a verbal exchange that led to the benches emptying in the 13th.
Napoli shrugged and said, "Kela likes to quick pitch. It's part of the game. People do it." Well, emotions flared again after Donaldson struck out swinging and was thrown out at first by catcher Chris Gimenez. The Rangers' infielders gathered around Kela at the mound, calming him down. Kela then walked Jose Bautista, who had hit a home run off him in Game 1, and allowed a near-walkoff homer to center by Edwin Encarnacion. But the kid survived.
All the Rangers' kids did, and now they're going back to Texas, one victory away from sweeping the powerful Blue Jays, one victory away from the American League Championship Series.
(Bleeping) awesome, one might say.