Crawford sensational in Game 7 loss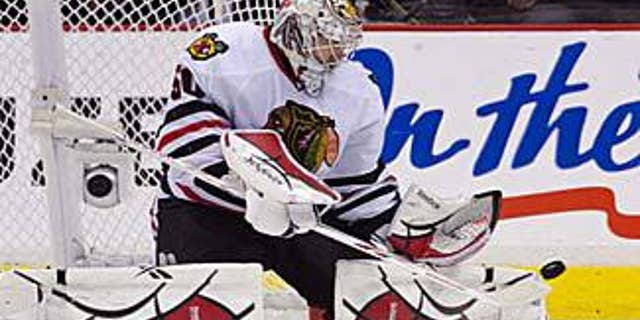 VANCOUVER – If Corey Crawford could score goals himself, perhaps the Blackhawks would've been on the winning end Tuesday night in Vancouver.
The rookie goaltender had the game of his life, but the defending Stanley Cup champions came up a goal shy of completing a rare playoff feat.
Crawford turned aside 38 shots in 65:22 of work in Game 7 and to say he kept his team in it would be a stark understatement.
"That was one of the greatest goaltending performances in a clutch situation that you're going to see," said Blackhawks coach Joel Quenneville. "I got to commend him. The kid was great. He gave us a chance."
The 24-year-old made highlight-reel saves throughout the night on nearly every one of the Canucks big guns including a penalty shot to Alexandre Burrows 21 seconds into the third period.
Burrows was hauled down by Duncan Keith early in the final frame and had a chance to put his team up 2-0.
"They're all must-saves," Crawford said, "but I felt that (Burrows) is kind of a shooter and stayed ready for a quick shot like that. I felt that he was going to do that."
With just 5:04 remaining in the third and the Blackhawks down 1-0, Crawford essentially took away three goals from Canucks shooters making saves off of Chris Higgins, Burrows, and then, while down and out, a glove save off of Ryan Kesler for good measure.
"He was amazing," said Blackhawks captain Jonathan Toews. "Everyone talks about (Roberto Luongo) and how good he is and how much pressure there is on him, but everyone probably underestimates how much pressure there is on a young kid like Corey Crawford."
Crawford stood on his head while his team was out-shot 15-6 in the second period and turned aside some quality Canucks scoring chances late in the frame as Vancouver moved the puck around in the Chicago zone as if they were on a power play.
"How he deals with it? I don't know," continued Toews. "He was absolutely unbelievable throughout the whole series, especially tonight. He gave us a chance to win and you can't ask for anything more from a guy like that."
Crawford finished the 2011 Stanley Cup Playoffs with a 3-4 record, a .927 save percentage and a 2.21 goals-against average. His GAA and save percentage both ranked higher than Luongo's after Game 7.
The only two Canucks shots to beat him in Game 7 came off of the stick of Burrows.
At the 2:43 mark of the first period, Burrows finished of a perfect passing play from Kesler for his second of the postseason. Then at 5:22 of overtime, Burrows beat Crawford with a shot on a rolling puck to end Chicago's season drastically early in comparison to the 2009-10 campaign.
Understandably on Tuesday night while talking to reporters with his pads still strapped to his legs, Crawford found it difficult to reach for the positives in the seven-game series.
"It would've felt great if we would've won," he said. "It felt good, but I had a feeling that we would maybe get one eventually and then it's tough to lose that in over time. We battled hard and we gave them a good fight. We were really close to winning that one. I don't know what to say.
"Any experience you can get right now definitely helps."