Coyotes' prospects Strome, Merkley shine at World Junior Showcase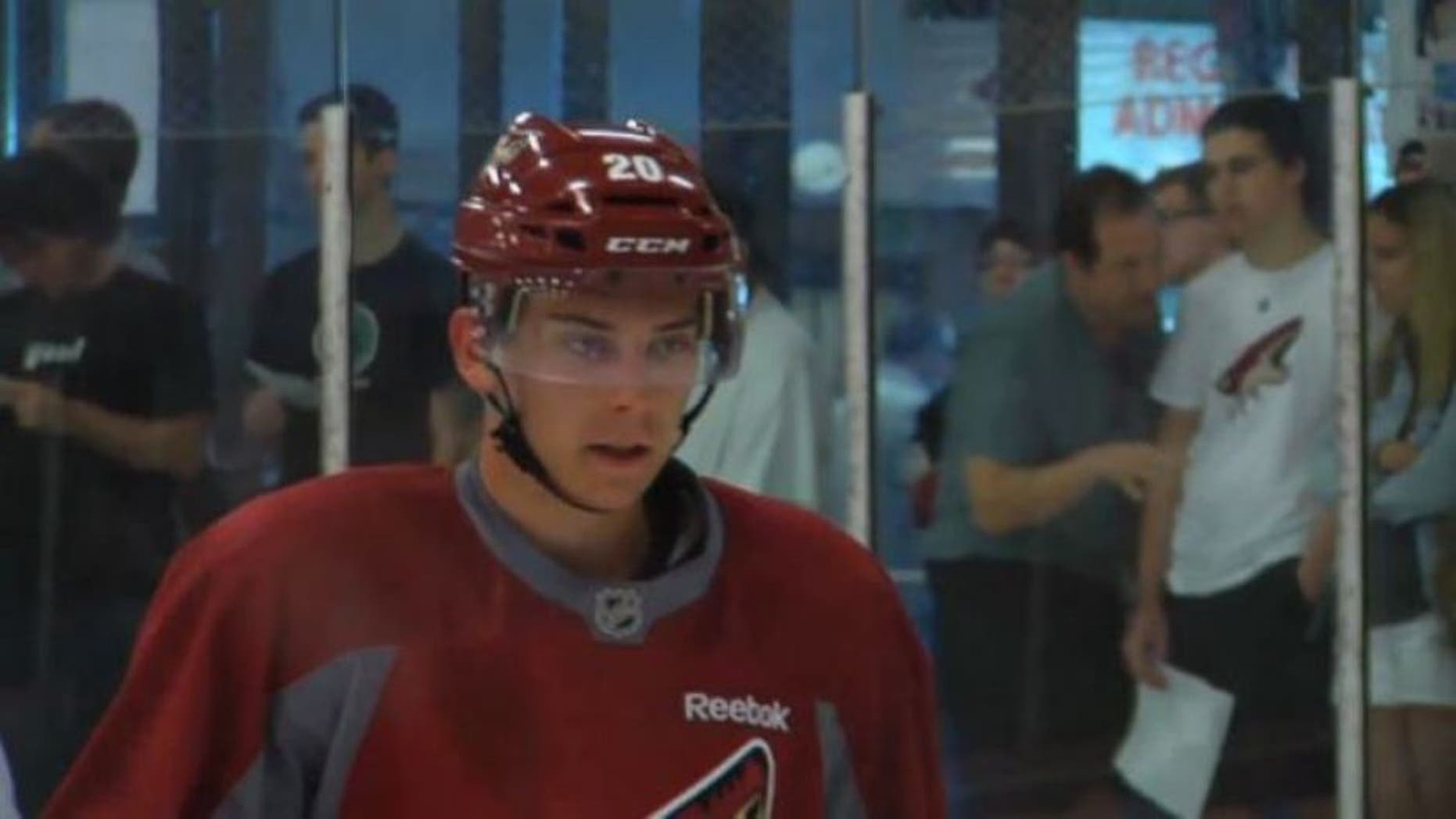 GLENDALE, Ariz. -- Coyotes 2015 first-round picks Dylan Strome and Nicholas Merkley both had a pair of goals in Canada's 6-2 win over the Czech Republic in the final game of the World Junior Showcase in Calgary on Thursday.
Hockey Canada used the three-team event (Russia was the other team) to evaluate its roster before it begins defense of its gold medal at the 2016 World Junior Championship in Helsinki, Finland from Dec. 26 to Jan. 5.
Strome had three goals (on three shots) in three games of the showcase while Merkley had two goals and an assist in two games. The Coyotes selected Strome, a center, third overall in this year's draft while selecting Merkley, a wing, 30th overall with the selection Arizona acquired along with defenseman Klas Dahlbeck in a trade-deadline deal with Chicago for center Antoine Vermette.
Vermette subsequently re-signed with the Coyotes as a free agent.
COYOTES HIRE SOETAERT AS SCOUT
The Coyotes hired former NHL goaltender Doug Soetaert on Friday as the team's western pro scout.
Soetaert, 59, spent the last two seasons in Europe serving as the head scout for Red Bull Hockey. Soetaert was responsible for scouting all of Europe's pro leagues, covering the American Hockey League and evaluating all possible free agents. He worked with Red Bull Munich (German Ice Hockey League) during the 2014-15 season and with Salzburg (Austrian Hockey League) in 2013-14.
From 2002-2012, Soetaert served as the vice president and general manager of the Everett Silvertips (WHL). Under his direction, Everett won three U.S. Division titles, a Western Conference championship and a Scotty Munro Trophy for the league's best record.
Soetaert left Everett during the 2005-06 season to join the Calgary Flames' AHL affiliate in Omaha where he was the president of the Omaha Ak-Sar-Ben Knights and assistant general manager of the Calgary Flames. Soetaert was the executive vice president for the Kansas City Blades (IHL) from 1990-2001. He served as the Blades' head coach for the 1990-91 season. The Blades won the Turner Cup in 1991-92.
Soetaert played 12 seasons in the NHL with the New York Rangers, Winnipeg Jets and Montreal Canadiens. He won a Stanley Cup as a member of the Canadiens in 1986.
MOSSES DELIVER
Former Coyotes forward Dave Moss and his wife, Erinn, had a baby boy, Henry David, on Wednesday.
Moss, 33, is an unrestricted free agent for the second straight summer after playing on a one-year deal with Arizona last season. When reached by text, he wrote: "Things are busy right now and no solid plans for next year. Hoping to have something ironed out soon."
Last summer, Moss signed a two-year contract with a Swiss club that included a one-week out clause if he could find an NHL team. Moss said he had offers from other NHL clubs but was waiting to hear from the Coyotes. When they offered a one-year, $800,000 deal, he took it because he wanted to stay in the Valley, where he had spent the past two seasons after six seasons in Calgary.
He admitted in April that with a newborn baby, it would be far easier on the family if he could find work again in North America for the upcoming season.
COYOTES, GLENDALE MEET
Coyotes co-owner, president and CEO Anthony LeBlanc said Wednesday that Coyotes officials were scheduled to meet with Glendale officials this week to discuss, among other things, the cost of operating Gila River Arena.
"We have to do a better job of educating the city and that's not intended as a slight or an insult to them -- quite the opposite," LeBlanc said Wednesday at a press conference to announce Arizona State hockey would play four games at the arena this season. "There are a lot of aspects of our business -- it's not just the hockey team, but running the arena -- that are difficult to grasp unless you have a better understanding and we are trying to provide that through constant dialogue.
"We'll explain the complexities, explain the costs associated with running one of these facilities. Our partnership with ASU is a very good example. That's six more events we're bringing to the arena and that's very important for the City of Glendale; not just the Westgate district."
LeBlanc said no discussions have been scheduled yet for possibly extending the two-year arena lease and management agreement the team recently signed with the city.