Coyotes need to improve at even strength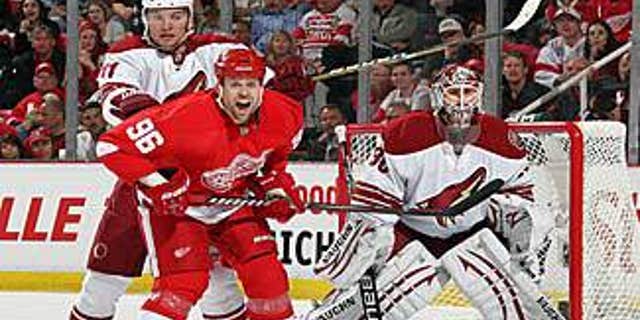 GLENDALE, Ariz. – The Coyotes know it's tough to match the skill the Red Wings put on the ice when the special teams units take over the game. Their power play and penalty kill units have to execute perfectly in order to keep Detroit at bay on one end and convert on the other.
But when it comes to even strength situations in this Western Conference Quarterfinal series, the Coyotes expected have better success. They got off to a good start when Kyle Turris scored two minutes into Game 1 off a strong forecheck, but haven't scored a 5-on-5 goal since.
That might be the biggest reason why Phoenix finds itself in a 0-2 hole in the series. And while they were glad to see the power play produce three times late in Saturday's 4-3 loss in Game 2, the Coyotes know it will take more than special teams to turn the series.
"We really need some improvement on both sides of things even strength-wise," Phoenix coach Dave Tippett said. "We chart a lot of chances … and it's now as good as it needs to be. The power play came through in Game 2, but we have a lot of areas of our game that if we get them where we need to be, it will give us the best chance to win.
"We've given up way too much on the defensive side and we're not getting enough on the offensive side."
A lot of the "way too much" has come from Red Wings center Pavel Datsyuk, who has two goals and four assists in the first two games – playing a role in six of Detroit's eight goals. Even without Henrik Zetterberg, who has missed the first two games with a knee injury, Datsyuk has dominated the series and confounded Phoenix's defensemen with his between-the-leg shots and other creative moves.
"His confidence level is about as high as it's ever been," Coyotes blueliner Adrian Aucoin said. "When you try the things that he tries and you succeed in doing them, it's a tell-tale sign of when things are going good. They are obviously going good for him right now."
Keith Yandle said defending Datsyuk calls for a different mindset as a defenseman.
"You don't know what he's going to do because he's full of tricks," he said. "He's the only one who knows what he's going to do and it's tough to play against him when he's feeling this good."
Tippett said Phoenix "has tried a couple of matchups that haven't worked so well" against Datsyuk, and the search will continue in Game 3. One idea might be to match the Vernon Fiddler line – with wings Taylor Pyatt and Lee Stempniak – in an attempt to be more physical with him.
"You have to find a way to make sure not to give him any free opportunities," Coyotes captain Shane Doan said. "He's so good at creating opportunities you can't give him any free ones."
The Coyotes outscored the Red Wings 3-0 over the final 35 minutes – with all three coming on the power play – but Doan said the Coyotes understand they haven't wrestled the momentum away from a team two wins from advancing.
"We would have had the momentum if we'd have found a way to get one more goal, but we didn't," he said. "But we're pretty confident as a group that we can compete and we can play with them, now we just need to do it for a full 60 minutes. We haven't put it together for 60 minutes. When we do, we'll win."
On the injury front, Tippett said defenseman Ed Jovanovski, who left Game 2 in the second period with an upper body injury "should be fine" for Game 3 on Monday night. Defenseman Derek Morris took part in Sunday's optional practice at Jobing.com Arena – skating for the first time in a week – but is still questionable for Game 3.