Coyotes confident they can flip script on Wings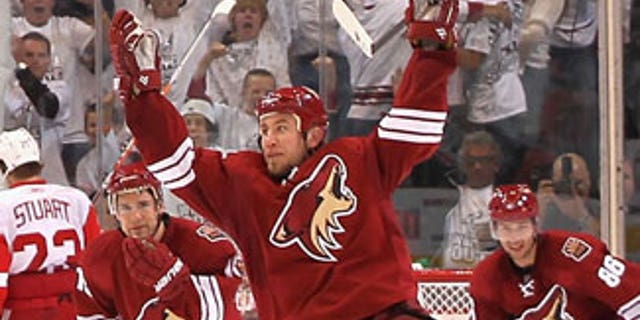 The Phoenix Coyotes won seven less games this season than last. They collected eight fewer points.
They went from unbeatable to unlucky in overtime. They allowed more goals. Their penalty killers went from top six to bottom six in the League. They struggled on home ice and had to battle through more injuries. And while they have the same Stanley Cup Playoff opponent in the Detroit Red Wings, Phoenix will have to open the series -- and if it goes the distance, end it -- in Hockeytown's Joe Louis Arena instead of their own Jobing.com Arena.
So why do the Coyotes feel even better this time around about their chances to change yet another part of the script from last season -- getting past the Red Wings? What makes them think they can reach the second round of the playoffs for the first time in 25 years, when the Winnipeg Jets did so during Ronald Reagan's second term in office?
"This is a different team," defenseman Ed Jovanovski said. "We have a lot of things going for us. We're more ready for what's coming."
These Coyotes have more playoff experience. The addition of Stanley Cup winner Ray Whitney and veterans like Eric Belanger up front is one factor, but having more than a dozen players who took part in the seven-game war with the Red Wings as a group last year makes what's ahead less of an unknown.
"You remember the experience. You're more comfortable and it allows you to do your job better," Phoenix coach Dave Tippett said. "Players like Whitney and Belanger are going to help us because they've been there before in other places, but the core of this team also has the feelings of last year and going through it.
"There were lessons learned. But this is a different group and now you want to share the experience of advancing."
On defense, in-season trades have brought veterans Rostislav Klesla and Michal Rozsival to a defense core that already boasts one of the league's top offensive players (Keith Yandle) and a trio of veteran hands (Adrian Aucoin, Jovanovski and Derek Morris). That not only decreases the workload on each man on the blue line, it give the Coyotes more size and experience to deal with cagy Red Wings like Todd Bertuzzi, Kris Draper and Tomas Holmstrom as well as stars Pavel Datsyuk and Henrik Zetterberg, the latter of whom will miss at least Game 1 due to injury.
"We're a deeper team," said Jovanovski, who missed 32 games this season with injuries, including 20 due to orbital bone surgery, and returned just last week. "I'm anxious to see how we react. I have a good feeling because I like the team we have."
The Coyotes are also getting healthy at the right time. Center Martin Hanzal, who missed 12 games with a lower-body injury, returned last week. That gives Phoenix its top two-way center, one of its top faceoff men, a strong penalty killer and an important piece among its top nine forwards. It allows the checking line of Taylor Pyatt, Vernon Fiddler and Lee Stempniak to remain intact, gives Radim Vrbata his best playing partner and allows Whitney to join Belanger and Shane Doan on what was an effective top line down the stretch.
The Coyotes also have a healthy and motivated Doan, who saw his season end in Game 3 of last year's playoffs when he dislocated his shoulder in a freak fall. This time around, every Phoenix player on the roster is available to Tippett for Game 1.
"Shane is our leader vocally and physically. He's our leading scorer, he brings a lot to the table," Tippett said. "When he went out last year, that was a big hit for us. I know he is chomping at the bit to make up for last year."
One thing that hasn't changed: the Coyotes like playing the Red Wings. The teams split four games in the regular season -- three of which went to overtime -- and Phoenix collected six of eight points. Over the last two years, the two teams have met 15 times and Detroit leads by an 8-7 margin.
"There's something about Detroit that brings the best out in us," Jovanovski said. "You can hear a pin drop in the room before we play them. We know if you don't play well, they can make you look bad. It's a challenge and something everyone looks forward to."